Car Rental France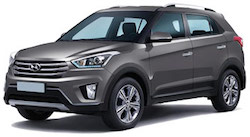 A car rental in France is the ideal way to tour this beautiful nation. With its decadent food and rich history, it's no wonder that France is the most visited country in the world. Renting a car in France will invite you and other independent travelers to zip from the small cafes of Paris to the sun-drenched countryside of Bordeaux. Inspired to see more? Pickup a car at Gare de Nice-Ville on the French Riviera where pristine beaches stretch along the Mediterranean coast as if inviting you to play. The French landscape is dotted with castles and monuments which speak to the country's rich history, and whether you plan to tour the Atlantic coast or cruise through the French Alps, a rental car in France will allow you to chart your own course and explore at a pace which suits you.
A France car rental is your ticket to explore some of the most historic cities in the world. Enjoy a fine wine? Spend a week in the Loire Valley or Bordeaux - one of the world's premiere wine-making regions where succulent French cuisine prepared by world-renowned chefs will be paired with the best local vintages. While France's capital city is lovely, we invite you to look beyond Paris and to discover nearby Versailles or Nice, where the famed Château de Versailles and surrounding gardens invite a sense of exploration and discovery. From the port of Calais in the North to Saint-Tropez, a seaside gem in the south - France offers something for everyone. Our France travel guide will help you make the perfect itinerary for your time in France.
Where Should I Pick-Up my Rental Car in France?
Along with the best rental rates in Europe, know that with Auto Europe there is a convenient pick-up or drop-off location where you need it. At the airport, in train stations, even down the road from your hotel in Paris, we've got you covered. If you're not familiar with the area, maybe you'd prefer to be driven, check out our rates on chauffeur services in France. Below are some of the most popular transportation stations where we offer car rental and chauffeur service in France.
Who are the Top Rental Car Suppliers in France?
Our great supplier connections means our clients get the best rates available. Compare pricing from our top car rental suppliers in France, including Avis, Europcar, Hertz, and more! Auto Europe has excellent 24/7 customer service, so you can always count on us to be there. Give us a call toll free at 1-888-223-5555. Learn more by clicking our supplier links below.
What Are Some Memorable Trips to Take in France?
Auto Europe makes it easy to rent a car in France! For the past 60 years we have provided superior service and the most competitive rental car prices in the industry. By leveraging our unique supplier relationships, we are able to extend exceptional value to our customers year after year, guaranteeing the lowest prices so you can be confident that you're getting a great deal. With dedicated support available to you day and night along with a selection of only the most reputable car rental companies, Auto Europe offers a smooth rental experience that's second to none. Learn more about what you can do on your trip to France with our travel guides or check out the road trips below.
France Road Trips you don't want to miss:
---
More Popular Questions About Renting a Car in France...
How Old Do You Need to Be to Rent a Car in France?
To rent a vehicle in France through Auto Europe you are required to be at least 21 years old and have had your driver's license for a minimum of 1 year, sometimes 2 year depending of the vehicle you plan to rent. Auto Europe does recommend all travelers planning on driving in France obtain a international driver's license to supplement your domestic license as it is a helpful if you get into a small fender bender or are pulled over by local law enforcement.
Can I Drive My Rental Car into Other Countries?
Some vehicle categories including luxury vehicles, vans and automatics may have travel restrictions due to various insurance regulations. Most other vehicle categories rented in France have the ability to travel throughout Western Europe without restrictions.
Restricted Countries
Vehicles renting in France cannot travel into the following countries with out prior notice to and approval from Auto Europe: Africa (Morocco, Tunisia, Algeria etc.) Albania, Bosnia, Belarus, Bulgaria, Czech Republic, Croatia, Estonia, Greece, Hungary, Latvia, Lithuania, Macedonia, Moldova, Montenegro, Poland, Romania, Russia, Serbia, Slovenia, Slovakia, Turkey and the Ukraine.
NOTE: With advanced notice Auto Europe can possibly arrange travel into most or all of the countries listed above with specific vehicle categories.
What if I find a better deal on a car rental in France?
If you do find a better deal on a French rental car there's great news: Auto Europe offers a best-rate guarantee which means if you find a lower rate for a comparable rental car we invite you to complete our guaranteed best rate form and we will give you a better deal! Even CAA members can get better deals through Auto Europe.
Find more questions and answers about renting a car in France with Auto Europe today!
---
What Types of Vehicles Does Auto Europe Rent to Travelers in France?
Regardless of what your vacation requirements might be, Auto Europe offers the ideal mode of transportation for a price that can not be beat. We're proud of promising the best prices for your transportation requirements. Review daily rental car prices with high end, chauffeur, van or any kind of transportation to find the best choice for you and your travel party.