Brittany Road Trip Planner & Guide: St. Malo to Rennes

You're ready for a vacation but creating a travel plan can be quite the chore. Trust Auto Europe to help you take the guesswork out of your itinerary and ease your mind as you simply take our pre-scripted road trips, like puzzle pieces, and put your perfect vacation picture together...
On this page, you will leave the hustle and bustle of your busy life and escape to the Brittany region of France, driving from St. Malo to Rennes. We start on the breathtaking coast, taking in the fresh seaside air of France's northernmost region and slowly make our way back to city life in Rennes.


Read on to Drive to Discover the adventures that await you in France!



---
Brittany Road Trip Day 1: St. Malo to Dinan
St. Malo Events & Attractions: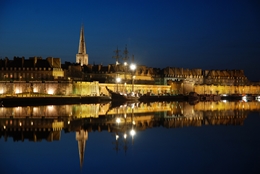 Founded by Privateers, forged through a legendary past of cultural interactions, and dating back to Roman times--nowhere else in France will you find such an eclectic, relaxing place to begin your vacation. This seafaring, walled city of the past will surround you with beautiful architecture, cobbled streets, shops, and even a chance to explore the exterior of the city by cruising the waters of the Channel via kayak, personal boat rental or tour boat.
La Ville Intra-Muros: "the Walled City," walk the walls or tour the monuments & architecture
Private or Commercial Boat Rental: Tour the English Channel as it surrounds the walled city
Festival des Folklores du Monde: World Folklore Festival, month of July, main square
St. Malo Cathedral: Founded in 1108, as the new seat of the Bishop of Aleth
Solidor Tower: Built in 1382, now home to sailing museum
Great Aquariam St. Malo: Houses 11,000 marine animals representing 600 species
St. Malo Restaurants, Bars, and Nightlife:
St. Malo's food options will satisfy your taste buds with traditional Breton cuisine--Breton crepes (sweet and savory), Mussels, Oysters, and the amazingly sweet and simple cake, Kouing Aman--find it served hot, with or without deliciously sweet apples. Because of St. Malo's multifaceted historic influences, your culinary options promise to leave memories as unique and special as the locale itself. Recognizing that St. Malo is a small coastal town, be prepared for a quieter nightlife and less wine options than inland France. You won't be disappointed though as you explore their hard ciders, mead, apple brandy, and muscadet (a sweet wine) which pair perfectly with the crepe-based culinary offerings of this historic city.
Cargo Culte: Rustic, quaint charm serving locally sourced produce and meat--perfect for lunch or dinner
O Saveurs Du Large: Upscale dining with impeccible seafood options
Le Millesime: Family-friendly bistro serving both traditional and seafood fare
Grand Hotel Barriere: 5-Star Hotel, ocean view rooms, beachfront locale, and in-house restaurant
Le Nouveau Monde: 4-Star Hotel, walking distance from ramparts, beaches and downtown offerings.
Cartier Hotel: 3-Star Hotel, within walking distance of downtown
St. Malo Road Trip, Scenic Drives:
Head south on the D137 from St. Malo and follow the signs to the E401 expressway towards Dinan. As you journey along the coastline of the English Channel inlet and pass through quaint villages that line its shores, you'll experience scenic vistas and photo-worthy landscapes. Closer to Dinan, numerous chateaus can easily be accessed minutes from the E401, inlcuding: Chateau de la Belliere and Chateau de Dinant.
---
Brittany Road Trip Day 2: Dinan to Montauban
Dinan Events & Attractions: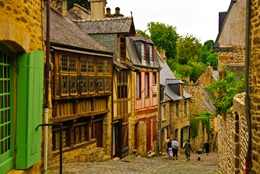 As you enter Dinan, cobble streets and quaint stone bridges over tranquil waters--let alone the pristine medieval architecture--provide the perfect environment for letting go and nestling in for a cozy, peaceful break from it all in this hillside town.
Les Remparts de Dinan: Walk the ramparts surrounding the city, overlooking many attractions
St. Saviour's Basilica: Built over 400 years, one half is Romanesque, the other, Gothic
Duchess Anne's Tower: A clock tower gifted to Dinan by Duchess Anne in 1507
Féte des Remparts: Annual festival where the town is transformed and decorated in medieval style
Dinan Restaurants, Bars, and Nightlife:
One of the most unique advantages to visiting a quieter village like Dinan is the opportunity to experience local, home-cooked cuisine in rustic mom-and-pop type restaurants. Dinan is absolutely ripe with pastoral eateries and hole-in-the-wall kitchens that will leave you longing for more once you've returned home.
La Mére Pourcel: traditional French cuisine with a Brittany twist, set in a 15th century, timber-framed building.
Le Cantorbery: seafood dishes, cooked over a traditional medieval wood fire.
Multiplicity of small bars and lounges: notably more relaxed and quiet than that of larger cities.
Residence MMV Duguesclin: 4-Star Hotel, 4-star hotel, indoor swimming pool, free WiFi, continental breakfast, satellite TV service, and rooms with full kitchenettes.
Abundance of Bed and Breakfast options: Perfect for rounding out an all-inclusive experience
Dinan Road Trip, Scenic Drives:
To give you a better taste of the French countryside--and access to more chateaus of outstanding scenic quality--we recommend the road less traveled as you venture toward Montauban de Bretagne and Rennes. Chateaus not really your thing? You'll also pass through picture-perfect landscapes and a multitude of small villages that offer excellent lunchtime food stops. Head east on the D794, connecting with the D137 south, then meet with the D20 towards Montauban.
---
Brittany Road Trip Day 3: Montauban to Rennes
Montauban Events & Attractions: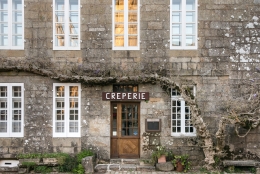 Though commonly overlooked in favor of larger destinations, Montauban de Bretagne is the perfect mid-way point between Dinan and Rennes for those travelers eager to explore the country's rich history without swarms of tourists.
Castle of Montauban de Bretagne: One of Brittany's oldest standing structures, pristine medieval architecture.
Chapel Notre Dame de Lannelou: Just a short drive outside the city
Montauban Forest: 580 hectare nature reserve, trails and back roads, picnicking, hiking, viewpoints
Montauban Restaurants, Bars, and Nightlife:
Stylistically, Montauban de Bretagne's food options are similar to those of St. Malo and Dinan--a mixture of hearty British cuisine, north-coast seafood and traditional French fare. The town's small size is mirrored in the restaurant options you'll find and the variety of homey kitchens that populate the area will provide you with an abundance of intimate dining atmospheres. The nightlife scene here in Montauban de Bretagne is similar that you experienced in St. Malo and Dinan but there's more to come once you reach Rennes.
Le Relais De La Rance: Michelin rated, traditional cuisine and seafood
Wine Bars, after-hours lounges, and Brit-pubs: Scattered throughout, relaxed, post-dinner hangouts
Montauban Hotels & Lodging:
Just like it's food offerings, hotel options in Montauban de Bretagne will be on the quaint side, so get cozy in one of the charming B&B's or smaller-scale hotels.
Whimsical B&B's and small-scale hotels: Most host familial staff, in-house restaurants, and cozy overnight rooms
Montauban Road Trip, Scenic Drives:
Leaving Montauban de Bretagne, take the N12 and connect with the E50 expressway towards Rennes. Numerous back roads sprawl throughout the region from Montauban to Rennes, providing access to a number of oft-ignored villages, chateaus, and scenic vistas--all of which are accessible via the E50. As you approach Rennes, don't miss Saint Gilles--a perfectly romantic picnic location, providing unrivaled views of the region's lush scenery and bordered by a stunning lagoon.
---
Brittany Road Trip Day 4: Rennes & Beyond
Rennes Events & Attractions: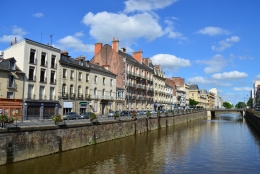 After the long, 3-day journey from the coast of Brittany inland, you've finally made it to Rennes. As we leave behind the quieter villages, Rennes is a great way to integrate back into the flow of everyday city life without a total shock to your system.
Parc du Thabor: Nature park, 100's of species of rose, African and European trees and a variety of domestic and foreign bird species.
Food Market: Town center, Saturdays from 6:00am to 1:30pm, brasseries, fromageries, and local produce
Musuem of Fine Arts: Collection ranges from ancient Egyptian relics to Modern Art
Rennes Cathedral: Characteristic of this cathedral is the contrast between the rich decorative marble and sombre, plain granite
Rennes Restaurants, Bars, and Nightlife:
Options, options, options. From traditional French cuisine to a variety of ethnically diverse eateries--Turkish kebabs, Mediterranean gyros, and the like--dining options in Rennes are sure to impress. Much like St. Malo, you'll find an abundance of culinary crepe creations available around nearly every corner.

Being a University town, Rennes is infamous for its vibrant nightlife. Welcome back to city life.
L'espace: amped environment of music and cocktails
Délicatessen: wide variety of cocktail offerings & musical energy
Couleur Café: quieter late-night haunt, specialized cocktails, over 2000 different drinks
Novotel Rennes: 4-Star Hotel, heart of the city, restaurant and bar, WiFi, indoor swimming pool, room service.
Lecoq Gadby: 3.5-Star hotel, luxury urban resort, antique furniture, full service spa, in-house restaurant
Rennes Road Trip, Scenic Drives:
Now that you've rejuvenated yourself through the Brittany countryside and have geared up in Rennes, why not continue on towards Paris and take in a few more memories? Or perhaps the countryside still beckons and you want to extend your road trip to Nice, Bordeaux, or beyond. Auto Europe has the itinerary for you!
---
More Fantastic European Road Trip Planning Guides