Loire Valley Road Trip Planner & Guide: Nantes to Tours

No region better encompasses the many intricacies and facets of French culture quite like the Loire Valley; castles nestled in fairytale forests, winding rivers, ancient vineyards and lush landscapes set the scene for your next adventure. A
rental car in France
will help you see all this any more.
The peaceful atmosphere of the Loire Valley begs you to slow down--a perfect opportunity to utilize
Auto Europe's fantastic deals
which offer opportunities that can only be experienced by having your own vehicle and traveling at your own pace. Use the comprehensive, 4-day journey from
Nantes
to
Tours
below or
customize your own road trip
as you go.
Read on to Drive to Discover the adventures that await you in France!



---
Loire Valley Road Trip Day 1: Nantes to Angers
Nantes Events & Attractions:
Welcome to Nantes, the beginning of your vacation of a lifetime. Nantes is absolutely full of amazing attractions, and a variety of historically relevant, and culturally engaging sites to visit.
Jules Verne Museum: Dedicated to the author's (20,000 Leagues Under the Sea) life, memorabilia, and stunning view of the port of Nantes
Cathedral of Saint Pierre: 1434, Gothic Cathedral--took 457 to complete
La Place Mellinet: Previously called "Launay Place," now a micro-district of historic parks and mansions
Château des ducs de Bretagne: Castle of the Dukes of Brittany
Place du Bouffay: Within city limits, medieval architecture, pubs, restaurants, pedestrian zone, nestled in-between the Castle of the Dukes of Brittany and Saint Pierre Cathedral
Nantes Restaurants, Bars, and Nightlife: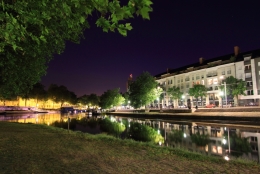 France, known for its culinary ancestry, has been a forerunner in the art of cooking for ages because of it's distinctive geography. Nantes' unique location within the Loire Valley is a near-perfect location to experience multiple styles of French cooking all within close proximity. The nightlife scene in Nantes is top-notch due to the vast diversity of bars, clubs, and cocktail lounges stretching throughout the district.
La Cigale: "The most beautiful brasserie in France," turn of the century décor, watch the chef via the open kitchen, fresh seafood and hors d'oeuvres
Bouffay district: Old town pedestrian zone, historic architecture. Be sure to try some of Nantes' classic drinks:
kir bréton: a hard cider mixed with fruit liqueur
Muscadet: grape blend, excellent with seafood pairings
Grand Mercure: 4-Star Hotel, located in the heart of Nantes for conviennent access to local attractions
Radisson Blu hotel: 4-Star Hotel, highlights include a French restaurant, gym and spa
Hotel de France: 3-Star Hotel, located in Nantes downtown within walking distance of major attractions
Nantes Road Trip, Scenic Drives:
Instead of moving along at a snail's pace along the busy A11 expressway as you leave Nantes, we recommend you digress from the main thoroughfare and tour the more scenic D723, allowing you to meander along the landscape with the Loire River--the lifeblood of the valley--taking you past numerous charming villages and wineries.
---
Loire Valley Road Trip Day 2: Angers to Saumur
Angers Events & Attractions:
Your picturesque journey through the Loire Valley from Nantes to Angers has afforded you many incredible sites and memories. Now it's Angers' turn to impress with all its beauty--from historically pristine architecture, artistic encounters, and the always-impressive French cuisines.
The Museum of Fine Arts: Classical-era art, sculpture, and historic artifacts
The Pincé Museum: Built between 1530 and 1535, features Greek, Egyptian, Japanese, and European antiquities
David d'Angers Gallery: A former 13th century Toussaint abbey church displaying a collection of David d'Angers sculptures
Castle Fortress of Angers: 9th century castle, home to the Apocalypse Tapestry
Angers Restaurants, Bars, and Nightlife: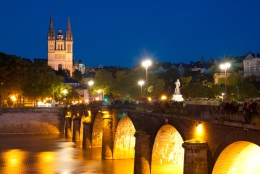 In comparison to Nantes' natural bounty of seafood offerings, Anger's locale makes for an profusion of traditional inland culinary styles: butter-rich dishes, masterfully cooked fowl, and unparalleled wine lists. The bar/club/nightlife scene in Angers, though possessing a few Irish and British pubs that create a culturally diverse experience, is comparatively calm to other cities.
Une Ile: Michelin starred, head chef Gerard Bosse and his wine-expert wife, "contemporary," grilled foie gras, poached turbot
Discotheques: Dance clubs offering electronic dance music to groove to
De France: 4-Star Hotel, views of downtown, walking distance to shops and attractions
Mercure Angers Centre: 4-Star Hotel, City center location, surrounded by the Jardin des Plantes--a 4 hectare park and botanical garden
Appartcity Angers: 3-Star Hotel, 500m from business district, and 1km from Angers railstation
Angers Road Trip, Scenic Drives:
While you have options as you drive to Saumur from Angers, we again suggest following a less-trafficed highway--the D952--in an attempt to avoid the crowded expressway system and truly experience the Loire Valley. Stop and experience the many Loire Valley Chateaus that line the banks of the river--including tourist favorite, Chateau de Saumur--or simply adore the sheer number of breathtaking vistas. You won't be thinking about the extra hour or so of travel time once you're encompassed by the surrounding French countryside.
---
Loire Valley Road Trip Day 3: Saumur to Tours
Saumur Events & Attractions:
Welcome to Saumur, a small--often bypassed--French town, where a plethora of cultural and historical discoveries await. As the unofficial "wine capital of the Loire Valley," Saumur is naturally known for its world-renowned wines and pristine architectural and historical buildings.
Château de Saumur: 10th century chateau overlooking the Loire River
Monsoreau Chateau: Riverside chateau built in 1455
Abbaye de Fontrevraud: Burial grounds of Eleanor of Aquitane, Richard the Lionheart, and Henry II
Saumur Restaurants, Bars, and Nightlife: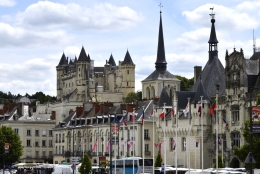 Saumur, being a smaller French town, lays at your feet what larger towns cannot: a vast variety of amazing food available at significantly lower prices. Saumur's restaurant scene mirrors the landscape, offering a variety of local fare that pairs perfectly with the regions many outstanding wines. Saumur in the summer is host to a variety of outdoor culinary festivals, fresh produce markets, and wine tastings. Year round not-to-be-missed regional specialties: the local wines or mushrooms.
Le Tire Bouchon: bistro-style, experimental fusion cuisine
Le Bigoudan: famous creperie, range of unique hard ciders
Mercure Bords De Loire Saumur: 3-Star Hotel, 5 minute walk from the town center, overlooks the banks of the Loire River, modern amenities
Numerous bed and breakfasts: Available year-round with reservations
Saumur Road Trip, Scenic Drives:
Departing Saumur, head towards Tours via the D952 once again. Yes, it may take a slightly longer than the E60 expressway, but remember the views from Angers to Saumur? The sheer volume of natural beauty and stunning landscapes you pass through is why you came, isn't it?
---
Loire Valley Road Trip Day 4: Tours & Beyond
Tours Events & Attractions:
It may be the last day of your Loire Valley road trip but that doesn't mean the adventure is slowing down yet. Tours is packed with stunning old-world architecture, tantalizing wine tasting opportunities and exhaustive retail offerings.
Cathedral St. Gatien: Roman-Catholic church, built between 1170-1547, world famous stained-glass windows, restored 16th century organ, Carrara Marble-forged royal tombs
Basilique Saint Martin: Built between 1886 and 1924 by French architect Victor Laloux in a neo-Byzantine style
Tours Botanical Garden: Built in 1843, features 150-year-old gingko tree, tropical greenhouses, turtles and mini farm
Museum of Natural History of Tours: Exhibits featuring historic geology, flora, fauna, and architecture of Tours
Tours Restaurants, Bars, and Nightlife: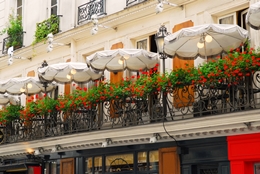 As mentioned earlier, the Loire Valley is famous for its wine producing region and Tours carries the banner with a host of wine tasting opportunities. Head just east of Tours, to the Vouvray commune, and discover its Chenin Blanc grape varietals, their sweet desert wines, and dry sparkling wines.

Restaurant-wise, Tours offers a variety of home-style bistros and lavish brasseries. The nightlife scene in Tours follows suit to many other small French cities and is pleasantly quiet; though discotheques and clubs are available, the clubbing lifestyle surrounding such establishments is fairly subdued. At the end of the day, Tours is more about wine tasting and exceptional food, than it is about clubbing and letting loose on the dance floor.
Seeing that it's the final day of your 4-day journey, you might chose to splurge a little on hotel accommodations to host your vacation's final scene.
Chateau D'Artigny: 5-Star Hotel, luxury chateau, outdoor pool, spa facilities, tennis courts, mini-golf, and a gym, classic antique furnishings, outdoor pool
Tours Road Trip, Scenic Drives:
You've had such an incredible time, are you heading home or would you like to adventure on? Depending on your schedule, the city of light--Paris--lies 2.5 hours from Tours, heading north up the A10 expressway. If the thrill of more is calling, a stop in Orleans on your way north offers an ideal location to enjoy lunch and get in a little more site seeing. Regardless of where you head from Tours, be it you're headed home or further adventure calls you on to the French Riviera, we trust that your trip through the Loire Valley and its many enchantments, has left you with beautiful, lasting memories.
---
More Fantastic European Road Trip Planning Guides