Champagne Region Road Trip Planner & Guide: Picardy to Chaumont

Prepare yourself for the ultimate tour of France as you explore the famed Champagne region, traversing through verdant landscapes, lush vineyards, and the bustling streets of Paris. For first time visitors to France, a road trip through the Champagne region encapsulates everything you've come to expect from this beautiful country, and affords you a unique view into the many diverse cultures and rich histories. A rental car in France will help you see all this and more.

Your road trip begins in the French province of Picardy, a region rich in cultural heritage, where some of the most exceptional examples of Gothic architecture still stand today. From Picardy, your next stop takes you to Paris--a "must-visit" location on any vacation to France--and then onwards to Chalons en Champagne for a taste of the regions famed sparkling wines before finishing your trip in the cultural epicenter of Chaumont.

Read on to Drive to Discover the adventures that await you in France!



---
Champagne Region Road Trip Day 1: Picardy to Paris
Picardy Events & Attractions: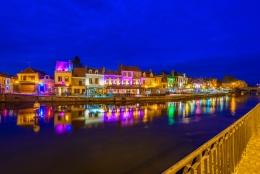 Day 1 begins just north of Paris in the province of Picardy--a region teeming with quaint French villages, exceptional wineries, and a long-running history rife for exploration. In addition to the numerous war memorials dedicated to the allied forces that fought during WWI, the Picardy province is most famous for being the birthplace of Gothic architecture, and home to six of the most well-preserved Gothic cathedrals in the world. Check out the shortlist below for some of the exciting attractions that await you in the Picardy province.
Amiens Cathedral: Largest cathedral in Europe, could house Paris' Notre Dame twice over
Saint Pierre Cathedral: Perfect example of Gothic style, church houses astronomical clock, ancient tapestries, and stained glass windows
Museum of Picardy: Features wide array of work from Egyptian archaeology to paitings by Picasso
Home of Jules Verne: Fully restored house once lived in by famed author Jules Verne
The Hortillonages: Over 300 hectares of marsh gardens on an interconnected network of small islands
Metropolitan Zoo: Home to over 300 animals, representing 75 species from around the world
Picardy Restaurants, Bars, and Nightlife:
Much like the majority of France, the local cuisine of Picardy is focused primarily on traditional fare, though a few local specialties do stand out, including: Ficelle Picarde--a light and fluffy pancake stuffed with ham, cheese, and mushrooms, Tarte au Maroilles--a salty cheese tart normally served with mixed greens, and Milliacus beer--a light and crisp barley beer that pairs perfectly with the hearty food of the region. Despite the regions small network of townships, the nightlife scene in Picardy is surprisingly lively, with a variety of high-energy dance clubs and homey watering-holes centered in downtown Amiens. Wherever the night takes you, the Picardy province is a near-perfect introduction to the culinary and nightlife scenes in France.
Le Tassigny: Rustic home-style restaurant with intimate atmosphere and traditional fare
Les Galettes de St Leu: Specializes in buckwheat crepes served in many styles--sweet to spicy
Le Bouchon: Fine dining specializing in traditional French cuisine
Ibis Styles: 3-Star Hotel, walking distance to Amiens Cathedral
Mercure Beauvais: 3-Star Hotel, walking distance from downtown Beauvais and cathedral
Picardy Road Trip, Scenic Drives:
Depart Amiens or Beauvais, depending on where you stayed the night, heading south towards Paris on the A16 expressway. Along the way you will have the opportunity to stop at a number of small French villages for lunch and sightseeing. Traffic can get fairly congested as you make the final approach into Paris, so departing early is paramount for a fulfilling day of exploration.
---
Champagne Region Road Trip Day 2: Paris to Châlons en Champagne
Paris Events & Attractions: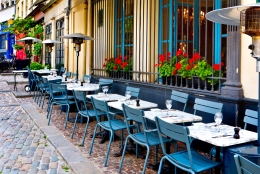 One of the most iconic travel destinations on earth, Paris has offerings you won't want to miss. If you are yet to experience Paris, feel free to be a tourist and visit the "Main Events" as well as the less touristy destinations that you won't find on any postcards. Try the Paris Museum Pass that lets you experience Paris via 70+ museums and monuments throughout the city at a discount and with minimal lines.
Eiffel Tower: Iconic architecture for the Lovers
The Louvre: For the Historians and Artists
Louis Vuitton Museum: Breathtaking art collection inside, Geary designed architecture outside
Napoleon's Mausoleum: Attached war museum
Flea markets: Antiques, art collections, sweet treats, and cheesy tourist souvenirs
Paris Restaurants, Bars, and Nightlife:
It's Paris--need we say more? Enjoy yourself but beware of priced-gouged tourist-trap eateries near major attractions--like those surrounding the square of Notre Dame. A good option is to simply head just down the avenue.

Ribouldingue: Reservations suggested, quaint on the outside, 5-star restaurant on the inside, bistro style, traditional French cuisine, often offers culinary inspiration to fellow chefs

From swanky lounges to the feverish energy and pumping bass lines of a VIP dance club, Paris has it all. An excellent place to start your night might be near the Place de Bastille, which has a vast amount of offerings, though nearly every arrondissement (district) will have something you'll find enticing.

The W Paris: 5-Star Hotel, short distance away from the Eiffel Tower, Champs Elysees and the Louvre
Le Cinq Codet: 4-Star Hotel, situated in the heart of the prestigious 7th arrondissement
B Montmartre: 3-Star Hotel, located next to the Place de Clichy metro station in the Montmartre district of Paris
Paris Road Trip, Scenic Drives:
As much as you may long to bask in the City of Lights, the rest of the Champagne Region is calling. Ahead, you'll find magnificent vineyards, scenic vistas and perfect picnic hideaways. Departing from Paris, take the scenic route and follow the signs for the A4/E50 east. This will take you through Reims and on to Châlons en Champagne, where you can stop off to check out a number of stunning architectural attractions and museums.
---
Champagne Region Road Trip Day 3: Châlons en Champagne to Chaumont
Châlons Events & Attractions: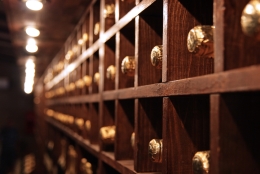 Châlons en Champagne, the official capital of the Champagne Region, stuns with its awe-inspiring architecture, rich history, and natural beauty. Consider giving up the car for a day and take a kayak tour down the River Marne which bisects the city, offering an outside perspective of the busy city life and unmatched views of the city's architectural monuments and massive vineyards.
Notre Dame en Vaux: A UNESCO World Heritage site, built in the 12th century, various architecture styles from Gothic to Baroque
Saint Etienne's Cathedral: Consecrated in 1147 October 26, by Pope Eugene III. Notable for large collection of stained glass windows
Saint Alpin: The oldest church in Châlons en Champagne, Gothic style around 1170
Historic battlefields: Date back to the Roman Empire, Battle of Châlons, Catalaunian Fields
Châlons Restaurants, Bars, and Nightlife:
As the epicenter of the Champagne Region, and home to some of the most famous Champagne vineyards in the world, Châlons en Champagne stands in a category all its own. Offering vintages and artisanal collections not to be found anywhere else in the world, this stop on your tour will be one you tell your friends about. Remembering you've been spoiled in Paris, Châlons en Champagne offers more charming meals than culinary masterpieces. As is the case in many cities across the world, some of the best food can be found in the quaint, hole-in-the-wall bistros. While here, try asking the locals for a recommendations which will almost always result in an excellent dining experience.

Châlons Hotels & Lodging:
If Paris is the best place to splurge on lavish hotels and VIP services, then Châlons en Champagne is the best place to try the other side of the spectrum and reserve a couple nights at a local Bed and Breakfast. Even though B&B's may lack the amenities of larger hotels, their personal touches and unique offerings will leave you feeling closer to the people and countryside of this beautiful country.

Châlons Road Trip, Scenic Drives:
Taking the A26 south as you leave Châlons en Champagne will allow you to connect with the D619 towards Chaumont. Along this route, you'll get to experience classic French villages and the endless natural beauty of the Orient Forest Regional Natural Park--a 170,000 acre nature reserve. You can even take some time out and experience its numerous hiking trails, vistas, swimming holes and charming landscapes.
---
Champagne Region Road Trip Day 4: Chaumont & Beyond
Chaumont Events & Attractions: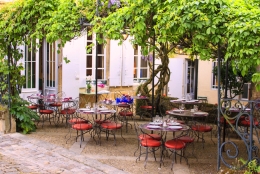 On our last day drive through the Champagne Region, look forward to Chaumont's fabulous food and captivating attractions--both natural and man-made. Chaumont's relatively small size makes it an ideal destination for a casual stroll, meandering the classic cobbled roads, and passing ancient historic antiquities as you take in the masterfully built churches, basilicas, chateaus and castles.
The Chapel of the Jesuits: Beautiful high-relief interiors
The Basilica of St. Jean Baptiste: Near the center of Chaumont
Book and Poster Art: Located in re-purposed grain silos in town, over 20,000 posters of theatrical, operatic, and music venues from all over the world
International Poster and Graphic Design Festival: During the summer, artists showcase & workshops from around the world
Chaumont Restaurants, Bars, and Nightlife:
As with the rest of France, here you'll find traditional French fare but also look for innovative fusion cuisines. Chaumont's relatively compact community makes it convenient for exploration by foot, which means a short walk in nearly any direction provides excellent restaurant options. A small selection of pubs, wineries, and clubs can also be found.
Le Grain de Sel: Affordable classic French cuisine, rustic atmosphere

Bouddha Zen Sushi: Japanese culinary offerings, excellent Sushi

Chaumont Hotels & Lodging:
After your epic journey through Picardy and the Champagne Region, a good night's sleep in a comfy hotel is paramount. Relaxing the evening away and reflecting on your exciting adventure up to this point is best accomplished from the balcony of a luxurious hotel which, fortunately for you, are more than abundant in Chaumont. A few standouts include, Hotel de France, Hotel Des Remparts, and Hotel Le Grand Val. If you're curious about specific hotel amenities or discount rates, give our hotel reservations department a call today at 1-888-223-5555, or check out our hotel offerings online at excellenthotels.com.

Chaumont Road Trip, Scenic Drives:
As our guided Champagne Region itinerary comes to an end, you have a multitude of destination options, should you choose to continue on. If you are eager to hit the beach after discovering the Champagne Region, steal down south to Monte Carlo or St. Tropez for white sand beaches. Want to delve deeper and explore France's storied past? Turn your vehicle north and discover all that Brittany has to offer in St. Malo or Rennes, France is not short of scenic drives. Heading home or continuing on, Auto Europe has you covered; from the best prices on car rentals to discount hotels, we are here to make your vacation dreams into reality.
---
More Fantastic European Road Trip Planning Guides