Best Road Trips in Switzerland
Get inspired for a mountain driving tour with Auto Europe's handy guide to the three best road trips in Switzerland. Whether you're planning to explore snow-covered mountain passes on a serene alpine drive, embark on a self-drive tour of the best ski resorts in the Swiss Alps, or discover history and culture in the country's most famous cities, our three Switzerland road trip itineraries with point of interest maps are sure to inspire, and can help you save precious time planning your next vacation abroad. Reserve a car rental in Switzerland with Auto Europe today!
The best part about a road trip in Switzerland or anywhere in Europe for that matter is that it allows you to slow down, take detours, or linger at the many points of interest along the way. You can move at your own pace, set your own itinerary and when you are behind the wheel of a comfortable and safe car you're ready to enjoy the view and notice the details of each village, roadway or mesmerizing views that you might miss through the window of a bus, speeding train or taxi. Switzerland, maybe more than any other destination, is perfect for road trips. With its inspiring panoramic views at every bend in the road and amazing natural landscapes dotted along the roadside you will have no trouble finding things to do and see. Driving through Switzerland on one of the travel routes we suggest below is a fantastic way to take in the natural beauty of the Swiss Alps, amazing Alpine villages, or find yourself with some of the best photographs you've ever taken. Get your planning started now by reading all about our favorite drives and road trips in Switzerland, or use our guides for inspiration.
Our Favorite Drives in Switzerland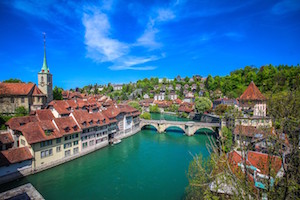 Explore Swiss history and culture when you embark on this week-long road trip itinerary through some of Switzerland's most inspiring rural regions and city destinations.
Read Now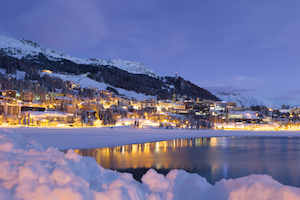 Stunningly gorgeous natural landscapes and scenic vistas await all-year-round on this epic alpine adventure through Switzerland's mountain peaks.
Read Now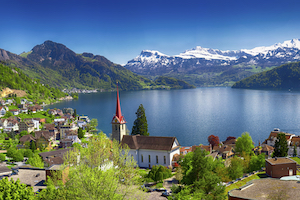 Enjoy this 3-day route through the beautiful city of Bern, and the eye-catching natural landscapes around Lake Lucerne & Lauterbrunnen Valley.
Read Now
Popular Rental Car Locations in Switzerland
Auto Europe is proud to offer car rental services at every major airport, rail station, and downtown office location across Switzerland. We guarantee the best rates in Switzerland and by working with a variety of top-rated suppliers, are able to offer convenient pick-up and drop-off locations to meet any travel plans.