Car Rental Spain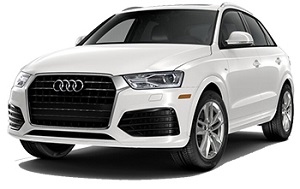 With a car rental in Spain you're free to explore one of the most popular destinations in the world. Start your adventure with a visit to one of the three museums that make up the Golden Triangle of Art near the city center of Madrid. Here you'll be treated to magnificent exhibitions of sculpture and other fine art. Next, pilot your Spain rental car along the coast of Barcelona for panoramic views of the Mediterranean Sea. You can see it all and enjoy the freedom and flexibility that a personal vehicle provides when you rent a car in Spain. Tour Europe at your own pace, pausing to linger at your favorite sites. Consider a Spain luxury car rental to enhance your trip - begin your adventure with a free quote online - our rates on Spain car rentals are the lowest in the industry!
Explore Spain, one of the top European destinations with no shortage of memorable trips, especially since regions like Catalonia feel like a totally different country. Dramatic, snow-capped mountains and pristine Mediterranean beaches await - offering a striking backdrop for the rich culture and history of the country. Dynamic cities lure savvy travelers from across the globe - delivering on the promise of exciting nightlife and robust cuisine. Travelers seeking a laid-back, indelible travel experience need look no further than Spain and the best way to tour this fabulous country is with an affordable rental car in Europe.
Where Can I Pick-Up My Rental Car in Spain?
Auto Europe offers premium car rental rates at every major transportation terminal in Spain. No matter what your travel itinerary may be, we've got convenient car rental pick-up and drop-off locations for you. Here are our most popular pick-up and drop-off locations at Spain's major airports and rail terminals.
Who are the Best Rental Car Companies in Spain?
Spain offers something unique year-round - attend one of the country's famous annual festivals or get off the beaten path and discover excellent restaurants at seldom-visited corners of Spain. Whether you hope to relax on the golden beaches of the Mediterranean coast in the summer or ski the Pyrenees or Sierra Nevada slopes during the winter, a Spain rental car will provide the autonomy you need! But before you head out, be sure to check out some of our best suppliers, like Sixt or Hertz, and their inventory below.
What Should I Know About Renting a Car in Spain?
We've been helping our clients book international rental cars in Spain for over 60 years. International travelers should be aware of the driving and rental restrictions and requirements throughout the country of Spain. Many rental car suppliers will require rental car drivers to obtain an international driving permit in order to pick-up your car rental. Travelers can find more information with Auto Europe on rental car insurance and the rules of the road when driving their rental car in Spain. Car rental insurance is a requirement on all rentals in Spain and our rates include the required coverage needed to drive off the lot. We can also provide optional insurance coverage at a cheaper rate than you will be quoted from the counter of your supplier.
Travel Inspiration for your Next Trip to Spain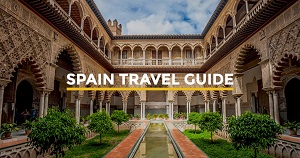 Auto Europe has been helping travelers find affordable rental cars in Spain for decades. As a trusted travel partner, we love sharing ideas to help you build your upcoming travel itinerary. We've developed road trips highlighting some of the most sought after attractions in Spain, as well as published a number of unique posts focusing on informing travelers on all there is to see and experience during your time abroad. Whether its your first time or tenth time, review the links below and let us inspire you to make the most of your visit to Spain.
| Road Trip Planners | Travel Inspiration |
| --- | --- |
| | |
---
More Frequently Asked Questions About Renting a Car in Spain..
How old do you need to be to rent a car in Spain?
To rent a vehicle in Spain through Auto Europe you are required to be at least 21 year old and have your drivers' license for a minimum of 1 year. When renting a vehicle in Spain it is also recommended to have an international driver's license. Drivers who are 21-24 years old may be required to pay a young driver surcharge of $11 CAD up to $21 CAD per day depending on the rental supplier.
Can I use my license to drive in Spain?
Like many European countries, travelers from Canada can pickup a rental car in Spain and drive off the lot with nothing more for documentation, than a domestic driver's license in good standing from your home country. With that said, there are some legal discrepancies worth noting. While it's not technically a requirement to posses an international driver's license, if you are stopped by police without one, you may be fined.
Can I drive my rental car into neighboring countries?
When renting a vehicle in Spain through Auto Europe most have the ability to travel throughout Western Europe without any restrictions. Luxury vehicles, 4x4s, large vans and some automatics may have travel restrictions due to insurance regulations that have been placed on them. At this time please take a moment to make sure the vehicle you intend to rent is suitable for your travel needs.
Restricted Countries
Rentals commencing in Spain that are booked through Auto Europe are not allowed to travel into the following countries: Albania, Bosnia, Belarus, Bulgaria, Czech Republic, Croatia, Estonia, Greece, Hungary, Latvia, Lithuania, Macedonia, Moldova, Montenegro, Poland, Romania, Russia, Serbia, Slovenia, Slovakia, Turkey and the Ukraine.
NOTE: Travel to the African continent is strictly prohibited and some vehicle categories may not be allowed to travel into Italy. One-ways between islands and the mainland or between island to island is not permitted.
Find more questions and answers about car rentals in Spain with Auto Europe.
---
Does Auto Europe Offer Different Vehicle Rental Options for Visitors to Spain?
Regardless of what type of car or truck you need, Auto Europe has an excellent rate in Spain that can't be beat. Luxury cars, chauffeurs, vans, airport shuttles, if you're looking for additional transportation options, we've got them. Compare and contrast rates on all these transportation choices to discover the perfect ride for you and your party.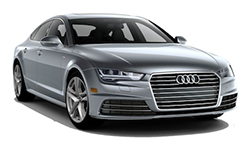 Luxury Car Rentals Spain
- Travel the streets of Spain in fashion with a sleek luxury rental vehicle. Auto Europe's luxury car or truck rentals include options from BMW, Mercedes, Porsche, Range Rover and more. Examine prices between luxury models and traditional car rentals all in one place with Auto Europe.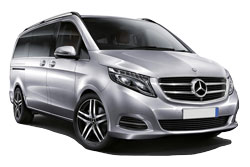 Van Rental Spain
- A van rental in Spain helps to ensure that passengers can journey in comfort without having to sacrifice baggage space. Auto Europe supplies the largest choice of minivans to select from so that you can find the size and price point that most closely fits your needs.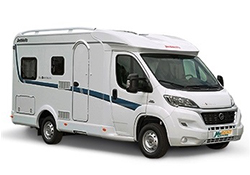 Spain Motorhome Rentals
- When renting with Auto Europe you've got a wide variety of motorhome rental alternatives in Spain. Not only do you save money avoiding pricey hotel room stays, but you are able to take pleasure in the incredible landscapes of Spain and investigate the area at your own pace!