Spain Car Rental Driving Information
From the sandy beaches of San Sebastian to the historic streets of Madrid are only a few of the many things you will be able to see with a car rental arranged by Auto Europe. However before you leave for Spain please take a moment to read through the information below, as it will give you insight into renting a driving a vehicle in Spain.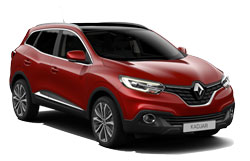 Requirements
To rent a vehicle in Spain through Auto Europe you are required to be at least 21 year old and have your drivers' license for a minimum of 1 year. When renting a vehicle in Spain it is also recommended to have an international driver's license. Drivers who are 21-24 years old may be required to pay a young driver surcharge of $11 CAD up to $21 CAD per day depending on the rental supplier. You can be fined if caught using a cell phone while driving in Spain, however you may use a cell phone while driving if it is being used in conjunction with a hands free device. Children who are under the age of 3 years must travel in a child seat that is suitable to their size. Children 3-12 years old are highly recommend to be placed in a booster seat, but are allowed to travel using a seat belt in the back seat of the car if a booster seat is not available.
Speed Limits
The following are the standard legal speed limits in Spain: city 50 km/h, open roads 90 km/h and 120 km/h on the highway. Speed limits can vary please pay attention to the speed limit signs in the area you are traveling.
Rules of the Road
Vehicles in Spain are required to travel on the right and give way to traffic that is traveling from the left. In Spain you are required to flash your headlights in order to indicate passing.
Gas & Diesel
Gas stations located on Spanish highways are usually open 24 hours and those located in city areas are generally open from 7am to 11pm. In Spain the cost for regular unleaded gas is about $5 CAD with diesel costing about $4.86 CAD.
Tolls
In Spain, the expressways, or 'autopistas' are toll roads and are identified by the letter A.
Parking
An area of pavement that is painted yellow indicates that parking is restricted in that particular area. When parking vehicles must face the direction that traffic flows and most cities regulate parking with meters that generally have a 2-hour limit.
Insurance Information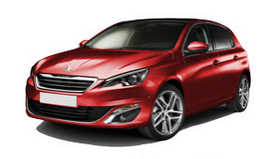 General Information
Insurance is extremely important when renting a vehicle as requirements often vary from country to country. With Auto Europe your rental rate in Spain will automatically include all mandatory insurances. Below we have gone into detail what insurance is required to be on your vehicle rental and what other options are available to your through Auto Europe and the local suppliers in Spain. If beginning your rental in Spain, the insurance guidelines of Spain will be in effect for the entire duration of the rental even in the event it is returned to a different country. Specific car rental insurance information can be found in the terms and conditions area of your rental voucher.
Required Coverage
In Spain car rentals are required to have fire insurance and third party liability insurance coverage. Here at Auto Europe we include both forms of insurance on all basic rental rates in Spain. Fire insurance generally provides an unlimited amount of coverage in the event the rental vehicle is damage because of a fire. Third party liability provides and unlimited amount of coverage to people and property outside the rental vehicle that may be damaged or injured because of the rental vehicle
Optional Coverage
In Spain, there are a few forms of optional insurance coverage, which includes collision damage waiver (CDW), theft protection, personal accident insurance and super CDW. CDW and theft are optional and will be included at an advance purchase discount if the inclusive rate it selected. CDW and theft in most cases will have a deductible that you are still responsible for in the event of an accident or theft, which can range from $860 up to $1,575 CAD. Many suppliers offer a supplementary insurance which is called super CDW which will help reduce the amount of the deductible that you are responsible for. The cost for super CDW is approximately $12 CAD per day up to $22 CAD per day and is available through select suppliers only. Personal accident insurance is offered locally and will provide death and disability coverage to the driver and passengers of the rental vehicle. The cost of personal accident insurance is between $8-$13 CAD per day. At this time we would like to advise you that optional insurances are available through select suppliers only and the costs noted above are subject to change without notice.
Rental Restrictions
General Information
When renting a vehicle in Spain through Auto Europe most have the ability to travel throughout Western Europe without any restrictions. Luxury vehicles, 4x4s, large vans and some automatics may have travel restrictions due to insurance regulations that have been placed on them. At this time please take a moment to make sure the vehicle you intend to rent is suitable for your travel needs.
Restricted Countries
Rentals commencing in Spain that are booked through Auto Europe are not allowed to travel into the following countries: Albania, Bosnia, Belarus, Bulgaria, Czech Republic, Croatia, Estonia, Greece, Hungary, Latvia, Lithuania, Macedonia, Moldova, Montenegro, Poland, Romania, Russia, Serbia, Slovenia, Slovakia, Turkey and the Ukraine.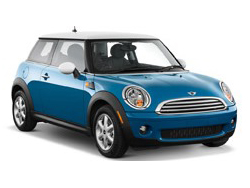 Note: Travel to the African continent is strictly prohibited and some vehicle categories may not be allowed to travel into Italy. One-ways between islands and the mainland or between island to island is not permitted.
One-Way Rentals
International one-way rentals incur an additional fee to be applied to the final rental cost. Domestic one-way rentals are also available and most are free of charge when you book with Auto Europe. Minimum rental lengths may apply and not all vehicles are allowed on one-ways.