Visitors to Spain's Andalusia Region can explore some of the most well-preserved, historically integral, and culturally relevant examples of Moorish architecture in all of the Iberian Peninsula. From the 8th to 15th centuries, the Moors controlled most of Spain, Sicily, Malta, and large swaths of North Africa. The Moors were Arabic peoples from North Africa, and their Islamic heritage and influence can be seen today through the remaining examples of the highly detailed architectural wonders they left behind. Spain has some of the best examples of Moorish architecture, in ancient cities such as: Granada, Malaga, Cordoba, Toledo, Sevilla, and many other less prominent (but equally intriguing) villages dotted along the Andalusia. Reserve a Spain car rental from Auto Europe and see first-hand Moorish architecture in Spain.
---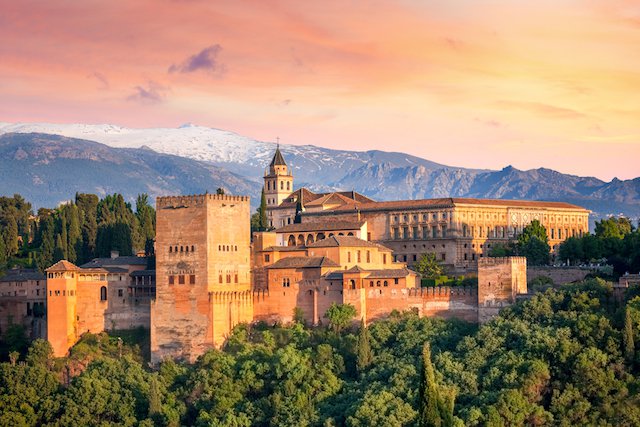 Granada
The city of Granada holds one of the most visited historical Moorish sites in Spain: the Alhambra. Built near the end of Moorish occupation in the 14th century, the Alhambra served as a palace and fortress for the ruling Nasrid dynasty. The beautiful architecture of this palace has inspired many other buildings around the world, and remains one of the most well-preserved Moorish structures in the world, hence it's designation as a UNESCO World Heritage Site.
Adorned with bubbling fountains and verdant gardens the Palacio de Generalife served as a summer palace for Nasrid royalty, that was once connected by tunnel to the Alhambra. Palacio de Generalife is now a designated UNESCO World Heritage Site, and a must-see when in Granada.
Outside of these two prominent monuments of Moorish history, a small district in Granada has been preserved to maintain it's ancient cobbled streets, and medieval past - called the Albayzin. The Albayzin district contains myriad Moorish monuments to explore, including minarets, castle walls and towers, and various nobles' houses.
Save money on your:
Rental Car in Granada | Granada Airfare | Hotels in Granada
---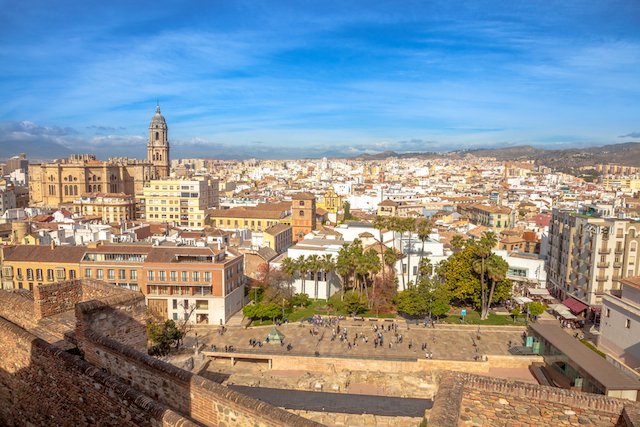 Malaga
The Alcazaba of Malaga, is one of the oldest Moorish forts on the Iberian Peninsula. The citadel protected the Moors from the Spanish Reconquista until the 15th century. The ruins are among the most preserved and even include a Roman theater that predates the Moors!
Atop a 150m hill along the mountains of Malaga overlooking the city is the Castle of Gibralfaro (Castillo de Gibralfaro), an epic structure that defended the Moors from a 3-month siege led by Catholic Monarchs in 1487.
Save money on your:
Rental Car in Malaga | Malaga Airfare | Hotels in Malaga
---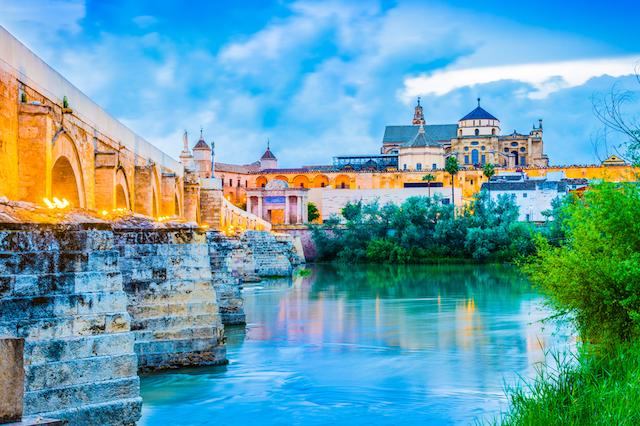 Cordoba
Located in the epicenter of Cordoba is the Mosque-Cathedral of Cordoba, a sprawling cathedral complex originally divided into Muslim and Christian sections, featuring a stunning array of vibrant mosaic and gold leaf work, geometric designs, and expertly painted ceilings.
On the outskirts of Cordoba is the Medina Azahara, the ruins of a medieval Muslim fortress city, originally named 'The Shining City.' In addition to the palatial ruins adorned with classic Moorish geometrical architecture, there are ruins of terraced gardens and even evidence of an ancient Roman aqueduct.
Save money on your:
Rental Car in Cordoba | Cordoba Airfare | Hotels in Cordoba
---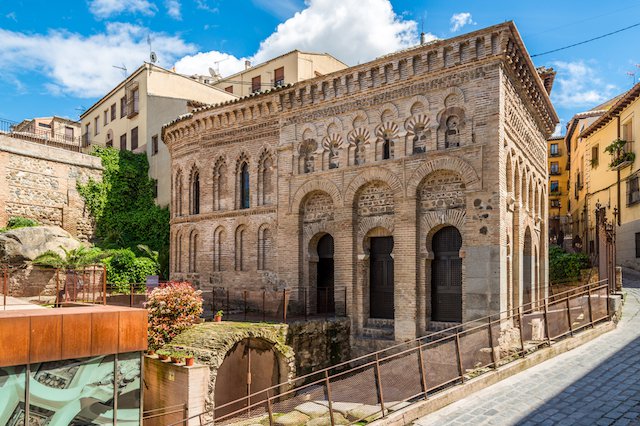 Toledo
One of two medieval Mosques in Toledo, Spain is Mezquita de las Torneras, an 11th century ruin originally designed as a companion to the Mosque of Cristo de la Luz, and now home to an arts and crafts center.
The more famous of the two, Mosque of Cristo de la Luz was built in 999AD, and unlike many other Moorish Mosques in Spain, remains in exceedingly original condition to this day. Moorish architectural influence is evident throughout the Mosque, with heavy geometric designs and intricate stylings.
Save money on your:
Rental Car in Toledo | Toledo Airfare | Hotels in Toledo
---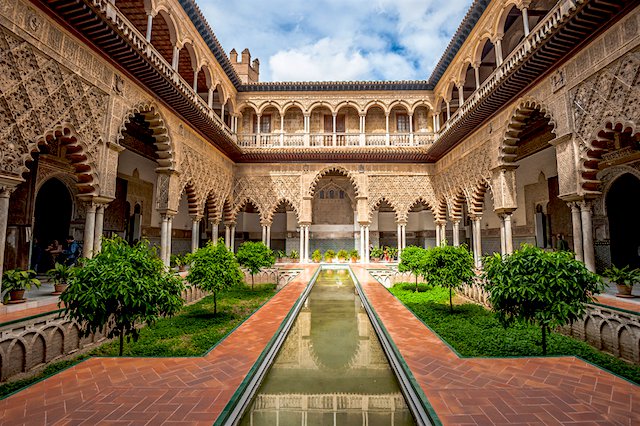 Sevilla
Easily one of the most recognizable Moorish palaces in the world, the Alcazar of Sevilla (Real Alcazar de Sevilla), is a massive walled fortress featuring tiled mosaic domes, lush palace gardens, ancient baths, and incredibly complex stone-work (as seen in the picture above). Alcazar of Sevilla is a UNESCO World Heritage Site.

La Giralda (also a UNESCO World Heritage Site) is a Moorish built bell tower as part of the Sevilla Cathedral in the heart of Sevilla. Built in 1184, La Giralda has inspired architects around the world, from Morocco to Italy and beyond. Pick-up a luxury rental car in Seville and explore these sites in style.
Save money on your:
Rental Car in Seville | Seville Airfare | Hotels in Seville
---
Explore Spain on Andalusia Travel & Tours with Auto Europe
With so many incredible examples of Moorish architecture to explore, it only makes sense to pick up a Spain car rental, and enjoy a vacation exploring these wonders of ancient and medieval history. In addition to car rentals Auto Europe also offers a wide variety of discount and luxury hotel options, and international airfare. Give us a call or click today, at 1-888-223-5555 to speak to one of our friendly reservation specialists to get started today!
Save money on your:
Rental Car in Spain | Spain Airfare | Hotels in Spain