Barcelona is the city where every holiday fantasy can really come true. With sun, sea, sand, and an incredible history, the city is one of the most famous and most exciting European destinations. The architecture, the music, the culture, and the food all make Barcelona an infinitely appealing choice for a fun getaway, a cultural vacation, or a romantic retreat. The capital of Catalonia, Barcelona is filled with the works of flamboyant post-modern architects and plenty of people enjoying the incredible sunshine and surroundings on cafe corners and bustling plazas.
---
Barcelona Sightseeing Tips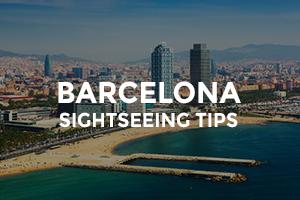 Opening times.
The Spanish city is still very traditional in places and many people take an afternoon siesta after lunch. Most restaurants will open between 1.30pm and 4pm for lunch, and then 8.30pm until 11pm for dinner. Some shops will shut on Sundays, public holidays and sometimes during lunch (siesta) between 2pm and 5pm. It's also important to note that some businesses will shut during August.
When to Visit.
Barcelona is beautiful all year round, with hot summer months (in July and August), and perfect mild weather from May to June, and September to October.
Barcelona Card
. For free entry to a number of museums, free unlimited transport and a number of discounts on shopping and eating opt for the Barcelona Card, which is available to buy online or at tourist information locations in the city.
---
Barcelona Attractions & Destinations
Barcelona's history is evident in its vibrant and quirky appearance, that can be seen and felt at almost every turn. Its Catalan culture has been through many transitions and phases, which can be seen in the Art Nouveau buildings, the medieval Barri Gotic, and on famous streets like La Rambla – the vein of the city. Its array of impressive attractions take you through its long history, with its attention to artistic culture, democracy and national identity:
Be sure to check out these must-see sights during your time in Barcelona: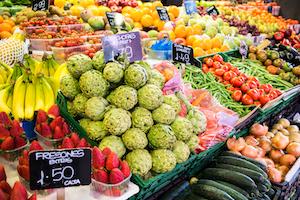 La Boqueria
Wandering around one of the world's most exciting produce markets is the ultimate way to while away an afternoon in Barcelona. Sample some local food at one of the most interesting buildings in the centre of the city, located just off La Rambla. Expect plenty of noise and inviting smells.
Santa Maria del Mar
The large Santa Maria del Mar church dates back to the early 14th century and was built as a symbol of Catalonia's prominence in the maritime industry. The church is one of the city's shining examples of Gothic architecture, and is the only remaining example of Catalan Gothic style.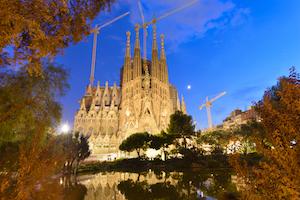 La Sagrada Familia
Probably one of the most iconic and intriguing structures in the city, the Sagrada Familia is a large cathedral that takes centerstage in the city. The impressive and elaborate church was designed and partially built by Gaudi, but was left unfinished in 1926 when he passed away. Construction is still underway, but the incredible city sight is open to visitors.
Park Guell
Climb to the top of Park Guell, a collection of gardens and architectural sculptures and buildings built by Gaudi that overlooks the city. The park was once landscaped miniature gardens designed by Gaudi as an attraction for the rich visitors of the city that was unsuccessful. It was reopened as a public park in 1922 and features many Gaudi works as well as excellent views of the city.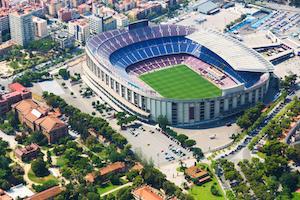 Camp Nou
Home to the world famous Barcelona soccer team, Camp Nou stadium is a must-see attraction in Barcelona. Try to time your visit with a match, tickets can be bought in advance or at the stadium, or take part in a tour of the largest stadium in Spain.
---
Shopping in Barcelona
Barcelona is one of the shopping capitals of Europe – with a number of high street locations, designer boutique streets, and quirky markets, the city is thriving with shopping experiences. Head to these top locations for international favorites, second-hand bargains, and designer destinations:
The Portal de l'Angel
This incredibly famous street is made up of all of the top designer brands in France and some from further afield. Anyone who is anyone shops at La Croisette Boulevard, where you can find brands such as Gucci, Louis Vuitton, Chanel and Dior.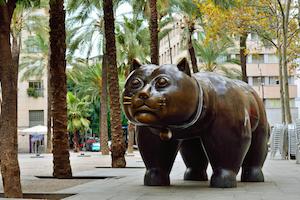 Avinguda Diagonal
This quirky market is a bustling attraction for those looking for a bargain. Browse through clothing, food, pottery, plants and antiques at this local market and come away with lots of great goods for your money.
The largest shopping mall in the French Riviera is located close to the airport in Nice, with over 100 shops, bars and restaurants, Cap 3000 is the place to shop if you want options.
El Bulevard Rosa
For a pleasant shopping experience browsing through designer boutiques and trendy high street brands head to Rue Massena. The street runs along the beach and is perfect for a casual beach and shopping day.
The antique flea market, Forville Market, in Cannes is unlike much of the designer shops in the town. Instead the market offers interesting and beguiling antiques, furniture, fruits, vegetables, and books all piled in together.
Mercat de Sant Antoni
On the edge of El Raval you will find the Sunday morning Mercat de Sant Antoni, here you can find books, stamps and cards. Sunday mornings at Placa de la Virrenina also holds a second-hand market – great for vintage finds.
---
Barcelona Restaurants
Eating out in Barcelona is a real treat. Whether you are looking for a fine dining spot with avant-garde cuisine or hearty Catalan dishes, Barcelona has it all. Try everything from fresh fish, vegetables, game, lamb and duck in this Mediterranean city that is all about its fine food:

Click TripAdvisor Rating for Restaurant Reviews
Abac

For some of the city's finest Catalan food in one of the most beautiful dining rooms opt for ABAC. The intimate restaurant serves up modern Catalan food with its one Michelin star and promises an unforgettable dining experience.
Alkimia

If you want to try something completely new and exciting then head to the contemporary gourmet restaurant of Alkimia. Proving that Barcelona is on the cutting edge of haute cuisine, Alkimia boasts an exciting and experimental menu and is popular with Barcelona's trendy elite.
Els Pescadors

Make the most of Barcelona's seaside location by dining at the historic El Pescadors fish restaurant. Founded in the late 19th century, the restaurant is known for serving up some of the best fish in the city. The restaurant is located a little bit outside of the city, but is definitely worth the trip.
Los Toreros

For a budget option, head to Los Toreros, a quaint and tiny restaurant that serves up delicious Catalan tapas. Its unpretentious atmosphere makes you feel instantly welcome and the food keeps regulars and locals coming back for more.
La Dolca Herminia

Located in an old theater with high-vaulted ceilings, La Dolca Herminia is an ideal budget option but with the atmosphere of a higher end establishment. Opt for the home-cooked set menus, which come with a drink of house wine, and be sure to try the tasty desserts.
---
Hotels in Barcelona
Barcelona has an array of hotels to choose from across the city. The city is home to historic large hotels in the center, as well as smaller guesthouses and boutique hotels perfect for a romantic getaway.
Click Hotel Name for Further Booking Info
Mandarin Oriental Barcelona

Stay in the heart of the city at one of the most iconic and stunning hotels in Barcelona, the Mandarin Oriental Barcelona. Great if you love shopping and you love all things stylish, the hotel has well-designed rooms with a gorgeous terrace and rooftop pool that offers stunning views of the city.
El Palace

Barcelona's most opulent hotel, El Palace is located in an ideal location in the center of the city and features breathtakingly majestic suites, and lounging and dining areas for guests to enjoy. The décor is glamorous with a classic feel to it, and some bedrooms even include Roman baths.
Claris

Enjoy spectacular rooftop views from the inner-city location of the Claris, a luxury hotel close to La Rambla and Diagonal. Discover the hotel's unique Egyptian artifacts, as well as its three exquisite restaurants, one of which is located on the roof.
Hotel Neri

The stunning historic Hotel Neri Relais & Chateaux is a four-star hotel close to the city's historic sights, including the Barcelona Cathedral and some of the region's oldest neighborhoods. The hotel has all of the modern amenities including free Wi-Fi, a hotel bar and room service and a 24-hour reception.
Hotel Barcelona Catedral

Just 100 meters from the sea, the Chambord Hotel Menton in the beautiful town of Menton is a modern hotel with all of the comforts of a hotel at great prices. The hotel is in the ideal location to explore Monaco and the rest of the Cote d'Azur.
---
Want More Catalonia?
Did we miss one of your favorite attractions, restaurants, or hotels on this list? Let us know below in the comments, or connect with us on social media! Auto Europe is also available by phone, 24/7 and toll-free at 1-888-223-5555