Car Rental Alcobendas, Spain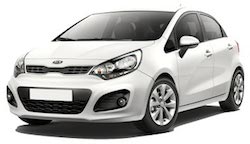 We provide our customers with nothing short of the lowest prices on the internet for affordable rental vehicles in Alcobendas, making us the best decision when reserving the transportation for your Spanish vacation. Choose from a wide variety of vehicles to suit any and all of your travel needs from a small and sporty convertible to a multi-passenger rental van. Be sure to use the booking engine at the top of the page to reserve your low cost car rental from Auto Europe today and experience the difference of renting a car from a trusted industry leader. If you have further questions about renting an auto in Spain, please call us today at 888-223-5555.
Where Can I Find The Rental Offices Throughout Alcobendas?
We work hard to provide our customers with plenty of convenient pick up and drop off locations throughout the globe, including in Alcobendas, Spain. We do this in an effort to ensure that you spend as little time at the office and more on the road, experiencing all that life has to offer, while on your trip. These locations consist of airports, downtown offices and even train stations. Be sure to reserve your vehicle today and pick it up at your preferred Alcobendas location for your journey through tomorrow.
Avis in Alcobendas
Calle de Menorca, 2
Alcobendas, Spain 28100
Phone: +34 916 54 33 61
Hours: Mon - Fri 8:30 AM - 1:30 PM and 4 PM - 7 PM
Sat - Sun Closed
Europcar in Alcobendas
Valdelaparra, 25 Nave Industria
Alcobendas, Spain 28108
Phone: +34 911 50 50 00
Hours: Mon - Fri 8:30 AM - 1:30 PM and 4 PM - 7 PM
Sat 9 AM to 1 PM
Sun Closed
Which Suppliers Does Auto Europe Partner With In Alcobendas?
We deliver the results along with the best and most trusted suppliers like Avis and Europcar to present our customers with a sense of not only comfort when it comes to realizing they booked with the right enterprise, but to also save them money in the process. It is for this purpose why we are able to pass on such enormous reductions to the shoppers in Alcobendas. No matter what your desires may be in a low cost rental car, our suppliers will be able to handle it with ease. Be sure to use the booking gadget at the top of the page to reserve your discounted vehicle rental now and save more by booking with Auto Europe!
---
More Popular Frequently Asked Questions When Renting A Car In Alcobendas
Do I Need An International Driver's Permit To Rent A Car in Alcobendas?
Yes! All international drivers from Canada must purchase an international driver's permit (IDP) from their local auto club (like CAA) for about $25 before leaving on their trip. Please be sure to remember to not forget your regular license too as both are needed in order to operate a motor vehicle in Spain. Be sure to acquire yours today!
How Can I get the Best Deal on a Hotel Room in Alcobendas?
Did you know that we offer great rates on hotel rooms in Alcobendas and not just the lowest prices on car rentals? Visit our hotel deals page to learn more about selecting the perfect hotel stay for your Spanish adventures today and save big when booking with us online.
Is There an Age restriction For Renting a Car in Alcobendas?
In Alcobendas, as well as the rest of Spain drivers must be a minimum of 21 years of age in order to operate a rental car. Follow the link provided to learn more about the rental ages based on country now.
---
Does Auto Europe Offer Specialty Vehicle Rentals In Alcobendas?
Whether you plan to spend a night under the stars in a motorhome rental, drive with the top down through the streets and boulevards in a luxury convertible rental, lease a vehicle for your extended trip or make use of a passenger or cargo van we have the car to properly suit your needs in Alcobendas. Reserve yours today for big savings!
Luxury Car Rentals in Alcobendas - Experience the ancient beauty of Spain from the driver's seat of a luxury rental car, provided by Auto Europe. We enable customers to pick and choose from top of the line vehicles from manufacturers such as Ferrari, BMW, Mercedes-Benz and many more. Reserve yours today and experience Alcobendas from the lap of luxury.
Van Rental Alcobendas - Avoid the need of multiple vehicles for all of your passengers and their luggage by renting a multi-passenger van in Alcobendas. Your passengers will thank you for all of the added leg room that enables them to stretch out and relax during your journey. Reserve yours now and see what sets Auto Europe apart from the competition.
Alcobendas Motorhome Rentals - Ever dreamed of sleeping under the stars in Spain? Well now you can when you rent a motorhome for your Alcobendas cross-country trek. See some of Earth's oldest wonders from the comfort of a hotel on wheels and travel at your own pace.