French Riviera Road Trip Planner & Guide: Monte Carlo to St. Tropez

Bask in the warm glow of luxury during your French Riviera road trip, exploring idyllic white-sand beaches, palatial Mediterranean villas,and Michelin-starred restaurants as you traverse the distance between Monte Carlo and St. Tropez. A car rental in France will help you explore all this and more.

From the lavishly adorned halls of Monte Carlo's premiere casinos, to the pearlescent sand gracing the beaches of Nice and St. Tropez, there has never been a better time to explore southern France. With such an abundance of architectural attractions, tourist destinations, and scenic vistas to cover, a Monte Carlo rental car is essential in maximizing your time during your French Riviera road trip.


Read on to Drive to Discover the adventures that await you in France!



---
French Riviera Road Trip Day 1: Monte Carlo to Nice
Monte Carlo Events & Attractions:
Your French Riviera road trip begins in southern France's most iconic locale, Monte Carlo, a small district within the Principality of Monaco known internationally for its lavish casinos, hotels, and fine dining. Though somewhat obscured by the cities luxury patina, Monte Carlo is home to enough museums and historically-significant architecture to satisfy even the most extreme travelers desire for cultural exploration. Listed below are a sampling of the many awe-inspiring attractions that await you in this Côte d'Azur paradise.
Monaco-Ville: Known as Le Rocher (English--The Rock), Monte Carlo's Old Town
Prince's Palace: Built in 1191, serves as official residence of the Prince of Monaco
Monaco Cathedral: Serves as the cathedral of the Roman Catholic Archdiocese of Monaco
Oceanographic Museum Aquarium: Home to collections of various species of sea fauna
Formula 1 Grand Prix: Formula One motor race held each year on the Circuit de Monaco
Spring Arts Festival: Artists from around the world entertain with art, music, theater and dance
Monte Carlo Restaurants, Bars, and Nightlife: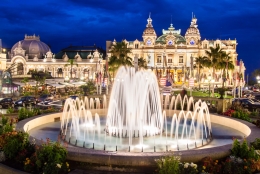 When it comes to culinary prowess, not many cities rival Monte Carlo's diverse restaurant scene. With a variety of local, national, and ethnic cuisines, ranging from experimental fusion to campy home-style, there is something for every traveler to enjoy. Abandon preconceived notions upon arrival in Monaco, and prepare yourself for the culinary adventure of a lifetime. Whether you prefer a quiet local bar, a frenetic dance club, or wish to test your luck at one of Monte Carlo's iconic casinos, the nightlife scene in this city has something for everyone.
Le Louis XV Alain Ducasse: 3 Michelin Stars - Mediterranean experimental "haute" cuisine
Monte Carlo Casino: Traditional French cuisine - featured in Casino Royale
Crystal Terrace: Bar/Lounge overlooking the Mediterranean
Le Bar Americain: Ambient lounge with live music each night
Fairmont Monte Carlo: 5-Star Hotel, ocean view rooms available
Hotel Columbus Monte Carlo: 4-Star Hotel, approx. 500m from the beach
Forum Hotel: 3-Star Hotel, within walking distance of Le Rochet
Monte Carlo Road Trip, Scenic Drives:
Monaco, specifically Monte Carlo is famous for its cultural love of the racing scene, from Formula 1 Grand Prix's to Hill-climb rally racing--once you drive the roads, you'll instantly understand where Monte Carlo's racing pedigree comes from. As you depart Monte Carlo en route to Nice, be sure to detour through the infamous high mountain pass of Col de Turini--famous for its hairpin turns that challenge even the most esteemed rally drivers and cyclists alike, the Col de Turini spirals upwards through awe-inspiring mountain passes before reaching its peak at 4,827 ft.
---
French Riviera Road Trip Day 2: Nice to Frejus
Nice Events & Attractions:
Welcome to Nice--Southern France's premier beach-vacation destination and second stop on your French Riviera road trip. The increasingly warm, paradisiacal climate, and seemingly endless natural beauty of Nice make it one of the most visited French cities, and it accommodates accordingly with an abundance of inspiring attractions and events. Listed below is a small smattering of offered attractions in Nice.
Musee Matisee: Explore the Matisse canon, ranging from his earliest works to most recent
Musee Chagall: Easily one of the most comprehensive collections of Chagall's work
Nice Old Town: Preserved remnents of Nice's Old Town including ancient architecture
Promenade des Anglais: Beach-side promenade featuring cafes, shops, and views of the sea
La Grand Tour: Celebrated walking tour, taking in all the essential tourist sites
Parc du Mont Boron: Over 7 miles of hiking trails overlooking the Mediterranean
Nice Restaurants, Bars, and Nightlife: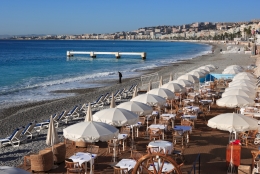 Looking for a more vibrant nightlife scene than the comparably tame Monte Carlo? Then Nice should be your go-to destination for exciting post-dinner adventures. Preferences aside, Nice has something to offer nearly everyone, cuisine included. Looking for a Michelin-starred bistro? What about a homey British pub? Maybe a high-energy dance club? Check, Check, Check. Nice has it all. Somewhat expectedly, the seafood selection in Nice is incredible, so don't stray away from the fresh-off-the-boat fish, crustaceans, mollusks, and more.

Le Meridien Nice: 4-Star Hotel, views of downtown Promenade and ocean
Apogia: 4-Star Hotel, centered in downtown, approx. 800m to Old Town
Normandie: 3-Star Hotel, located in the heart of the city
Nice Road Trip, Scenic Drives:
France is lauded for having an abundance of immaculate driving roads, and the Côte d'Azur is no exception. As you depart Nice on the way towards Frejus, be sure to take the Corniche--a series of 3 coastal highways that stretches all the way to Italy. Known as "the most romantic road," the Grand Corniche (the coastal highway at the highest elevation) offers travelers unabashed views of the crystal-clear Mediterranean, and the white-sand beaches lining its shores--enjoy the drive even more with a convertible luxury rental in Nice, and cruise with the top down, admiring the heavenly views around you.
---
French Riviera Road Trip Day 3: Frejus to St. Tropez
Frejus Events & Attractions:
Though substantially smaller than the previous French Riviera road trip destinations, Frejus has a unique history that shouldn't go overlooked. Preserved Roman architecture and relaxed beach locales are peppered throughout the city, drawing in tourists from all over the world. In comparison to Nice, where the beaches are formed from flat stones, the beach scene is Frejus is punctuated by soft, fine-grain sand--perfect for catching a tan, or having a beach picnic.
Forum Julii: Ancient Roman ruins of exceptional archaeological value
Port Frejus: Boat moor, surrounded in idyllic white-sand beaches
Parc Aquatica: Family-friendly waterpark with numerous slides, eateries, and recreation area
Musee des Troupes de Marine: Frejus Naval Museum
Frejus Cathedral: Roman Catholic co-cathedral, Seat of the Bishop of Frejus since 5th century
Luna Park: Theme park connected to Parc Aquatica, with numerous roller coasters and rides
Frejus Restaurants, Bars, and Nightlife: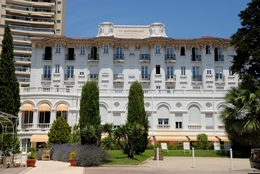 The French Riviera's larger cities--Monte Carlo, Nice, Marseille, St. Tropez--are more accommodating when it comes to lively nightlife, making your stop in Frejus the perfect destination to enjoy a relaxed evening instead. There are a wealth of restaurants overlooking the Mediterranean lining the Frejus coastline, creating a quaint seaside village feel, accentuated by locally sourced seafood and traditional French cuisines--the ideal setting for a romantic evening by the sea.

Arena: 4-Star Hotel, walking distance from major attractions and rail station
Mercure Thalassa Port Frejus: 4-Star Hotel, nestled along the Mediterranean coast
Hotel Oasis: 3-Star Hotel, family-owned hotel, 5 minute walk to downtown
Frejus Road Trip, Scenic Drives:
Departing Frejus, on the last leg of your road trip through the French Riviera, you'll want to take the D559 Highway as it snakes along the Mediterranean coastline, offering up an assortment of scenic vistas, and access roads to hidden beach getaways. As you make your final approach to St. Tropez, the D559 highway curves along the edge of the Gulf of St. Tropez where you will find a variety of seaside cafes, restaurants, and attractions overlooking the bay--perfect for an afternoon picnic as you bask in the warm sun of the Mediterranean coast.
---
French Riviera Road Trip Day 4: St. Tropez & Beyond
St. Tropez Events & Attractions:
Welcome to St. Tropez, the ultimate destination for maximum relaxation. Now that you've arrived at the final stop along your French Riviera road trip, it's time to settle down, and soak up some sun in the heavenly beach-locale that is St. Tropez, before you embark on the journey home. When it comes to luxury, only Monte Carlo rivals the affluent streets of St. Tropez, so be sure to scope out all the incredible boutiques, restaurants, and attractions that line the St. Tropez waterfront.
Musee de l'Annonciade: 16th-century chapel with museum showcasing large collection of modern art
St. Tropez Polo Club: Enjoy Polo Tournaments from a villa overlooking the field, while enjoying drinks
Citadelle de Saint-Tropez: 17th-century citadel housing the St. Tropez Naval Museum
Escalet Beach: Local-frequented beach, fairly low-key, with crystal-clear water and white sand
Place des Lices Market: Open-air street market with food, clothing, and trinkets
Plage de Pampelonne: Wildly popular beach, famous amongst tourists for its large and open size
St. Tropez Restaurants, Bars, and Nightlife: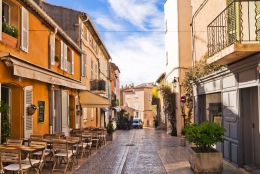 Similar to Monte Carlo, St. Tropez is known as a playground of the wealthy, and it becomes fairly noticeable with the sheer volume of high-end nightlife opportunities peppered throughout the city. Beyond the lavish club scene, a number of ocean-view bistros and restaurants are available, offering an assortment of locally-sourced seafood and traditional French fare. No matter where you choose to eat or go-out in St. Tropez, you're almost certain to have an incredible time.

La Bastide De Saint Tropez: 5-Star Hotel, short walk from ocean, and numerous in-house amenities
Brise De Mer: 4-Star Hotel, beach-side accommodations only a short drive from St. Tropez
Benkirai: 4-Star Hotel, located in the heart of the city--short walk to all major attractions
St. Tropez Road Trip, Scenic Drives:
Your guided tour and road trip through the French Riviera has come to a close, but that doesn't mean your vacation has to be over. A number of exciting destinations are only a short drive from St. Tropez, perfect for extending your vacation in France to include a few extra stops. Marseille, the largest city in the Côte d'Azur is fairly close by, or if you're up for a larger adventure why not drive up to Paris and cruise the Champagne Region? Whatever you decide, know that Auto Europe is here to assist you with all your travel needs. Give us a call today, available 24/7 toll-free at 1-888-223-5555, and get your vacation planning underway!

Back to Top
---
More Fantastic European Road Trip Planning Guides