Europcar Exclusive Offer - Save an extra 10% on Europcar rentals in Germany! *Valid for vehicle pick up's in Germany from 4/1/2023 to 9/30/2023.
Car Rental Germany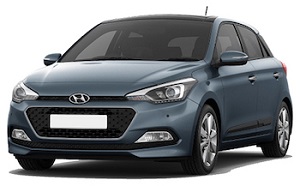 A car rental in Germany is an invitation to explore Europe at your own pace. From towering mountains and stunning castles to vast forests and notable landmarks - there's something for everyone in Germany. Visit modern Germany this fall and enjoy the world-famous Oktoberfest celebration - one of many outstanding annual festivals in this historic nation. From Berlin to Munich, Frankfurt to Düsseldorf - Auto Europe has you covered when it comes to rental cars in Germany. With convenient online booking and a low-rate guarantee, you can confirm your vehicle in minutes with Auto Europe. If you'd prefer to speak with one of our friendly reservation agents call us toll-free at 1-888-223-5555. Our representatives are available 24/7 year-round.
Our goal at Auto Europe is to ensure our customers have a smooth rental experience abroad. With our experience, we are ready for any question or guidance you may need. Find answers to the most common questions on renting a car in Germany we receive from our customers.
Where Can I Pick-Up and Drop-Off My Car Rental in Germany?
We work with the highest rated car rental suppliers across the globe. These relationships enable us to offer convenient pick-up and drop-off locations across all of Germany at all major airports, rail stations, and city office locations. Whether you want to pick-up your rental car from the airport upon arrival, or you want to drop-off your car on day five of your trip in Munich's city center, we have a convenient location for you. Below you will find some of our most popular transportation stations where we offer car rental service in Germany.
Who are the Top Rental Car Suppliers in Germany?
Hertz, Europcar, Sixt, and Enterprise. These are just a few of our top rental car suppliers in Germany. Our premium connections means you get the lowest rates possible. Our 24/7 customer service means you never need to worry about being stranded. Find testimonials and additional details about our car rental suppliers by clicking on the logos directly below.
How do I Book a Car Rental in Germany with Auto Europe?
Auto Europe has been helping our clients book car rentals in Germany for over 60 years, and have a thorough understanding of the many restrictions and requirements for renting a car in Germany. Most rental suppliers require all drivers to obtain an international driving permit, in addition to your regular driver's license, before taking to the road. Car rental insurance is a requirement on all rentals in Germany and our rates include the required coverage needed to rent a vehicle. We can also provide optional insurance coverage at a significantly cheaper rate than you will be quoted from the counter.
With convenient online booking and around the clock toll-free customer support, renting a car in Germany with Auto Europe is simple! Our unique partnerships with trusted car rental providers in Germany allow us to offer the lowest rates in the industry, offering our clients fantastic savings. Don't miss out on today's great rates in Europe - rent a car in Germany today by booking online using our simple three step booking engine on the top of the page or call us toll-free at 1-888-223-5555 to speak with a member of our award-winning team.
---
More Popular Questions About Renting a Car in Germany...
How old do you need to be to rent a car in Germany?
To rent a vehicle in Germany through Auto Europe drivers are required to be at least 18 years old and have a driver's license that has been valid for a minimum of 1 year. Some suppliers may require a valid license for a minimum of 3 years depending on the category. Most suppliers in Germany will also like to see an international driver's permit as well.
Can I drive my rental car into other countries?
With Auto Europe most vehicles rented in Germany have the ability to travel throughout Western Europe without any restrictions. Some specific vehicle categories including luxury vehicles, vans and automatics may have travel restrictions due to insurance regulations.
NOTE: If you have plans to travel into any of the countries above please advise Auto Europe as travel into most of these countries can possibly be arrange with advanced notice. Additional surcharges may apply to some rentals being taken into Eastern Europe.
Can I drive in Germany with a Canadian License?
Drivers in Germany must carry their rental cars proof of insurance, registration papers, and domestic driver license at all times when driving a rental vehicle in Germany. An International Driver's Permit (IDP) is also required in Germany for drivers with a foreign license. This document translates your Canadian driver's license, and is available for purchase at the CAA before traveling to Germany.
Can I cancel my rental car reservation in Germany?
Absolutely. When booking with Auto Europe, we offer free cancellations on your rental car reservation up to 48 hours ahead of your planned pick up date.
Find out more FAQs about renting a car in Germany with Auto Europe. Driving in a new country can be exciting but stressful, so be sure to read our tips for drivers in Germany. Our collection of tips will help make your trip to Germany smooth and care-free.
Can I extend my car rental while in Germany?
Yes. If you want to keep your car for additional time or extend your trip, contact Auto Europe internationally at 1-888-223-5555, and we will make the proper arrangements to extend your rental period, directly with the supplier. If you're planning a stay longer than three weeks consider booking a factory-new Peugeot or Renault to save money.
---
Does Auto Europe Rent Other Vehicle Types in Germany?
Regardless of what your vacation needs may be, Auto Europe can offer the perfect mode of transportation at a rate that can not be beat. We are proud of promising the lowest rates for your transportation requirements. Review daily rental car costs with high end, chauffeur, van or any type of transportation to find the best option for you and your travel party.
Where are the Best Locations to Tour with a Germany Car Rental?
Some people opt for a Germany car rental to experience the thrill of driving on the Autobahn and as a provider of world-class luxury car rentals in Germany we understand the allure. However if you're looking for a family-friendly getaway that's popular with kids of all ages, consider a trip to some of Germany's most famous castles. Hohenzollern Castle and Neushwanstein Castle are a few of the most famous structures and serve as the inspiration for many fantasy books and Disney theme parks. Brandenburg castle is accessible, located just beyond the borders of Germany's capital city. However you plan to spend your time here, rental cars in Germany offer the freedom to see the sites you want to see at your own pace. Make the most of your next trip to Europe with a vehicle from Auto Europe that fits your style and needs.