Car Rental Frankfurt Central Station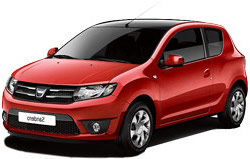 The Frankfurt Central Train Station is the epicenter of Germany's railway system that offers local and international transit 24 hours a day. As a long-standing structure of Germanic architecture (opened in 1888), by arranging your car rental in Frankfurt at the Central Rail Station, you can begin collecting interesting historical factoids before you've even started your road trip in Germany.

Stress less on your next vacation in Germany knowing you've secured a professional transfer service in Frankfurt with Auto Europe. Enjoy a clean, comfortable, luxury sedan, driven by an English-speaking chauffeur, or declare your travel independence with a self-drive luxury vehicle, like a German-made Mercedes-Benz SLK. Next stop, the Autobahn!
Best car rental with our suppliers in Frankfurt Central Station
Our trusted suppliers Avis, Hertz, Europcar and Dollar partner with us to give you the best rental experience while traveling in Frankfurt. Take advantages of the great benefits on our luxury cars, economy cars and van rentals to ease your trip and make it memorable. Find the lowest rates with Auto Europe!
Avis at Central Station


Stuttgarter Str

,


Frankfurt

,

Germany

60329




+49 69 27997010

Hours of Operation:
Mon-Fri: 7 AM - 9 PM
Sat: 8 AM - 5 PM
Sun: 10 AM - 4 PM
Hertz at Central Station


Frankfurt Hauptbahnhof

,


Frankfurt

,

Germany

60329




+49 69 230484

Hours of Operation:
Mon-Fri: 7 AM - 9 PM
Sat: 8 AM - 5 PM
Sun: 8 AM - 5 PM
Dollar/ Thrifty at Central Station


Mietwagencenter Im Hbf

,


Frankfurt

,

Germany

60329




+49 69 230484

Hours of Operation:
Mon-Fri: 7 AM - 9 PM
Sat: 8 AM - 5 PM
Sun: 8 AM - 5 PM
Europcar at Central Station


Europa-Allee 6/1.Og

,


Frankfurt

,

Germany

60329




+49 69 2429810

Hours of Operation:


Mon-Sun: 8 AM - 5 PM
Frankfurt Central Rail Station Facilities
To pick up your rental car at the Frankfurt Main Train Station, proceed to the DB Travel Center and refer to your Auto Europe car rental voucher for the specific supplier that will be providing your vehicle. For transitional rail travelers with a longer stay at Frankfurt Main Hbf, you will find a variety of amenities available to make your visit more pleasant.

Frankfurt Central Railway's atrium is a network of arched glass windows, framed by steel beams, offering natural light features. More than a quarter of a million people past though its halls every day making it one of the top-five, most trafficked railways in the world. There are close to three dozen lines of tracks on which passenger trains transport people and goods in and out of the rail station.
Visitors can get assistance from the staff at the DB Information desk most hours of the day, located next to the car hire offices and first class passenger lounge. Grab a drink, a meal or a snack in the relaxed atmosphere of Sam's Sports Bar & Mexican Grill, a quick to-go item at Starbucks, McDonald's, the food market, or one of many other food-oriented establishments. A large bookstore provides magazines, newspapers and tomes. Paid restroom and shower facilities are spread through the Frankfurt Hbf. The first thirty minutes of Wi-Fi use is complimentary after which, you can opt to stay connected for a fee. Currency exchange is available in the Reception Hall and ATMs are dispersed throughout the rail terminals.
Hotels Near Frankfurt Main Hbf
Are you considering booking a hotel near the Frankfurt Main Rail Station? Narrow down your search quickly and easily with Auto Europe's discounted hotel search engine. In moments, you can get detailed information from parking availability for your rental vehicle to the hours room service operates. We offer room rates for dozens of proximal accommodations from three to five stars! The Center Plaza Hotel and Roomers are both less than two hundred meters from the Frankfurt Hbf!
Frankfurt am Main Contact Details
Frankfurt (Main) Hauptbahnhof




Poststrabe




Frankfurt

,

Germany

60329


Telephone:

+49 69 2651055



Latitude:

50.1066


Longitude:

8.662



General Information:

With stunning neoclassical architecture, Frankfurt Hauptbahnhof Railway Station is the busiest train station in Frankfurt. The city of Frankfurt is a global hub for commerce, culture, education, tourism, and transportation. It is also home to prestigious universities and many of Europe's tallest skyscrapers.