1000km Autobahn Road Trip Planner: Cologne to Berlin

Ah… the Autobahn; every auto enthusiast's dream to drive. We've all heard of this impressive roadway. Well, here's a reason for anyone to experience it: Auto Europe's experience-packed Autobahn Cologne to Berlin Road Trip Itinerary. It's simple to follow and includes all the information you need to enjoy a perfectly unique vacation all your own.

Amazing scenic drives fill Germany's gorgeous countryside but there's only one Autobahn. This 1,000 KM trip through Northern German could be an overbearing trip to plan, if not for the below itinerary that offers all the information you'll need to make the most memorable driving vacation you've had yet.

Read on to Drive to Discover the adventures that await you in Germany!



---
1000km Autobahn Road Trip Day 1: Cologne to Düsseldorf
Cologne Events & Attractions:
Starting your adventure in Cologne provides three arrival airports for your convenience: Flughafen Düsseldorf, Flughafen Frankfurt, and Flughafen Köln/Bonn (Cologne). Both the Düsseldorf or Frankfurt airports offer direct train service to downtown Cologne car rental locations where you can often rent a vehicle for less than you could at the major hubs. From Roman to Gothic to modern, Cologne has something that will strike the fancy of every visitor. Spend the day in open parks or admiring the surrounding architecture. Of course, there are a plethora of museums to occupy your time here as well.
The Kolumba: Art museum featuring modern and classic Christian artwork
Museum Ludwig: Modern art museum with a focus on abstract, surrealist, and pop art styles, with on of the largest Picasso collections in the world
Museum Schnütgen: Museum dedicated to Christian art, primarily Medieval-era, as well as textiles and prints
Kölnisches Stadtmuseum: Located in a renovated armory, museum features exhibitions about life in Cologne from Medieval-era to modern times
Dom Cathedral: One of the world's best unadulterated examples of Gothic architecture
Cologne Restaurants, Bars, and Nightlife: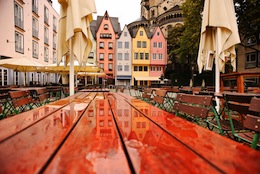 Because of Cologne's size, you'll find it hosts a vivacious nightlife and is stacked with restaurants, bars and pubs of nearly every kind.
Alter Markt: Locally brewed Köln beer, authentic German cuisine
Heising & Adelmann: Popular dance nightclub with the younger crowd
Päffgen: Authentic Bräuhaus, hosts the city's home brew: Kölsch
Excelsior Hotel Ernst Am Dom: 5-Star Hotel, centrally located within walking distance of downtown attractions, nightlife, and restaurants
Pullman Cologne: 5-Star Hotel, located in downtown Cologne, hotel amenities include gym, luxury spa, and fine-dining restaurant
Guennewig Hotel Stadtpalais: 4-Star Hotel, centrally located near major attractions, features include sauna, on-site bar, and free WiFi throughout the facilities
---
1000km Autobahn Road Trip Day 2: Düsseldorf to Münster & Osnabrück
Düsseldorf Events & Attractions:
Since its "rebirth," Düsseldorf has come into its own as one of Germany's most affluent cities. You'll no doubt experience its lavish disposition displayed wherever you go. Over 80% of this city was destroyed in WWII, so what you see has been meticulously recreated to represent the town's historic past.
Rhine Tower: 240.5 meter tele-communications tower, with observation deck and revolving restaurant at 170 meters
Neuer Zolhof: Building complex on the shores of the Rhine, built in grand style by legendary architect, Frank O. Gehry
Schloss Benrat: Baroque palace built in 1770, includes two museums for art and natural history
Museum Kunstpalast: Art museum featuring collections of modern art, sculpture, paintings, drawing, and glassworks
Kaiserswerth: One of the oldest areas in Dusseldorf, and home to the Deaconess's Institute of Kaiserwerth where famed social reformer and founder of modern nursing, Florence Nightingale worked.
Düsseldorf Restaurants, Bars, and Nightlife: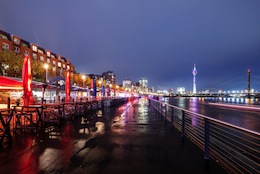 When eating out in Dusseldorf, the options are basically limitless, especially when considering the over 300 restaurants and taverns in the Altstadt neighborhood--the area known locally as the "longest bar in the world." Weather you prefer traditional German fare, or the more subtle palette stimuli of French fusion cuisine, Dusseldorf has it all.
Altstadt Neighborhood: Locally recognized as the longest bar in the world, over 300 restaurants and taverns
Zum Schiffchen: Oldest restaurant in all of Dusseldorf, founded some 380 years ago, featuring traditional cuisine from Rhineland
Schweine Janes: Traditional German fare with a focus on pork dishes, served for both lunch and dinner
Intercontinental Duesseldorf: 5-Star hotel, luxury accommodation in central Dusseldorf, highlights include fine dining, gym, wellness center, and on-site bar/lounge
Steigenberger Parkhotel Duesseldorf: 5-Star Hotel, located adjacent to the downtown Opera House, this hotel features an al a carte restaurant, sun terrace, lounge, and bar
Breidenbacher Hof, a Capella Hotel: 5-Star Hotel, luxury accommodation featuring fitness center, luxury spa, on-site restaurant, free WiFi, and bar/lounge
---
1000km Autobahn Road Trip Day 3: Münster & Osnabrück to Bremen & Hamburg
Münster & Osnabrück Events & Attractions:
A smaller city, Münster offers a wealth of 1,200 year old history available to tour at your leisure. A fascinating place, it is one of only 13 cities that has been admitted into the Historic Highlights of Germany consortium. Hang out in Münster or just stop over for a quick bite to eat before continuing on via the A1 and heading toward the city of Osnabrück--less than an hour's drive away. Osnabrück hosts a large student population which helps shape it's youthful-feeling atmosphere.
Münster Cathedral: One of the most significant churches in town, features multiple architectural styles as it was built as the predecessor to two other cathedrals on the same site
Westphalian State Museum of Art and Culture: Museum with wide variety of collections, specializing in paintings from German expressionist group Der Blau Reiter, and Primitivism-centric Die Brucke movement (Münster)
Aasee Lake: Lake for boating, swimming, fishing, and beach lounging (Münster)
St. Peter's Cathedral: 11th century cathedral with two facade towers (Osnabrück)
St. Mary's Church: Lutheran parish and market church, and widely considered one of the most historically significant buildings in all of Northern Germany due to it's complex architectural history (Osnabrück)
Münster & Osnabrück Restaurants, Bars, and Nightlife: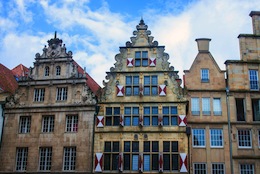 If you're not sure what you're in the mood for while in Münster, check out the city's cuisine guidebook--the Munster Geht Aus. Here you'll find all the restaurants in Münster sorted into 30+ different classifications. To keep it simple, do as the locals do and grab a sausage from one of the city's typical "fast food" sausage kiosks scattered throughout the city.
Currycult: (Münster) Sausages, curry from mild to hot, homemade fries, and locally-brewed beer
Hausbrauerei Rampendahl: (Osnabrück) Traditional German food and locally produced beer, and baked goods
Almani Osnabrück: (Osnabrück) Greek/German fusion cuisine with a focus on fresh Mediterranean seafood
Münster & Osnabrück Hotels & Lodging:
Steigenberger Hotel Remarque: 4-Star Hotel, centrally located within walking distance of nearly all major attractions, facilities include sauna, steam-room, solarium, and 2 fine dining restaurants
Moevenpick Hotel Muenster: 4-Star Hotel, located on the banks of Aasee Lake, short 5 min drive into downtown proper
Tryp Kongresshotel Muenster: 4-Star Hotel, downtown accommodation featuring tennis courts, golf course, and on-site restaurant
---
1000km Autobahn Road Trip Day 4: Bremen & Hamburg to Rostock & Potsdam
Bremen & Hamburg Events & Attractions:
Called "the gateway to the world" by its residents, Hamburg is a city that's full of restaurants, hotels, shops, bars, and, yes--brothels. Brothels are one of Hamburg's biggest businesses so nightlife will be a bit different here, especially in Reeperbahn, than other German cities you'll visit.
Übersee-Museum: Natural history and ethnographic museum featuring permanent exhibitions for nature, culture, and trading relating to each of the four regions--Asia, South Pacific, Americas, and Africa (Bremen)
Bremen Cathedral: Centrally located in market square, includes original hand-carved choir stalls from 1365 (Bremen)
Universum Science Center: Science museum offering nearly 250 interactive exhibits (Bremen)
Planten un Blomen: 47-hectare urban nature park famous for water-light concerts, public theater productions, and music performances (Hamburg)
St. Michael's Church: Most famous church in the city and widely considered one of the finest examples of a hanseatic Protestant Baroque churches (Hamburg)
Bremen & Hamburg Restaurants, Bars, and Nightlife: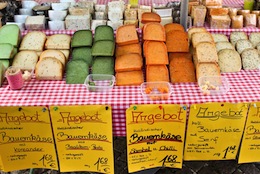 Eating out in Hamburg or Bremen presents travelers with a variety of unique culinary opportunities. French, Greek, and Turkish cuisine is heavily present in both Hamburg and Bremen, so if you need a night off from the pork dumplings, brats, and potato dishes typical of German food, adventure off to one of the many other top-rated ethnic restaurants around.
Grashoffs Bistro: (Bremen) Elegant French-inspired menu
Ratskeller: (Bremen) Traditional German fare, local favorite, housed in a cellar
Restaurant Brodersen: (Hamburg) Up-scale haute-cuisine featuring experimental takes on classic German fare, using locally-sourced produce and protein
Sofitel Hamburg Alter Wall: 5-Star Hotel, luxury waterfront accommodation in the center of Hamburg, facilities include gourmet restaurant, bar/lounge, nightclub, spa area and heated indoor pool
Atlantic Kempinski: 5-Star Hotel, located in the heart of Hamburg, on the shores of Lake Alster, facilities include luxury health spa, energy clinic, private movie cinema, and several on-site dining options
Ameron Hotel Speicherstadt: 4-Star Hotel, centrally located up-scale hotel featuring a fitness center, sauna, cantinetta bar, and fine dining restaurant
---
1000km Autobahn Trip Day 5: Rostock & Potsdam to Berlin
Rostock & Potsdam Events & Attractions:
Rostock has plenty to keep your touring eyes occupied but you'll probably want to hop on the road soon after lunch as your next stop, Potsdam, is a two and a half hour-drive south. Potsdam will have you strolling along ancient cobbled walkways and enjoying vistas of 18th century baroque architecture.
St. Mary's Church: 13th century brick Gothic church including astronomical clock built in 1472 by Hans Düringer (Rostock)
Warnemünde: Seaside port and tourist area with beach, lighthouse, wharf, and other ammenities (Rostock)
Sanssouci: Former summer-home/palace of Frederick the Great, King of Prussia, comparable to Paris' Versailles (Potsdam)
Babelsberg Park: 114 hectare park with various attractions including a small palace and royal stables (Potsdam)
Roman Baths: Located in Sanssouci Park, designed in multiple antique Italian and Roman styles (Potsdam)
Rostock & PotsdamRestaurants, Bars, and Nightlife: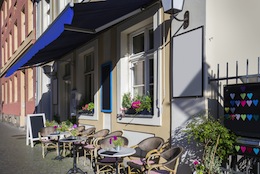 If you're looking for an active nightlife, hang out near the Hans-Otto-theatre. However, if partying hard isn't to your liking, you can select a more relaxed environment in one of Potsdam's bountiful bars and pubs offering local brews and hearty food.
Petrikeller: (Rostock) Authentic German meals, excellent lunches
Athos Potsdam: (Potsdam) Greek restaurant with good prices and friendly staff
Restaurant Juliette: (Potsdam) French fusion cuisine, comprehensive wine list featuring over 120 vintages from Germany and France
Steigenberger Hotel Sanssouci: 4-Star hotel, located only 5 mins from downtown Berlin and all it's incredible attractions. Facilities include an on-site restaurant, dining-area, cafe, bar, and a pub
Wyndham Garden: 4-Star hotel, cozy accommodation near the heart of Potsdam featuring free WiFi, sauna, fitness center, in-house dining, continental breakfast, and bar/lounge
Nh Voltaire: 4-Star Hotel, located in the heart of Potsdam's Dutch quarter, within short driving distance to downtown Berlin, and walking distance to major Potsdam attractions. facilities include free on-site WiFi, restaurant, bar, and terraced garden
---
1000km Autobahn Road Trip Day 6: Berlin
Berlin Events & Attractions:
You may want to plan to spend an extra day or two here at the finale of your Autobahn trip in Berlin. This popular city is packed with cultural experiences and memorable destinations that aren't easy to pass up.
Berlin Wall: Remnants of original barrier that divided East and West Berlin from 1961 to 1989
Brandenburg Gate: Neoclassical triumphal arch, built in the 18 century, and probably one of Germany's most recognizable monuments
Museum Island: Island full of museums, from modern art to natural history, situated on the Spree river in the central Mitte district
Reichstag Building: Fantastic architectural monument originally opened in 1894, rebuilt after damage from WW2
Potsdamer Platz: Important public square and intersection where numerous skyscrapers, monuments, and shopping options are available
Berlin Restaurants, Bars, and Nightlife: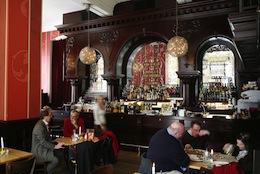 Berlin has so much to offer when it comes to restaurant choices, supper clubs, and coffeehouses; no doubt you will find a new favorite among them.
Papilles: French and German cuisine, extensive wine list, experimental menu
La Cantine d'Augusta: Traditional French cuisine, warm and inviting atmosphere with comprehensive wine list and recommended pairings
Skykitchen: Sweeping floor-to-ceiling window views of Berlin's skyline in this Michelin-starred eatery and bar, serving experimental gastronomic options influenced by the diversity of Berlin
Regent Berlin: 5-Star luxury hotel featuring on-site two Michelin-starred restaurant, spa, fitness center and excellent downtown location
Intercontinental Berlin: 5-Star Hotel, centrally located, facilities include Michelin-starred dining, indoor swimming, fitness center, whirlpool, steam room, and spa complex
Maritim Pro Arte: 4-Star Hotel, centrally located between the Brandenburg Gate and Gendarmenmarkt, art and design themed hotel with modern rooms and architecture
Berlin and Beyond, Driving Route:
Whether flying straight out upon your arrival in Berlin or extending your trip just a little longer, it has been Auto Europe's pleasure. All that's left for you to do is turn in your Germany rental car at any of the three airports found in/near Berlin (Brandenburg, Schönefeld, Tegel).

Now that you have an idea of the route you're going to be following on your 1,000 KM road trip from Cologne to Berlin, know that Auto Europe is here to provide valuable information to ensure you have a successful and adventurous trip. Booking early through Auto Europe will secure that specific type car you want to make your road trip most enjoyable. Luxury? Sporty? The choices are up to you! Our thorough German travel guide (along with our Germany road trip planner) are at your finger tips to help you devise the perfect explorative vacation.
---
More Fantastic European Road Trip Planning Guides