German Winery Road Trip Planner & Guide: Bockenheim to Bad Bergzabern

The 53 miles of this pristine Palatinate countryside beckons you to taste and tour it's offerings from deep inside Germany's Bockenheim, south to the French boarder town of Schweigen-Rechtenbach. Come experience the center of the largest, undivided wine growing region of Germany which has been in continuous operation since before WWII.

Travelers can fly into Frankfurt, where your pre-booked rental car (be it a roomy family vehicle or a thrilling, sportier ride) can be waiting for you. Then, you can leisurely make your way or briskly cruise through the countryside; since you have your own vehicle, the choice is up to you! Below you'll find some of our suggestions for our favorite stops along the famed German wine route. Plan your trip then book the perfect Germany rental car for your vacation!

Read on to Drive to Discover the adventures that await you in Germany!



---
German Wineries Road Trip Day 1: Bockenheim to Deidesheim
Bockenheim, Bad Dürkheim, Deidesheim Events & Attractions:
Following the old Wine Route will cause you to cross paths with medieval towns, historic castles and the significant Rhine River. Just north of the midway point of your first day's drive, you'll come across the quaint town of Deidesheim--the first place in Germany to join the Slow Cities league. Here on your German road trip, you can explore wine taverns and old world architecture with a glass of Federweißer (a "feather white" young wine served before much of the fermentation process has taken place) and an after dinner stroll down cobblestoned streets.
Haus der Deutschen Weinstrasse: Official northern end marker of the German Wine Route in Bockenheim. Features restaurants, unique architecture, and a community center
Wurstmarkt Wine Festival: (Bad Dürkheim) Every second and third weekend of September the best in local wines are celebrated. See the world's largest wine barrel (it can fit an entire restaurant inside!)
Burgruine Hardenburg: (Bad Dürkheim) Ancient Castle ruins settled in center of beautiful valley
Weingut Petri: (Bad Dürkheim) Local winery and vineyard offering tastings and shopping
Saint Ulrich's Parish Church: (Deidesheim) A well-preserved 15th century church built between 1440 and 1480; excellent example of late Gothic architecture
Bockenheim Restaurants, Bars, and Nightlife: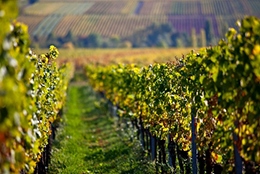 Bockenheim's south-western locale, nearing the border of France to the west and Switzerland to the south, makes the culinary scene a near-perfect blend of all three of the countries' influence. Expect fine wines, Michelin-starred restaurants, classic German fare, and a healthy influence of French and Swiss cuisines.
Kollektur: Michelin-starred, vibrant outdoor garden
Alte Pfarrey: Dine in a historic dining room or the ambient interior courtyard
Karlbacher L'Herbe De Provence: Pricier, chic setting, located on top floor of an historic house
Deidesheim Hotels & Lodging:
Hotel Ketschauer Hof: 5-Star Hotel, stylish interior, on-site restaurant, and a variety of events from cooking classes to wine tasting conferences
Deidesheimer Hof: 5-Star Hotel, newly renovated rooms, in house gourmet restaurant
---
German Wineries Road Trip Day 2: Deidesheim to Neustadt
Neustadt Events & Attractions:
During your journey from Deidesheim to Neudstaft, myriad scenic vistas and attractions present themselves as excellent lunch stop opportunities. Neudstadt's primary attraction is its Old Town district, with many notable buildings displaying architecture from the 14th century onwards. A variety of small villages sit along the outskirts of Neudstadt, with an equal array of exciting sites, including the Hambach Castle, and Mithras Shrine.
Neustadt Wine Festival: Takes place the first two weeks of October in Neustadt, includes crowning of annual Wine Queen
Hambacher Schloss: Historic castle built in 1832 to celebrate German democracy, with panoramic views of vineyards below
Maikammer: Original villas built by village founders, includes grape, kiwi, lemon, almond, and sweet chestnut gardens
Heidelberg Castle: Earliest remnants of castle built before 1214, and then again around 1764. Castle rests on Königstuhl hillside overlooking downtown
Neustadt Restaurants, Bars, and Nightlife:
Ristorante Pizzeria La Corona: Switch it up from the classic German fare with Mediterranean and Italian cuisine
Dorfchronik: Local traditional German cuisine, local wine pairings
Stengel's Liebstöckl: Family-owned, rustic atmosphere, great value, traditional fare
Neustadt Hotels & Lodging:
Hotel Palatina: 4-Star Hotel, modern design, on-site restaurant and spa
---
German Wineries Road Trip Day 3: Neustadt to Frankweiler, Leinsweiler, Siebeldingen, Bad Bergzabern
Frankweiler, Leinsweiler, Siebeldingen, Bad Bergzabern Events & Attractions:
The small, quiet towns of Frankweiler, Leinsweiler, and Siebeldingen each have something unique to offer the culture-seeking traveler. Bad Bergzabern is the largest of the towns in this area and has the fascinating history of once belonging to France between 1792 to 1815.
Gothic Church Steeple: (Frankweiler) Built 1487
The Town Hall: (Leinsweiler) Built 1619
Village Fountain: (Leinsweiler) Built 1581
The Church of St. Martin: (Leinsweiler) Erected in the 13th century
German Institute for Grapevine Breeding: (Siebeldingen) For fans of how weather and grapevine pathogens affect new strains of vines, all cultivated at the institute
Castle Bergzabern: (Bad Bergzabern) 12th/13th century, restored 1984, houses city administration
Bad Bergzabern Restaurants, Bars, and Nightlife: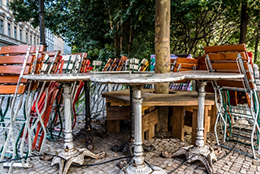 As the largest city in the area, Bad Bergzabern is full to the brim with culinary opportunity, from traditional home-style offerings to high-end fusion cuisine. Expect wine lists to be considerably stocked, as Bad Bergzaberns sits in an idyllic location in the heart of the Weinstraße. Whether you desire Michelin-starred haught cuisine, or prefer the trappings of a rustic bistro, Bad Bergzabern has something for everybody.
Fritz Walter Weingut: (Bad Bergzabern) Modern feel, good prices, seasonally inspired dishes
Culinarium: (Bad Bergzabern) Large outdoor patio, fusion inspired menu with multiple seasonal offerings
Weinstube Weinschlossel: (Bad Bergzabern) Traditional German fare
Bad Bergzabern Hotels & Lodging:
Hotel Pfalzer Wald : 3-Star Hotel, larger rooms available, on-site restaurant with outdoor terrace
---
German Wineries Road Trip Day 4: BONUS Day Trip to Strasbourg
Strasbourg Events & Attractions:
The final day of your German Wineries Road Trip is really up to you, but if you're still not sure where to continue your vacation, we strongly recommend taking a day trip to Strasbourg, right over the border between France and Germany. As the capital of France's Alsace region, Strasbourg's populace were historically Alemannic-speaking, explaining this French cities Germanic name. Strasbourg's border locale makes it a perfect melting-pot of multiple European cultures, primarly German and French, evident from the wide variety of architecture styles, culinary offerings, and historic venues thoughout the city.
Cathedrale Notre Dame de Strasbourg: Built in both Romanesque and Late Gothic styles, the Strasbourg Cathedral features highly detailed facades, interior sculptures, and an 18-meter astronomical clock
La Petite France neighborhood: Historic cobblestone avenues lined with quaint shops, bistros, and attractions
Parc de l'Orangerie: Flower park dating back to the 17th century, includes boating lake, water birds & terraced restaurant overlooking the park
Musee Alsacien: Opened May 1907, dedicated to the daily life of pre-industrial and early industrial Alsace region of France
Deidesheimer Weinkerwe: Extremely popular wine festival, second and third weekends of August
Strasbourg Restaurants, Bars, and Nightlife: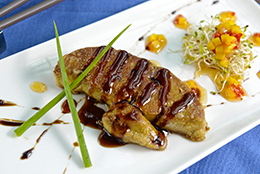 Strasbourg's dining scene features four restaurants with either two or three Michelin stars, a variety of home-style bistros, and numerous other exciting eateries. Alsatian fare is the most popular in the area, so expect a generous portions of French and German culinary traditions, including stand-out dishes utilizing pork in its various forms. The Alsace region is also known for it's Choucroute plates with sauerkraut, and a variety of German-inspired sausages.
Le Gavroche: 1 Michelin Star, home-style restaurant, served by its owners, only 18 tables so reservations are a must
La Vignette: Offers both public dining room or private booths, serving classic Alsatian cuisine
1741: 1 Michelin Star, housed in town house facing Chateau des Rohan. Elegant dining area, expertly crafted cuisine, and wide selection of Alsace wines
Le Chateau De L'ile: 5-Star Hotel, approx. 10km to downtown strasbourg. Ammenities include public garden, currency exchange, on-site restaurant, bar, and more
Maison Rouge: 4-Star Hotel, located in the heart of Strasbourg, walking distance to major attractions including Strasbourg Cathedral
Citadines Kleber Strasbourg: 3-Star Hotel, located in heart of Strasbourg on quiet street in center of large pedestrian area close to attractions
Scenic Drives in Germany's Wine Country:

End your journey here, or continue on with one of our many other itineraries to choose from. Because booking your rental vehicle through Auto Europe is so simple, you'll be freely enjoying this region to the fullest--savoring some of the best wines and foods Germany has to offer--with both style and peace of mind.

Back to Top
---
More Fantastic European Road Trip Planning Guides