Mexico Fleet Guide - Auto Europe Car Rental
Journey "south of the border" in the Latin American nation of Mexico! Aspiring sun-worshipping vacationers, from college students on spring break to honeymooners, enjoy Cancun for its crystalline waters, warm sands and seemingly ceaseless flow of libations with relative anonymity. Cabo San Lucas, much like Cancun, offers seaside resorts with all the bells and whistles you could hope for. Those looking for a more authentic experience in Mexico, try renting a car in Mexico City. Visit the mariachi square, where dozens of mariachi bands court travelers for tips with familiar tunes like Cielito Lindo, or buy tickets to see the Lucha Libre!
Why Rent an Economy Car in Mexico

If you're traveling on a tight budget, or only need a small car to accommodate your itinerary, you'll definitely enjoy the amazing fuel-economy and affordable price of an economy rental car in Mexico. Explore Mexico freely, and at your own pace, unhindered by public transportation schedules with an economy class car.
Popular Economy Rental Car Models: Hyundai Accent, Dodge Atos (4-door), Nissan March, Chevy Matiz.
Why Rent a Compact Car in Mexico

Renting a compact rental car in Mexico provides you with more interior and trunk room than an economy class model, without sacrificing to much in the gas mileage department. Compact rentals come in both manual and automatic transmissions, sedan and wagon body styles, and in both diesel and gasoline fuel types.
Popular Compact Rental Car Models: Chevrolet Chevy, Nissan Tiida, Chevrolet Aveo, VW Gol.
Why Rent a Mid-Size Car in Mexico

If you're planning on taking a road trip through Mexico, a spacious and comfortable mid-size rental car is the perfect choice of vehicle. Mid-size rental cars in Mexico offer more than adequate luggage capacity for 3-4 large suitcases, and spacious interiors capable of accommodating up to 5 people comfortably.
Popular Mid-Size Rental Car Models: VW Clasico, Dodge Attitude, Nissan Versa, Toyota RAV 4.
Why Rent a Full-Size Car in Mexico

Looking for a fairly large and comfortable vehicle but don't want to spring for an SUV or van rental? A full-size rental car in Mexico provides plenty of room for luggage, a cozy interior, and a smooth driving feel.
Popular Full-Size Rental Car Models: Toyota Corolla, VW Jetta, Renault Scala, Chrysler Avenger, Mitsubishi Lancer, Ford Fusion.
Why Rent a Luxury Car in Mexico

Travelers eager to enjoy a more engaging driving experience, and countless high-end, amenities like heated seats, touch-screen navigation systems, and powerful engines, should consider a luxury car rental in Mexico. Auto Europe's fleet of luxury vehicles includes models from such reputable brands including Ferrari, Mercedes, BMW, Porsche and more.
Popular Luxury Car Rental Models: BMW 3 Series, Chrysler 300, Mercedes C Class, Audi A4.
Why Rent an SUV or Van in Mexico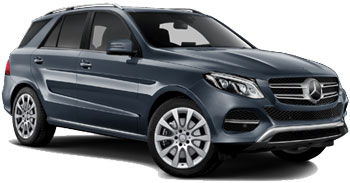 Auto Europe offers a wide variety of SUV and van rental choices in Mexico. If you're vacationing as a family or with a large group of friends, renting a van or SUV is far and away the best value, as they provide plenty of room for storage, seating for up to 9 passengers, and the ability to traverse harsh terrain with ease.
Popular SUV & Van Rental Models: Jeep Patriot, Ford Escape, BMW X3, Dodge Durango, Plymouth Voyager, Chrysler Town and Country.
| | Class | Doors | Passengers | Transmission | Trunk Capacity |
| --- | --- | --- | --- | --- | --- |
| Dodge Atos | Mini | 2 | 4 | Manual | n/a |
| Volkswagen Gol | Mini | 4 | 4 | Manual | n/a |
| Fiat 500 Cabrio | Mini | 2 | 4 | Automatic | n/a |
| Nissan March | Economy | 2 | 4 | Manual | n/a |
| Nissan March | Economy | 2 | 4 | Automatic | n/a |
| Dodge Atos 4dr | Economy | 4 | 4 | Manual | n/a |
| Chevrolet Aveo | Compact | 2 | 4 | Automatic | n/a |
| Chevrolet Spark | Compact | 2 | 4 | Manual | n/a |
| Nissan Tiida | Compact | 4 | 4 | Automatic | 340 l |
| Nissan Tiida | Compact | 4 | 4 | Manual | 340 l |
| Jeep Patriot | Compact | 4 | 5 | Automatic | n/a |
| Nissan Versa | Mid Size | 4 | 5 | Automatic | n/a |
| Chevy Aveo | Mid Size | 4 | 4 | Manual | n/a |
| Renault Koleos | Mid Size | 4 | 5 | Automatic | n/a |
| Jeep Wrangler | Mid Size | 2 | 4 | Manual | 255 l |
| Mitsubishi Lancer | Standard | 4 | 4 | Automatic | 255 l |
| Renault Scala | Standard | 4 | 5 | Manual | n/a |
| Jeep Compass | Standard | 4 | 5 | Automatic | n/a |
| Jeep Wrangler | Standard | 2 | 4 | Manual | 255 l |
| Toyota Hi Ace 15 pax | Standard | 4 | 15 | Automatic | n/a |
| Toyota Hi-Ace 10 pax | Standard | 4 | 10 | Manual | n/a |
| Ford Fusion | Full Size | 4 | 4 | Automatic | 396 l |
| Ford Explorer | Full Size | 4 | 5 | Automatic | 425 l |
| Chrysler Town and Country | Full Size | 3 | 7 | Automatic | n/a |
| BMW 3 Series | Premium | 4 | 5 | Automatic | 510 l |
| GM Suburban | Premium | 4 | 5 | Automatic | 340 l |
| Chrysler 300 | Luxury | 4 | 5 | Automatic | n/a |
| Dodge Challenger Coupe | Special | 2 | 4 | Automatic | n/a |