Car Rental Fleet Directory Slovakia
Planning an excursion to Slovakia? Make sure your road trip includes a visit to Slovakia's mountainous regions where the natural beauty of sites like the UNESCO Dobsinská Ice Cave can be found. Visit Bratislava, Slovakia's capital city, where architecture from medieval towers to modern edifices vie for prominence in the city's skyline. Drive from Bratislava Castle, perched on a hill overlooking the Danube to the border of Austria and Slovakia where Devin Castle, remote and uninhabited reigns over the lands below from its cliff-top. Enjoy the unparalleled travel independence of a car rental in Slovakia!
Why Rent an Economy Car in Slovakia

Your time in the country is precious, and an economy rental car in Slovakia will help you make the most of your vacation. Free yourself from the limitations of public transportation with these fuel-efficient and highly versatile vehicles. Rent an economy car in Slovakia and you'll discover that convenience and money saving can go hand-in-hand.
Popular Economy Rental Car Models: Skoda Citigo, Skoda Fabia (Wagon & Sedan), VW Polo, Opel Corsa.
Why Rent a Compact Car in Slovakia

With a variety of excellent options including 2-door, 4-door, wagon, and sedan models, a compact rental car in Slovakia provides a great combination of fuel-economy and comfort. Compact rental cars are a very popular choice among travelers due to their utilitarian nature, and you'll definitely appreciate the wide selection offered by Auto Europe.
Popular Compact Rental Car Models: VW Golf, Seat Leon, Peugeot 308 Wagon, Opel Astra, Mercedes B Class.
Why Rent a Mid-Size Car in Slovakia

Book a mid-size rental car in Slovakia and embark on a road trip through the beautiful countryside. Intermediate or mid-size vehicles offer adequate space for up to 4 passengers with luggage, and provide a very comfortable ride while still maintaining decent fuel-economy. Available in wagons, and sedan body styles, finding the perfect mid-size rental car in Slovakia that fits all your travel needs is a total breeze.
Popular Mid-Size Rental Car Models: Skoda Octavia (Wagon & Sedan), Peugeot 5008, Audi A3, Opel Zafira.
Why Rent a Full-Size Car in Slovakia

Enjoy the benefits of being able to travel with up to 4 passengers and luggage while still remaining comfortable in the spacious interior of a full-size rental car in Slovakia. These vehicles keep you and your passengers very comfortable, even on long road trips, and provide a separate trunk compartment so you won't have to be cramped holding your extra luggage up front with you.
Popular Full-Size Rental Car Models: VW Passat (Wagon & Sedan), Mercedes C Class, Opel Insignia Wagon, Peugeot 508.
Why Rent a Luxury Car in Slovakia

If style and comfort are paramount to your driving experience, a luxury or sports car rental in Slovakia should be your top choice. Whether you're looking for a exotic car, luxury estate, or high-end SUV, Auto Europe's vast luxury fleet is guaranteed to have the vehicle you want.
Popular Luxury Car Rental Models: Mercedes E Class, Jaguar XF, Ford Mustang GT Coupe, Porsche Panamera 4S.
Why Rent an SUV or Van in Slovakia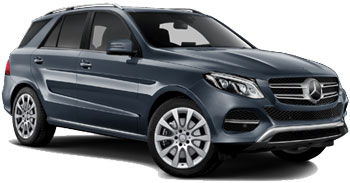 If luggage capacity and versatility are a top priority for your rental car, you'll discover everything you need with an SUV or van rental in Slovakia. Both vehicles make traveling with family or large groups east thanks to the spacious interior cabins with extra rows of seats.
Popular SUV & Van Rental Models: Jeep Renegade, VW Tiguan, Audi Q5, VW T5 (9 passenger), Seat Alhambra (7 passenger), Mercedes Vito.
| | Class | Doors | Passengers | Transmission | Trunk Capacity |
| --- | --- | --- | --- | --- | --- |
| Skoda Citigo | Mini | 2 | 4 | Manual | n/a |
| Skoda Citigo | Economy | 2 | 4 | Manual | n/a |
| Skoda Fabia | Economy | 4 | 4 | Automatic | 198 l |
| Skoda Fabia | Economy | 4 | 4 | Manual | 198 l |
| Skoda Fabia Wagon | Economy | 4 | 4 | Automatic | n/a |
| Skoda Fabia Wagon | Economy | 4 | 4 | Manual | n/a |
| VW Golf | Compact | 2 | 4 | Automatic | 340 l |
| VW Golf | Compact | 2 | 4 | Manual | 340 l |
| VW Golf Variant | Compact | 4 | 5 | Manual | n/a |
| Skoda Octavia | Mid Size | 4 | 5 | Automatic | 453 l |
| Skoda Octavia | Mid Size | 4 | 5 | Manual | 453 l |
| Peugeot 5008 | Mid Size | 4 | 5 | Automatic | n/a |
| Peugeot 5008 | Mid Size | 4 | 5 | Manual | n/a |
| Skoda Octavia Wagon | Mid Size | 4 | 5 | Manual | 396 l |
| Volkswagen Passat | Standard | 4 | 5 | Automatic | 396 l |
| Opel Vivaro | Standard | 4 | 9 | Manual | 623 l |
| VW Passat Wagon | Standard | 4 | 5 | Manual | 340 l |
| Volkswagen Passat | Standard | 4 | 5 | Manual | 396 l |
| Mercedes C Class | Full Size | 4 | 5 | Automatic | 510 l |
| Mercedes Vito 8 seats | Premium | 3 | 8 | Automatic | 510 l |