Car Rental in Bratislava
The capital and largest city of Slovakia borders Austria, Hungary, and remains a short distance from Czech Republic. Bratislava is a great starting point to explore a city rich with history and it gives visitors the option to tour several countries during their vacation. The city exudes charm with its pleasant European-style center comprised of medieval buildings and narrow, cobblestone city streets that direct you to a wide selection of restaurants, cafes, and shops. Auto Europe offers an extensive rental car fleet at convenient pick up locations around the city. Let the cityscape unfold in front of you as you explore Bratislava in the comfort of a rental car.

Auto Europe is proud to offer a number of convenient pickup locations in Bratislava and Slovakia. Book a rental car at the Bratislava airport and enjoy the convenience of picking up your rental car upon arrival in Bratislava.
Tour Bratislava with a Rental Car
Bratislava is a gateway for a diverse and unforgettable travel experience. The city center is composed of ornate architecture, contemporary art galleries, historical museums, and a variety of establishments that offer a bustling, charming atmosphere. Touring the city by car gives you the freedom to discover the downtown area at your own pace. The historic Old Town boasts a concentration of monumental landmarks, cafes with sidewalk terraces, and numerous restaurants serving everything from pizza to traditional Slovak cuisine known as halusky.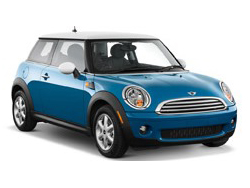 Visitors regularly take a short trip to the Bratislava Castle overlooking the Danube River for panoramic views of the cityscape, and there are several museums around town dedicated to natural science and exhibiting Slovak and ancient Egyptian history. This quintessential European location retains all the historical characteristics of an ancient city while maintaining major conveniences of a modern lifestyle. Discover Bratislava and countryside in the comfort of a rental car, or venture off to Austria, Hungary, or Czech Republic for a day of sightseeing. Whatever you decide, be sure to get around Slovakia easily in a rental car.


Renting a Car in Bratislava with Auto Europe
Relying on public transportation during your vacation can be a hassle and restrictive. One of the most convenient and sensible alternatives is to cruise the city and surrounding area in the comfort of a rental car for a richer travel experience. Guaranteed low rates and superior customer service are just the beginning when you reserve a rental car through Auto Europe. To learn more about renting a car in Bratislava, visit our rental car FAQs or call us toll-free at 1-888-223-5555 to speak to a live representative.