Poland Car Rental Fleet Directory
Discover a panoply of dramatic sites and landscapes that will take you on a rollercoaster ride of emotions as you travel through Poland. The Auschwitz-Birkenau State Museum in Oswiecim. the Wieliczka Salt Mines in Wieliczka, and Lazienki Park in Warsaw are just a few of the choice destinations for travelers in Poland to experience. Day trips with a Warsaw car rental are ideal, as you're positioned centrally within Poland. You can thoroughly explore Poland itself, or take advantage of your proximity to more than half a dozen European countries that are within a reasonable driving distance! Make the most of your vacation with an Auto Europe rental car!
Why Rent an Economy Car in Poland

Travelers on a budget, looking to save money on their car rental should strongly consider an economy rental car in Poland. Economy class vehicles have outstanding fuel economy, smooth driving feel, and a spacious enough interior to comfortably accommodate 2-4 people and light luggage.
Popular Economy Rental Car Models: Toyota Yaris (4-door), Nissan Micra, Ford Fiesta.
Why Rent a Compact Car in Poland

Compact rental cars in Poland provide more interior and luggage space than their economy class counterparts. Compact vehicles are typically 4-door sedans, come in both automatic and manual transmissions, and have adequate luggage capacity for around 2-3 large suitcases.
Popular Compact Rental Car Models: Toyota Auris, Ford Focus Wagon, Kia Ceed, Seat Leon, Toyota Corolla, VW Golf.
Why Rent a Mid-Size Car in Poland

Small groups and families looking for a slightly larger vehicle to accommodate additional luggage or passengers for longer trips will definitely enjoy a mid-size rental car in Poland. Mid-size vehicles come in a variety of body styles from wagons to sedans, from renowned vehicle manufacturers including Toyota, Ford, Opel and more.
Popular Mid-Size Rental Car Models: Toyota Avensis (Wagon & Sedan), Toyota Corolla Verso, Ford Mondeo, Opel Insignia Wagon.
Why Rent a Full-Size Car in Poland

Need some additional space but don't want to pay the extra costs associated with a rental van or SUV? A full-size rental car will provide you with plenty of trunk space for luggage, additional legroom for passengers, and a smooth driving feel, guaranteed to enhance your driving tour of Poland.
Popular Full-Size Rental Car Models: Volvo V40, Lexus IS 200, VW Passat, Mercedes C Class.
Why Rent a Luxury Car in Poland

Renting a luxury car in Poland will provide you with a vehicle full to the brim with high-end amenities and creature comforts. Auto Europe's luxury rental fleet includes models from the most reputable brands including Mercedes Benz, BMW, Audi and more.
Popular Luxury Car Rental Models: Audi A6, Mercedes E Class, BMW 5 Series.
Why Rent an SUV or Van in Poland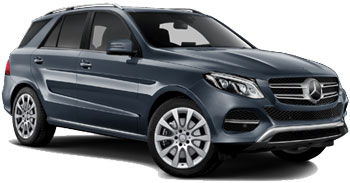 Auto Europe offers a variety of spacious SUV and van rental options in Poland. If you're traveling with the entire family or a large group of friends, renting a van or SUV is one of the best options as they provide adequate luggage space for many large bags, comfortable interior cabins, and a smooth ride.
Popular SUV & Van Rental Models: Toyota RAV 4, Volvo XC60, Ford Transit Minibus (9 passenger), Seat Alhambra (7 passenger).
| | Class | Doors | Passengers | Transmission | Trunk Capacity |
| --- | --- | --- | --- | --- | --- |
| Toyota Aygo | Mini | 4 | 4 | Manual | n/a |
| Toyota Yaris | Economy | 4 | 4 | Manual | n/a |
| Toyota Auris | Compact | 4 | 4 | Automatic | n/a |
| Toyota Auris | Compact | 4 | 4 | Manual | n/a |
| Toyota Auris wagon | Compact | 4 | 4 | Automatic | n/a |
| Peugeot 308 Wagon | Compact | 4 | 5 | Manual | 340 l |
| Toyota Corolla Premium GPS | Compact | 4 | 5 | Automatic | n/a |
| Toyota Avensis | Mid Size | 4 | 5 | Automatic | 425 l |
| Toyota Avensis | Mid Size | 4 | 5 | Manual | 425 l |
| Toyota Avensis Wagon | Mid Size | 4 | 5 | Automatic | 481 l |
| Opel Insignia Wagon | Mid Size | 4 | 5 | Manual | n/a |
| Toyota Corolla Verso | Mid Size | 4 | 5 | Manual | n/a |
| Volkswagen Passat | Standard | 4 | 5 | Automatic | 396 l |
| Volvo XC60 | Standard | 4 | 5 | Automatic | n/a |
| Toyota RAV 4 | Standard | 4 | 4 | Manual | 311 l |
| Renault Traffic 9 Pax | Standard | 4 | 9 | Manual | n/a |
| Volvo V40 | Standard | 4 | 5 | Automatic | 453 l |
| Lexus IS 200 | Full Size | 4 | 5 | Automatic | 510 l |
| Seat Alhambra 7 pax | Full Size | 4 | 7 | Automatic | n/a |
| Lexus IS 200 | Premium | 4 | 5 | Automatic | 510 l |
| Audi A6 | Luxury | 4 | 5 | Automatic | 510 l |