Car Rental Fleet Guide - Netherlands
Expand the scope of your Netherland travel experiences with an Auto Europe car rental! As you navigate Amsterdam's streets you'll see many examples of the impressive architecture that the city is known for, where cultural institutions, restaurants and retailers of all sorts do business every day. Visit The Hague, from which the royal family of the Netherlands govern the country, and Rotterdam, home to Europe's largest seaport. With an Auto Europe rental car in the Netherlands, you're free to extend your adventures to even the smallest towns, whose charm often goes unappreciated next to their vibrant city brethren.
Why Rent an Economy Car in The Netherlands

Travelers trying to stay on a budget - saving more money for sightseeing activities - will surely enjoy the great value and convenience of renting an economy car in the Netherlands. Economy rental cars get great gas mileage, are easy to navigate, and even easier to park in crowded cities like Amsterdam.
Popular Economy Rental Car Models: Opel Corsa, Ford Fiesta, VW Polo, Toyota Yaris, Ford KA.
Why Rent a Compact Car in The Netherlands

Compared to their economy class counterparts, compact rental cars in the Netherlands offer slightly more interior and trunk space without losing much in terms of fuel-economy. Typically 2/4-door sedans and hatchbacks with adequate luggage capacity for 2-3 people, compact class cars offer great value and a smooth, comfortable driving feel.
Popular Compact Rental Car Models: VW Golf, Ford Focus (Wagon & Sedan), Opel Astra (Wagon & Sedan), Nissan Juke, Renault Megane.
Why Rent a Mid-Size Car in The Netherlands

When traveling in small groups or with family, a mid-size rental car in the Netherlands provides you a cozy, spacious vehicle, adequate luggage space for 3-4 large suitcases, and a good fuel-economy. Mid-size rental cars are available in multiple body styles including sedans, hatchbacks, convertibles, and wagons, in both manual and automatic transmissions.
Popular Mid-Size Rental Car Models: Ford Mondeo, VW Bora, Peugeot 3008, Renault Scenic, Suzuki S-Cross, Skoda Octavia (Wagon & Sedan).
Why Rent a Full-Size Car in The Netherlands

Full-size rental cars in the Netherlands provide travelers a smooth driving, spacious, and fuel-efficient vehicle. Much like Auto Europe's attractive van and SUV rental options, full-size rental cars are perfect for long road trips as they comfortably seat up to 5 people and luggage, but cost significantly less to rent than a van or SUV.
Popular Full-Size Rental Car Models: Volvo S60, Jaguar XE, Peugeot 508, Opel Insignia Wagon, Opel Zafira (5 Passenger).
Why Rent a Luxury Car in The Netherlands

Renting a luxury or sports car in the Netherlands provides travelers with an unmatched driving experience. Luxury rental cars typically come standard with automatic transmissions and numerous high-end creature comforts not normally found on standard rentals. Auto Europe's luxury fleet includes vehicles from all of the world's most reputable car manufacturers including Ferrari, Porsche, and BMW - allowing you to drive the car of your dreams during your next vacation.
Popular Luxury Car Rental Models:Mercedes E Class, Audi A5, Jaguar XF, Mercedes SLK, Ford Mustang Convertible.
Why Rent an SUV or Van in The Netherlands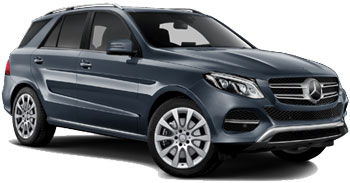 If you're traveling as a family or with a large group of friends, renting a van or SUV is one of the best options for accommodating between 5-9 passengers and luggage. Auto Europe also offers a variety of 4x4 SUV's capable of navigating rough terrain, and allowing travelers to forge their own path and explore the Netherlands at their own leisure.
Popular SUV & Van Rental Models: Range Rover Evoque, BMW X1, Volvo XC70, Mercedes Vito (9 Passenger), Ford Galaxy (7 Passenger), Renault Espace (7 Passengers).
| | Class | Doors | Passengers | Transmission | Trunk Capacity |
| --- | --- | --- | --- | --- | --- |
| Citroen C1 | Mini | 2 | 4 | Manual | 227 l |
| Volkswagen Up | Mini | 2 | 4 | Manual | n/a |
| Toyota Yaris | Economy | 2 | 4 | Automatic | 255 l |
| Ford Fiesta | Economy | 2 | 4 | Manual | 255 l |
| VW Polo | Economy | 4 | 4 | Manual | n/a |
| Volkswagen Golf | Compact | 4 | 4 | Automatic | n/a |
| Opel Astra | Compact | 4 | 4 | Manual | 396 l |
| Opel Astra Wagon | Compact | 4 | 4 | Manual | 340 l |
| Suzuki S-Cross | Mid Size | 4 | 5 | Automatic | n/a |
| Kia Sportage | Mid Size | 4 | 4 | Manual | 255 l |
| Renault Scenic | Mid Size | 4 | 5 | Manual | n/a |
| Skoda Octavia Wagon | Mid Size | 4 | 5 | Manual | 396 l |
| VW Touran 5+2 | Mid Size | 4 | 5 | Manual | n/a |
| Citroen DS5 | Standard | 4 | 5 | Automatic | n/a |
| Volkswagen Passat | Standard | 4 | 5 | Manual | 396 l |
| BMW X1 | Standard | 4 | 5 | Automatic | n/a |
| Opel Vivaro 9 pax | Standard | 3 | 9 | Manual | n/a |
| Opel Zafira 5 pax | Standard | 4 | 5 | Manual | 510 l |
| Mercedes C Class | Full Size | 4 | 5 | Automatic | 510 l |
| Renault Espace 7 pax | Full Size | 4 | 7 | Manual | n/a |
| BMW 3 Series | Full Size | 4 | 5 | Automatic | 510 l |
| Mercedes E Class | Premium | 4 | 5 | Automatic | n/a |
| Volvo XC70 2.5 | Premium | 4 | 5 | Automatic | n/a |
| Mercedes Vito Diesel 9 pax | Premium | 3 | 9 | Automatic | n/a |
| Volvo V70 wagon | Premium | 4 | 5 | Automatic | 510 l |
| Audi A5 | Luxury | 2 | 4 | Automatic | n/a |
| Jaguar XF 3.0 Diesel | Luxury | 4 | 5 | Automatic | n/a |
| Mercedes S 350 CDI | Special | 4 | 5 | Automatic | n/a |
| Ford Mustang Convertible | Special | 2 | 4 | Automatic | 311 l |