Fleet Guide - Car Rental Hungary
Remember, as you're planning your trip to Hungary, that to fully experience all that this unique country has to offer, your mode of transportation is integral in adapting to any changing travel plans! A car rental in Budapest, Hungary's most prominent city, is the most affordable and versatile way to explore, unfettered by the strict schedules and limitations of public transportation with the help of Auto Europe. How about a daytrip to Debrecen or Gyor? No problem! Find the best car rental category to suit your travel needs by perusing Auto Europe's Hungary fleet guide below!
Why Rent an Economy Car in Hungary

If you're planning your upcoming travel budget, and don't need much room in your rental vehicle, an economy rental car in Hungary is the perfect choice for you. Economy class vehicles have outstanding fuel economy, agile, responsive steering, and are by far the easiest cars to park in crowded cities like Budapest. Navigate all of Hungary's stunning landscapes and historic cities in a cool little car that helps stretch your dollar further.
Popular Economy Rental Car Models: Suzuki Swift, Opel Corsa (2/4-door), VW Polo.
Why Rent a Compact Car in Hungary

Much like their economy class counterparts, compact rental cars in Hungary are highly fuel efficient, easy to park, and affordable. Unlike economy class vehicles though, compact cars offer increased luggage capacity, slightly more legroom for passengers, and a more spacious interior. Auto Europe offers compact rental cars in sedan and wagon variants, in both manual and automatic transmissions, so no matter what you prefer, we can deliver.
Popular Compact Rental Car Models: Opel Astra (Wagon & Sedan), Renault Fluence, Seat Leon, Peugeot 308 Wagon, VW Golf (Wagon & Sedan).
Why Rent a Mid-Size Car in Hungary

Traveling with a small group or family of 3-4? You'll surely enjoy Auto Europe's comprehensive fleet of mid-size rental cars in Hungary, as they provide adequate trunk space for additional luggage, larger, more comfortable interiors, and still get decent fuel-economy.
Popular Mid-Size Rental Car Models: Citroen C4, Opel Insignia, Audi A3, Skoda Octavia (Wagon & Sedan), Opel Insignia Wagon.
Why Rent a Full-Size Car in Hungary

If you're getting ready to embark on an extended road trip through Hungary, or traveling in slightly larger groups, a full-size rental car is always a good choice. Not only do full-size vehicles provide superior luggage capacity compared to smaller car classes, they also accommodate up to 5 passengers comfortably with larger interior cabins and increased backseat legroom.
Popular Full-Size Rental Car Models: Mercedes C Class, VW Passat Wagon, Peugeot 508, BMW 3 Series, Seat Alhambra.
Why Rent a Luxury Car in Hungary

Prefer a more refined, lavish driving experience? Auto Europe's fleet of luxury cars is sure to contain a plethora of popular models that suit your driving needs. Most luxury and sports car models come standard with automatic transmission, and a variety of high-end amenities like in-car GPS, heated seats, and high-fidelity audio systems. Choose from a variety of incredible exotic, luxury, and sports cars from the world's most reputable brands, like Mercedes Benz, Porsche, BMW, Jaguar and more!
Popular Luxury Car Rental Models: Mercedes E Class (Wagon & Sedan), Jaguar XF, Ford Mustang GT Coupe, Porsche 911 (Coupe & Cabrio).
Why Rent an SUV or Van in Hungary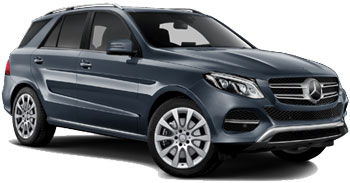 With a wide selection of top-quality SUV and van rental offerings in Hungary, families, or groups, of 5 or more should definitely consider reserving a large SUV or passenger van to accommodate any excess luggage, enjoy a more spacious and comfortable ride, and take to the path less traveled with your rental vehicle's 4x4 capabilities.
Popular SUV & Van Rental Models: VW Tiguan, Jeep Renegade, Land Rover Discovery Sport, Opel Vivaro (9 Passenger), Mercedes Vito (9 Passenger).
| | Class | Doors | Passengers | Transmission | Trunk Capacity |
| --- | --- | --- | --- | --- | --- |
| Suzuki Swift | Economy | 2 | 4 | Manual | 255 l |
| Opel Corsa 4dr | Economy | 4 | 4 | Manual | 255 l |
| Suzuki SX4 | Compact | 4 | 4 | Automatic | n/a |
| Opel Astra | Compact | 4 | 4 | Manual | 396 l |
| Opel Astra Wagon | Compact | 4 | 4 | Manual | 340 l |
| Renault Fluence | Compact | 4 | 5 | Manual | n/a |
| Citroen C4 | Mid Size | 4 | 5 | Automatic | 340 l |
| Opel Insignia 1.6 | Mid Size | 4 | 5 | Manual | n/a |
| Opel Zafira 5/7pax | Mid Size | 4 | 5 | Manual | 510 l |
| Opel Vivaro 9 pax | Standard | 3 | 9 | Manual | n/a |
| Mercedes C Class | Full Size | 4 | 5 | Automatic | 510 l |
| Opel Insignia 2.0 | Full Size | 4 | 5 | Manual | n/a |
| Mercedes E Class | Luxury | 4 | 5 | Automatic | n/a |