Greece Car Rental Fleet Guide
Plan a vacation in Greece that allows you maximum versatility, without breaking the bank by renting a car with Auto Europe! History buffs will be hard-pressed deciding where to begin their tour of the Hellenic nation. Rent a car in Athens, Europe's historic capital, and start your vacation by exploring Greece's archaeological heritage from the Acropolis and Parthenon to the Temple of Zeus or, drive to Thessaloniki and immerse yourself in a vibrant cultural festival. Choose your Greece car rental from Auto Europe's extensive fleet categories.
Why Rent an Economy Car in Greece

Travelers on a budget, or those who aren't in need of a large vehicle will surely enjoy the top-tier fuel economy and agile steering of an economy rental car in Greece. Save money for touring famous attractions and enjoying local culinary delights, when you stretch your money further by reserving an economy class vehicle.
Popular Economy Rental Car Models: Suzuki Swift, Nissan Micra, Opel Corsa, Seat Ibiza, VW Polo, Peugeot 208 (Gasoline & Diesel).
Why Rent a Compact Car in Greece

If an economy rental car possess many of the traits you need in the perfect rental vehicle, but you need a bit more luggage room and interior space, a compact rental car in Greece is your best option. Compact vehicles are offered in both sedan and wagons, manual and automatic transmissions, and in both Gasoline and Diesel variants.
Popular Compact Rental Car Models: Nissan Note, Opel Astra, Ford Focus, Hyundai i30, Toyota Corolla, VW Golf.
Why Rent a Mid-Size Car in Greece

Small groups or families looking for a rental vehicle with a bit more cabin space and luggage capacity will definitely appreciate the value of renting a mid-size car in Greece. Auto Europe's comprehensive fleet of mid-size vehicles includes vehicles from the most trusted brands including BMW, Volkswagen, Suzuki and more!
Popular Mid-Size Rental Car Models: BMW 2 Series, Daihatsu Terios, VW Passat, BMW 1 Series, Suzuki SX4.
Why Rent a Full-Size Car in Greece

For travelers looking to take an extended road trip, or those traveling in groups of 3-5, a full-size rental car in Greece is an excellent option. Full-size vehicles have plenty of trunk room for additional luggage, more spacious cabins to comfortably accommodate passengers, and come in a variety of styles, from wagons and sedans to cabrios, offered in both manual and automatic transmissions.
Popular Full-Size Rental Car Models: Volvo S60, Saab 9.3 (Sedan & Convertible), Mercedes C Class, Audi A4.
Why Rent a Luxury Car in Greece

Cruise with the top down, along idyllic cliff-side vistas, white-sand beaches, and ancient architecture in ultimate style and comfort when you rent a luxury car in Greece. Auto Europe's fleet of luxury vehicles are equipped with many amenities made to enhance your driving experience, and allow you to corner harder, push the car faster, and enjoy the drive of a lifetime.
Popular Luxury Car Rental Models: Mercedes E Class, BMW M4 (Sedan & Cabrio), Audi A6 (Wagon & Sedan).
Why Rent an SUV or Van in Greece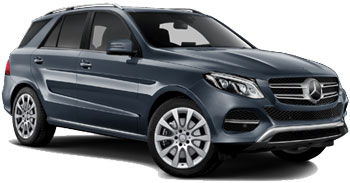 Auto Europe offers a wide selection of impressive SUV and van rental offerings in Greece. If you're traveling with family and friends, or just need some additional trunk space to store your excess luggage, renting an van or large SUV in Greece is far and away the best option for accommodating your travel needs. Better yet, Auto Europe also offers a variety of 4x4 SUV vehicles so you can traverse the path less traveled and explore Greece at your own leisure.
Popular SUV & Van Rental Models: Volvo XC90, Fiat 500X, Jeep Renegade, Mercedes GLC, Opel Vivaro (9 Passenger), VW Transporter (9 Passenger).
| | Class | Doors | Passengers | Transmission | Trunk Capacity |
| --- | --- | --- | --- | --- | --- |
| Suzuki Celerio | Mini | 2 | 4 | Manual | 113 l |
| Toyota Aygo | Mini | 2 | 4 | Automatic | 255 l |
| Hyundai I10 | Mini | 2 | 4 | Manual | 227 l |
| Guaranteed Fiat 500 Cabrio | Mini | 2 | 4 | Manual | n/a |
| Suzuki Swift | Economy | 2 | 4 | Manual | 255 l |
| Nissan Micra | Economy | 4 | 4 | Automatic | 198 l |
| Nissan Micra | Economy | 4 | 4 | Manual | 198 l |
| Mini John Cooper Works | Economy | 2 | 4 | Automatic | n/a |
| Peugeot 208 diesel | Economy | 4 | 4 | Manual | n/a |
| Nissan Note | Compact | 2 | 4 | Manual | n/a |
| Toyota Corolla | Compact | 4 | 5 | Automatic | 311 l |
| Opel Astra | Compact | 4 | 4 | Manual | 396 l |
| Suzuki Jimny | Compact | 2 | 4 | Manual | n/a |
| Skoda Rapid | Compact | 4 | 5 | Automatic | n/a |
| Ford Focus 1.6 | Compact | 4 | 4 | Manual | n/a |
| Volkswagen Passat | Mid Size | 4 | 5 | Automatic | 396 l |
| BMW 2 Series | Mid Size | 4 | 4 | Manual | n/a |
| Suzuki Grand Vitara | Mid Size | 4 | 5 | Manual | n/a |
| Suzuki SX4 | Mid Size | 4 | 4 | Manual | n/a |
| Opel Vivaro 9 pax | Standard | 3 | 9 | Manual | n/a |
| Mercedes Citan 7 pax | Standard | 4 | 7 | Manual | n/a |
| Saab 9.3 | Full Size | 4 | 5 | Manual | 510 l |
| Volvo XC90 | Full Size | 4 | 5 | Automatic | 510 l |
| Nissan X-Trail 4x4 | Full Size | 4 | 5 | Manual | 425 l |
| Volvo S60 | Premium | 4 | 5 | Manual | n/a |
| BMW X6 | Premium | 4 | 5 | Automatic | n/a |
| BMW M4 Cabrio | Premium | 2 | 4 | Automatic | n/a |
| Mercedes Vito 9 pax | Premium | 4 | 9 | Manual | n/a |
| Mercedes E Class | Luxury | 4 | 5 | Automatic | n/a |
| Mercedes ML | Luxury | 4 | 5 | Automatic | n/a |
| Saab 9.3 Convertible | Luxury | 2 | 4 | Manual | 340 l |