Germany Car Rental Category Choices
Arranging a vacation car rental in Germany allows you to indulge your inquisitive nature. Fasten your seatbelt as you cruise along the Autobahn, or take the road less traveled, follow a detailed itinerary, or stop and go as whimsy takes you. An enviable musical heritage and striking architecture, fairytale castles and mysterious woods, are all waiting to be explored! Follow the trail of the Grimm Brothers compendium of collected tales and attend one of the many famous German beer festivals! A car rental in Munich, Berlin, Stuttgart or even Frankfurt will set you on the path to a memorable trip in Germany. Whether you're wondering about the difference between economy and compact rentals or just want to see what options are available, use the chart below to find the perfect rental car for you.
Why Rent an Economy Car in Germany

If you're traveling on a budget, or simply aren't in need of a large vehicle, you'll surely enjoy the sporty drive and top-tier fuel economy of an economy rental car in Germany. Stretch your dollar further with an economy rental vehicle and navigate the German countryside and city centers with ease.
Popular Economy Rental Car Models: Ford Fiesta, Volkswagen Polo, Seat Ibiza Wagon, Audi A1.
Why Rent a Compact Car in Germany

Travelers looking to capitalize on the incredible fuel economy and drivability found in an economy class vehicle, but need some additional legroom and luggage capacity should consider renting a compact car in Germany. Compact class cars are typically 4-door sedans, hatchbacks, and wagons, available in both automatic and manual transmissions.
Popular Compact Rental Car Models: Ford Focus (Wagon & Sedan), Volvo V40, VW Golf (Wagon & Sedan), Seat Leon, Mercedes A Class w/ GPS.
Why Rent a Mid-Size Car in Germany

Small families, friend groups, and business travelers hoping to accommodate 3-4 passengers with luggage will appreciate the value of reserving a mid-size rental car in Germany. Typically, mid-size vehicles offer significantly more trunks capacity, and interior cabin space than their economy and compact counterparts. Mid-size rental cars come in a variety of models from the most reputable car manufacturers including Ford, Volkswagen, BMW, and more. Compare rates at top rental car pick-up locations like Munich's International Airport and Munich's Central Station.
Popular Mid-Size Rental Car Models: Opel Insignia (Wagon & Sedan), Ford Mondeo, VW Passat (Wagon & Sedan), BMW 1 Series.
Why Rent a Full-Size Car in Germany

Planning on embarking on a long drive through Europe with friends and family? A full-size rental car in Germany will provide more than adequate luggage capacity to accommodate baggage for up to 4 people, a comfortably spacious cabin for passengers, and a smooth driving feel - a perfect vehicle for an extended road trip throughout Germany.
Popular Full-Size Rental Car Models: Skoda Superb (Wagon & Sedan), Mercedes C Class w/ GPS, BMW 3 Series (Wagon & Sedan), Audi A4 w/ GPS.
Why Rent a Luxury Car in Germany

Germany is the absolute perfect country to rent a luxury or sports car. Take you're Porsche rental to the max on the Autobahn highway system, and enjoy a driving experience like nothing ever before. In general, luxury rental cars in Germany include a variety of high-end in-car amenities and creature comforts to make your drive the most relaxed and enjoyable.
Popular Luxury Car Rental Models: Mercedes Benz E Class (Wagon, Sedan & Cabrio), BMW 5 Series w/ GPS, Audi A6, Jaguar XF, Porsche 718 Spyder.
Why Rent an SUV or Van in Germany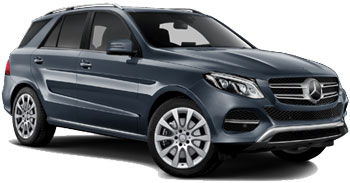 If you're traveling with a large group of 5 or more, a SUV or van rental in Germany is by far the most cost effective and comfortable option for touring the country. Auto Europe's SUV and van rental options all provide the most luggage capacity of any rental vehicle we offer, and most include interior creature comforts and additional legroom.
Popular SUV & Van Rental Models: Porsche Cayenne S, BMW X5, Mercedes ML 350, Range Rover Sport, Ford S-Max (7 Passenger), VW Sharan (7 Passenger).
| | Class | Doors | Passengers | Transmission | Trunk Capacity |
| --- | --- | --- | --- | --- | --- |
| Ford KA | Mini | 2 | 4 | Automatic | 255 l |
| Ford KA | Mini | 2 | 4 | Manual | 255 l |
| Volkswagen Up | Mini | 2 | 4 | Manual | n/a |
| Opel Corsa 2 dr | Economy | 2 | 4 | Automatic | 255 l |
| Opel Corsa 2 dr | Economy | 2 | 4 | Manual | 255 l |
| Seat Ibiza wagon | Economy | 4 | 4 | Manual | n/a |
| VW Polo w/GPS | Economy | 4 | 4 | Manual | n/a |
| Volkswagen Golf | Compact | 4 | 4 | Automatic | n/a |
| Volkswagen Golf | Compact | 4 | 4 | Manual | n/a |
| Opel Astra Wagon | Compact | 4 | 4 | Automatic | 340 l |
| Opel Astra Wagon | Compact | 4 | 4 | Manual | 340 l |
| Opel Astra 2dr | Compact | 2 | 4 | Automatic | 340 l |
| Opel Astra | Compact | 4 | 4 | Manual | 396 l |
| BMW 1 Series | Mid Size | 4 | 4 | Automatic | n/a |
| Ford Mondeo | Mid Size | 4 | 5 | Manual | 453 l |
| Toyota RAV 4 | Mid Size | 4 | 4 | Automatic | 311 l |
| Toyota RAV 4 | Mid Size | 4 | 4 | Manual | 311 l |
| VW Touran 5+2 | Mid Size | 4 | 5 | Manual | n/a |
| Volkswagen Passat Wagon | Mid Size | 4 | 5 | Automatic | 1019 l |
| VW Passat Variant | Mid Size | 4 | 5 | Manual | n/a |
| Ford S-Max | Mid Size | 4 | 5 | Automatic | n/a |
| Ford S-Max | Mid Size | 4 | 5 | Manual | n/a |
| Volkswagen Passat | Standard | 4 | 5 | Automatic | 396 l |
| Volkswagen Passat | Standard | 4 | 5 | Manual | 396 l |
| Opel Cascada | Standard | 4 | 4 | Automatic | n/a |
| Opel Cascada | Standard | 4 | 4 | Manual | n/a |
| Mercedes Vito 9 pax w/ GPS | Standard | 4 | 9 | Automatic | n/a |
| Ford Transit 9 pax | Standard | 4 | 9 | Manual | 623 l |
| VW Passat Wagon | Standard | 4 | 5 | Automatic | 340 l |
| VW Passat Wagon | Standard | 4 | 5 | Manual | 340 l |
| BMW 3 Series | Full Size | 4 | 5 | Automatic | 510 l |
| BMW 3 Series | Full Size | 4 | 5 | Manual | 510 l |
| Volvo XC60 | Full Size | 4 | 5 | Automatic | n/a |
| BMW X1 | Full Size | 4 | 5 | Manual | n/a |
| Ford Galaxy 7 Pax | Full Size | 4 | 7 | Automatic | 510 l |
| Ford Galaxy 7 Pax | Full Size | 4 | 7 | Manual | 510 l |
| Audi A4 Wagon | Full Size | 4 | 5 | Automatic | 1076 l |
| BMW 3 Series Wagon | Full Size | 4 | 5 | Manual | 425 l |
| Audi A6 | Premium | 4 | 5 | Automatic | 510 l |
| Audi A6 | Premium | 4 | 5 | Manual | 510 l |
| Mercedes Vito 9 pax w/ GPS | Premium | 4 | 9 | Automatic | n/a |
| VW Multivan 7 Pax | Premium | 3 | 7 | Manual | n/a |
| Audi A6 Wagon | Premium | 4 | 5 | Automatic | 566 l |
| Audi A6 Wagon | Premium | 4 | 5 | Manual | 566 l |
| Mercedes Benz E Class w/GPS | Luxury | 4 | 5 | Automatic | n/a |
| Porsche Cayenne S w/ GPS | Luxury | 4 | 4 | Automatic | n/a |
| Porsche 911 w/ GPS | Luxury | 2 | 2 | Manual | n/a |
| Mercedes Vito 9 pax | Luxury | 4 | 9 | Automatic | n/a |
| Mercedes E Class Wagon | Luxury | 4 | 5 | Automatic | 566 l |
| BMW X5 | Special | 4 | 5 | Automatic | 340 l |
| Porsche Panamera w/ GPS | Special | 4 | 4 | Automatic | n/a |
| Mercedes CLS wagon | Special | 4 | 5 | Automatic | n/a |