Car Rental Fleet Guide France
Touring France is the daydream of many aspiring travelers, but you can bring your imaginings to life when your travel plan includes an Auto Europe car rental. Why rely on the timetables of public transportation when you can rent a car in France with Auto Europe and have the freedom to tour the country at your own pace? Begin in Paris with visits to Sacre Couer, the Eiffel Tower and the catacombs, and from there, the Bordeaux wine region, the lavender fields of Provence, and the French Riviera can be reached easily by car! What are you waiting for?
Auto Europe offers the largest variety of vehicles available anywhere, so you're sure to find the perfect fit using the chart below. Compare economy vs compact rental cars, or see which car class will best accommodate your entire family; the choice is yours!
Why Rent an Economy Car in France

Travelers looking to stay on a budget without sacrificing the personal freedom of having your own transportation, should consider booking an economy rental car in France. Economy car rentals are the most fuel efficient vehicles of any class, offer agile drivability, and are easy to park on busy European streets. Auto Europe's economy vehicle offerings come in both 2 and 4-door models, manual and automatic transmissions, and also in gasoline and diesel varieties.
Popular Economy Rental Car Models: Opel Corsa (2-door), Nissan Micra, VW Polo (Gasoline & Diesel), Citroen C3, Ford Fiesta.
Why Rent a Compact Car in France

A compact class rental car offers a bit more interior cabin room and luggage capacity than their economy class counterparts. Typically 4-door sedans and wagons, with enough space for 2-3 people with luggage, a compact rental car in France offers great value and a comfortable ride.
Popular Compact Rental Car Models: Renault Captur, Skoda Fabia, Peugeot 308, Ford Focus, VW Golf, Fiat 500X.
Why Rent a Mid-Size Car in France

Smaller families or travel groups looking to accommodate 3 to 4 passengers and some additional luggage should consider renting a mid-size car in France. Auto Europe's mid-size rental cars in France include a variety of excellent models from trusted car manufacturers including Opel, Peugeot, Ford, Citroen, and more.
Popular Mid-Size Rental Car Models: Opel Astra Sport Tourer, Peugeot 3008, Ford Grand C-Max, Renault Scenic, Citroen DS5.
Why Rent a Full-Size Car in France

Looking for some extra cabin and luggage space, but don't want to pay the additional cost to rent a van or SUV? A full-size rental car in France will provide you with more than enough luggage capacity for up to 4 people, a smooth driving experience, and additional legroom for taller passengers.
Popular Full-Size Rental Car Models: Peugeot 508, Renault Talisman, Opel Insignia, VW Passat, Audi A4, Mercedes C Class.
Why Rent a Luxury Car in France

Rent an exotic, sports, or luxury car in France, and enjoy a driving experience like never before. Most luxury rental cars in France come with an automatic transmission, and a variety of high-end amenities and creature comforts not typically found in standard rental vehicles.
Popular Luxury Car Rental Models: BMW 4 Series (Sedan & Cabrio), Mercedes E Class, Audi A5 Sportback, Maserati Ghibli, Porsche 911 (Coupe & Cabrio).
Why Rent an SUV or Van in France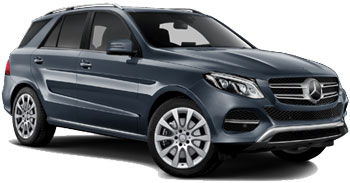 For travelers planning on taking an extended road trip, or travel in a large group, an SUV or van rental in France may be the most cost effective, and comfortable option. With adequate seating for 5-9 passengers, Auto Europe's comprehensive SUV and van fleets are sure to contain the perfect vehicle for your trip to France.
Popular SUV & Van Rental Models: Mercedes ML, Volvo XC90, BMW X5, Ford S-Max (7 passenger), Renault Traffic (9 Passenger), Mercedes Viano (8 Passenger).
| | Class | Doors | Passengers | Transmission | Trunk Capacity |
| --- | --- | --- | --- | --- | --- |
| Fiat 500 | Mini | 2 | 4 | Manual | n/a |
| Opel Corsa 2 dr | Economy | 2 | 4 | Manual | 255 l |
| Ford Fiesta | Economy | 2 | 4 | Manual | 255 l |
| Peugeot 208 | Economy | 4 | 4 | Manual | n/a |
| Alfa Romeo Mito GPS 2 door | Economy | 2 | 4 | Manual | n/a |
| Citroen DS3 Open Rooftop | Compact | 2 | 2 | Manual | n/a |
| Citroen DS4 | Compact | 4 | 4 | Automatic | n/a |
| Ford Focus | Compact | 4 | 4 | Manual | 396 l |
| Audi A3 (GPS) | Compact | 2 | 4 | Automatic | 283 l |
| Renault Megane w/ GPS | Compact | 4 | 4 | Manual | n/a |
| Citroen DS5 | Mid Size | 4 | 5 | Automatic | n/a |
| Peugeot 508 | Mid Size | 4 | 5 | Manual | n/a |
| Peugeot 5008 | Mid Size | 4 | 5 | Automatic | n/a |
| Renault Grand Scenic 5+2 | Mid Size | 4 | 5 | Manual | n/a |
| Citroen C4 Picasso | Mid Size | 4 | 4 | Automatic | n/a |
| Peugeot 3008 | Mid Size | 4 | 5 | Manual | n/a |
| Opel Insignia | Standard | 4 | 5 | Automatic | n/a |
| Peugeot 508 | Standard | 4 | 5 | Manual | n/a |
| Audi Q5 | Standard | 4 | 5 | Automatic | n/a |
| Renault Kadjar | Standard | 4 | 5 | Manual | n/a |
| Mercedes Vito 9 pax | Standard | 4 | 9 | Manual | n/a |
| Nissan Qashqai | Standard | 4 | 5 | Manual | 510 l |
| Mercedes C Class | Full Size | 4 | 5 | Automatic | 510 l |
| Audi A4 | Full Size | 4 | 5 | Manual | 453 l |
| BMW 4 Series | Full Size | 2 | 5 | Automatic | n/a |
| Volvo XC60 | Full Size | 4 | 5 | Automatic | n/a |
| BMW X4 | Full Size | 4 | 5 | Manual | n/a |
| Renault Espace 7 pax | Full Size | 4 | 7 | Automatic | n/a |
| Renault Espace 7 pax | Full Size | 4 | 7 | Manual | n/a |
| BMW 4 Series | Premium | 2 | 5 | Automatic | n/a |
| Mercedes ML | Premium | 4 | 5 | Automatic | n/a |
| Mercedes GLE | Premium | 4 | 5 | Automatic | n/a |
| Mercedes SLK | Premium | 2 | 2 | Automatic | 340 l |
| Mercedes V Class 8 pax | Premium | 4 | 8 | Automatic | n/a |
| Renault Traffic 9 Pax | Premium | 4 | 9 | Manual | n/a |
| Audi A6 Quattro Wagon | Premium | 4 | 5 | Automatic | n/a |
| BMW 5 Series | Premium | 4 | 5 | Automatic | 453 l |
| Mercedes E Class | Luxury | 4 | 5 | Automatic | n/a |
| Volvo XC90 | Luxury | 4 | 5 | Automatic | 510 l |
| BMW 4 Series Cabrio | Luxury | 2 | 4 | Automatic | n/a |
| Mercedes Viano 7 Pax + GPS | Luxury | 4 | 7 | Automatic | n/a |
| Audi A8 | Special | 4 | 5 | Automatic | 566 l |
| Porsche Cayenne | Special | 4 | 5 | Automatic | 510 l |
| Range Rover Vogue | Special | 4 | 5 | Manual | n/a |
| Porsche Panamera 4S | Special | 4 | 4 | Automatic | n/a |