Denmark Car Rental Fleet Choices
Choose your adventure in the Scandinavian country of Denmark from behind the wheel of a car rental with Auto Europe. If you enjoy learning about local heritage, Denmark's UNESCO sites, Roskilkde Cathedral, the Jelling Stones and Kronborg Castle, are a great place to begin a driving tour. Are your vacations focused on local, culinary creations? Drive to Copenhagen and sample the fare at the Michelin starred restaurants of this Nordic city. Whatever your touring preferences, Auto Europe's extensive fleet of car rentals in Denmark will get you there!
Why Rent an Economy Car in Denmark

Explore the ancient streets of Copenhagen at your own pace when you rent an economy car in Denmark with Auto Europe. Economy class vehicles tend to get the best gas mileage, and are available in a variety of option including 2 and 4-door models, as well as manual and automatic transmissions. Travelers looking to stay on a budget should consider renting an economy class vehicle to make the most of their vacation abroad.
Popular Economy Rental Car Models: Ford Fiesta, VW Polo, Seat Ibiza Wagon, Audi A1.
Why Rent a Compact Car in Denmark

Renting a compact car in Denmark allows you to enjoy nearly all the same benefits of an economy class vehicle, like high fuel efficiency and agile steering, but with the added bonus of increased luggage capacity, and a larger interior cabin to comfortably seat passengers. Compact cars come in a variety of styles including 2 and 4-door option, manual and automatic transmission, and even gasoline and diesel!
Popular Compact Rental Car Models: Opel Astra, Ford Focus (Wagon & Sedan), VW Golf, Volvo V40, Seat Leon.
Why Rent a Mid-Size Car in Denmark

For travelers planning a trip with family or group of 3-4, renting a mid-size car in Denmark is definitely recommended. Similar to economy and compact class vehicles, mid-size cars get decent gas mileage, and are still small enough to drive dexterously, but also have much larger trunks to accommodate additional luggage, and larger interior cabins to seat your passengers more comfortably. Auto Europe's mid-size vehicle options include models from all your favorite car manufacturers, including Ford, Volkswagen, BMW and more!
Popular Mid-Size Rental Car Models: Ford C Max, Opel Insignia (Wagon & Sedan), Ford Mondeo, VW Passat, BMW 1 Series.
Why Rent a Full-Size Car in Denmark

When traveling with small families or groups of 4, consider booking a full-size rental car in Denmark as they afford remarkable luggage capacity, spacious interior cabins, and smooth drivability. Plus! You don't have to spend the extra cash to spring for a luxury SUV or Van, while still receiving a perfectly suitable vehicle for longer trips with extra bags in tow.
Popular Full-Size Rental Car Models: Opel Insignia, Ford Mondeo Wagon, Audi A4 (Wagon & Sedan), Skoda Superb (Wagon & Sedan), Mercedes C Class.
Why Rent a Luxury Car in Denmark

Drivers eager to experience something with a bit more get-up-and-go should definitely consider renting a luxury car in Denmark with Auto Europe. Choose from a wide selection of luxury and sports cars, including your favorite models from Mercedes Benz, BMW, Audi, and more! Luxury car rentals in Denmark provide you with high-end in-car amenities, and creature comforts not typically found on standard rental vehicles.
Popular Luxury Car Rental Models: Audi A6 (Wagon & Sedan), Mercedes E Class (Wagon, Sedan & Cabrio), BMW 5 Series, Porsche 911.
Why Rent an SUV or Van in Denmark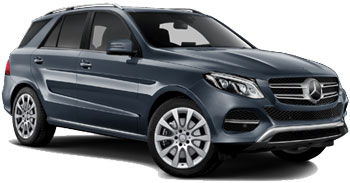 Looking to take an extended road trip vacation with the whole family? Look no further than the incredible selection of SUV and van rental options offered in Denmark. Renting a SUV or passenger van can save you a lot of money compared to booking multiple smaller vehicles to accommodate larger groups, and in many cases come equipped with luxury amenities not typically found in smaller car classes.
Popular SUV & Van Rental Models: Volvo XC90, Porsche Cayenne, Ford S-Max (7 Passenger), Mercedes Vito (9 Passenger), VW Sharan (7 Passenger).
| | Class | Doors | Passengers | Transmission | Trunk Capacity |
| --- | --- | --- | --- | --- | --- |
| Ford Focus | Compact | 4 | 4 | Automatic | 396 l |
| Opel Astra | Compact | 4 | 4 | Manual | 396 l |
| Ford Focus Wagon | Compact | 4 | 4 | Automatic | 396 l |
| Ford Focus Wagon | Compact | 4 | 4 | Manual | 396 l |
| Volkswagen Golf | Compact | 4 | 4 | Manual | n/a |
| VW Touran 5+2 | Mid Size | 4 | 5 | Manual | n/a |
| Ford C Max | Mid Size | 4 | 5 | Manual | 340 l |
| Opel Insignia | Standard | 4 | 5 | Manual | n/a |
| Ford Transit Minibus 9 Pax | Standard | 4 | 9 | Automatic | 623 l |
| Ford Transit Minibus 9 Pax | Standard | 4 | 9 | Manual | 623 l |
| Ford Mondeo Wagon | Standard | 4 | 5 | Manual | 510 l |
| Audi A4 | Full Size | 4 | 5 | Manual | 453 l |
| Ford Galaxy 7 Pax | Full Size | 4 | 7 | Manual | 510 l |
| Audi A4 | Premium | 4 | 5 | Automatic | 453 l |
| Audi A4 Wagon | Premium | 4 | 5 | Automatic | 1076 l |
| Audi A4 Wagon | Premium | 4 | 5 | Manual | 1076 l |
| Audi A6 | Luxury | 4 | 5 | Automatic | 510 l |
| Audi A6 Wagon | Luxury | 4 | 5 | Automatic | 566 l |