Car Rental Fleet Guide - Ireland
You don't need the proverbial luck of the Irish to get the lowest rate on a car rental in Ireland when you work with Auto Europe! We offer our best price guarantee on rental cars comparing apples to apples. Choose from a fleet of Ireland car rentals and set your own pace as you travel the length and breadth of the Emerald Isle. Drive east of Cork to kiss the Blarney Stone, said to imbue the kisser with a silver tongue, or tee-off at one of the many notable golf courses found both inland and along the Irish coastlines. Drive to Dublin and give yourself time to thoroughly explore this famous Irish city before concluding your road trip!
Why Rent an Economy Car in Ireland

If you're planning a trip to Ireland on a budget, and need a small car to tour around in, an economy rental car is an excellent choice. Economy class cars are highly fuel-efficient, easy to drive, and generally accommodate up to 4 passengers with light luggage. Explore the Emerald Island with ease, and stretch your dollar further when you rent an economy car in Ireland.
Popular Economy Rental Car Models: VW Polo (2/4-door), Ford Fiesta, Renault Clio, Opel Corsa (4-door), Citroen C1.
Why Rent a Compact Car in Ireland

A compact rental car in Ireland provides travelers with a slight increase in luggage capacity and interior cabin space compared to an economy class vehicle, without sacrificing fuel-economy and driving ease. Compact car rentals are available in wagon, sedan, and hatchback body styles, and in both manual and automatic transmissions. Compact class rentals offer a great value and a comfortable ride.
Popular Compact Rental Car Models: Toyota Auris, VW Golf, Opel Astra, Nissan Juke, Seat Leon Wagon, Ford Focus.
Why Rent a Mid-Size Car in Ireland

Small groups and families looking for a comfortable vehicle to travel around with, a mid-size rental car in Ireland is an excellent choice. Mid-size vehicles offer large, spacious interior cabins, additional legroom, and a significant luggage capacity for around 3-4 large suitcases.
Popular Mid-Size Rental Car Models: Skoda Octavia, VW Jetta, Opel Insignia, Toyota Avensis Wagon, Ford Mondeo, BMW 1 Series.
Why Rent a Full-Size Car in Ireland

Need some extra space in your rental vehicle but don't want to pay the extra costs to rent an SUV or Van? A full-size rental car in Ireland provides plenty of room for luggage. Both drivers and passengers will enjoy extended leg-room and a comfortable ride sure to enhance your Emerald Isle tour.
Popular Full-Size Rental Car Models: VW Passat (Wagon & Sedan), Audi A4, BMW 3 Series, Mercedes C Class, Peugeot 5008.
Why Rent a Luxury Car in Ireland

Luxury rental cars in Ireland come fully-equipped with modern driving-aid tech, numerous in-car creature comforts, and high-powered engines, all working in tandem to enhance your driving experience. Auto Europe's luxury rental fleet includes models from all the most reputable manufacturers, including Mercedes Benz, BMW, Jaguar, Lamborghini and more!
Popular Luxury Car Rental Models: BMW 5 Series, Jaguar XF, Mercedes E Class, Porsche 911.
Why Rent an SUV or Van in Ireland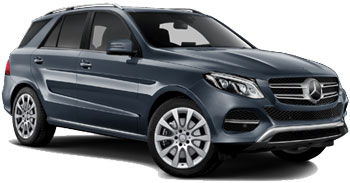 Auto Europe offers a wide variety of SUV and van rental options in Ireland. If you're traveling with family or with a group of friends, renting a van or SUV in Ireland is by far the best option as it provides more than enough trunk space to accommodate any additional luggage, seating for between 5 and 9 people, and a comfortable ride on even the roughest terrain.
Popular SUV & Van Rental Models: BMW X5, Land Rover Discovery, Audi Q7, Range Rover Sport, Ford Galaxy (7 Passenger), VW Caravelle (9 Passenger).
| | Class | Doors | Passengers | Transmission | Trunk Capacity |
| --- | --- | --- | --- | --- | --- |
| Ford Fiesta | Economy | 2 | 4 | Automatic | 255 l |
| Toyota Yaris | Compact | 2 | 4 | Manual | 255 l |
| Opel Astra | Compact | 4 | 4 | Manual | 396 l |
| Nissan Qashqai | Compact | 4 | 5 | Manual | 510 l |
| Seat Leon wagon | Compact | 4 | 5 | Manual | n/a |
| Skoda Octavia | Mid Size | 4 | 5 | Automatic | 453 l |
| Skoda Octavia | Mid Size | 4 | 5 | Manual | 453 l |
| Toyota RAV 4 | Mid Size | 4 | 4 | Automatic | 311 l |
| Toyota RAV 4 | Mid Size | 4 | 4 | Manual | 311 l |
| VW Touran | Mid Size | 4 | 5 | Automatic | n/a |
| Opel Zafira | Mid Size | 4 | 5 | Manual | n/a |
| Toyota Avensis Wagon | Mid Size | 4 | 5 | Manual | 481 l |
| Opel Zafira 5+2 | Mid Size | 4 | 5 | Manual | 510 l |
| Volkswagen Passat | Standard | 4 | 5 | Automatic | 396 l |
| Volkswagen Passat | Standard | 4 | 5 | Manual | 396 l |
| VW Caravelle 9 pax | Standard | 4 | 9 | Automatic | 510 l |
| Peugeot 5008 5+2 Pax | Standard | 4 | 5 | Manual | n/a |
| BMW 3 Series | Full Size | 4 | 5 | Automatic | 510 l |
| Audi A4 | Full Size | 4 | 5 | Manual | 453 l |
| Ford Galaxy 7 Pax | Full Size | 4 | 7 | Automatic | 510 l |
| Ford Galaxy 7 Pax | Full Size | 4 | 7 | Manual | 510 l |
| Audi A4 | Premium | 4 | 5 | Manual | 453 l |
| Land Rover Discovery | Premium | 4 | 5 | Automatic | 481 l |
| BMW 5 Series | Luxury | 4 | 5 | Automatic | 453 l |
| BMW X5 | Luxury | 4 | 5 | Automatic | 340 l |
| Jaguar XF | Special | 4 | 5 | Automatic | n/a |
| Audi Q7 | Special | 4 | 5 | Automatic | n/a |