Car Rental Ireland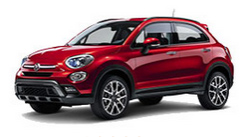 A car rental in Ireland is an invitation to explore one of the most beautiful, historic countries in the world. From historic Dublin and Shannon to beautiful Killarney and Cork, Ireland is a thriving tourist destination for lads and lasses from around the world. A rental car in Ireland is the ideal way to tour the emerald isle because it's often cheaper than public transportation and offers the freedom and flexibility the modern traveler craves. There's something to be said for touring at your own pace and whether you're hoping to kiss the blarney stone or partake in an authentic St. Patrick's day celebration, a rental car from Auto Europe is the perfect place to start.
Tour the Emerald Isle with an Ireland Rental Car
From stunning cliffs to verdant hills, the Emerald Isle is a beautiful place to drive. With an Ireland car rental you have license to explore the island's thriving historic cities or escape for a peaceful drive through Ireland's picturesque countryside. Some of the best destinations in Ireland aren't on the tourist brochure and whether you're in the mood for traditional Irish fare or a locally brewed stout at a small-town pub, with a rental car in Ireland you're invited to enjoy the emerald isle the way locals do. If you're starting your journey in Dublin or Shannon, you'll enjoy a short drive to Blarney Castle and the Cliffs of Moher. A popular destination for international travelers is the famous Guinness Factory where you'll be invited to enjoy a pint of this famous beer. Wherever you're headed, let Auto Europe help you arrange your travel transportation and you'll enjoy the best of what this historic island has to offer.
Book with the best Car Rental Companies in the Emerald Isles
Whether you need an economy vehicle or a motor home, Auto Europe and our suppliers have you covered. From Hertz, Sixt, and Budget, to Avis and Thrifty, Auto Europe has partnered with the top suppliers to make sure your trip is smooth. Learn more about our suppliers by clicking the links below.
Choosing the Perfect Car Rental in Ireland
Auto Europe can provide the perfect vehicle at a price that can't be beat. We take pride in providing 24/7 customer service as well as the lowest rates for your next rental vehicle. From luxury cars to chauffeur services, Auto Europe has whatever vehicle you need to make your next trip to Ireland magical.
| | | | |
| --- | --- | --- | --- |
| | | | |
| Van Rental Ireland - An Ireland van rental will enable you to tour the country in comfort with multiple passengers. Choose from roomy options like the Opel Zafira, Ford Galaxy 7-passenger, Renault Traffic 9-passenger, and more. | Luxury Car Rentals in Ireland - Treat yourself to the ultimate in travel transportation with a specialty prestige or performance vehicle. Auto Europe's Ireland luxury car rental options include vehicles from Mercedes, BMW, Audi, Range Rover, and more. | Ireland Long Term Rental - When you're looking to visit abroad for longer than the average holiday, you can save big by booking a weekly or monthly long term car rental in Ireland with Auto Europe! | Ireland Automatic Car Rental - Having trouble finding an affordable automatic car rental in Ireland? Auto Europe provides the largest selection of automatic transmission vehicles available, all in one place. |
---
Popular Questions About Renting a Car in Ireland
How Old Do You Need to Be to Rent a Car in Ireland?
To rent a vehicle in Ireland through Auto Europe you must be 21 years old and have had a valid driver's license for at least 2 years. A maximum rental age limit of 74 & 75 may apply depending on the supplier. If you are looking to rent a car under the age of 25 or if you are over the age of 70, you may be subject to an additional surcharge of $17-$25 CAD per day depending on the rental supplier.
What Side of the Road do People Drive on in Ireland?
Like the United Kingdom, drivers in the Republic of Ireland drive on the left side of the road. This tradition evolved from days before cars were common. Driving on the left side of the road allowed riders on horseback to have their sword hand (right hand) available at all times.
Can I drive my rental car into neighboring countries?
Rentals in Ireland that are booked through Auto Europe with some suppliers are permitted to travel to Northern Ireland and the United Kingdom. Additional surcharges may apply to rentals being taken to the UK and Northern Ireland. Vehicles traveling to the United Kingdom are required to be returned to Ireland and not all vehicles are permitted.
Restricted Countries
Rentals commencing in Ireland arranged by Auto Europe are restricted from traveling to: Africa (Morocco, Tunisia, Algeria etc) and continental Europe.
Find more questions and answers about rental cars in Ireland with Auto Europe today!