Car Rental Fleet Guide Croatia
Visit Croatia! Once one of Europe's best-kept secrets, it has gained fame in international spheres since the show Game of Thrones thrust cities like Dubrovnik into the limelight, exposing the previously undervalued potential for aspiring vacationers. Begin your tour with a car rental in Zagreb, and work your way south. Croatia's coastline offers both a wild and cultivated beauty to scenic drivers, with glimpses of the countries hundreds of small islands in the Adriatic Sea. Choose Auto Europe Car Rental for all your transportation needs while traveling in Croatia!
Why Rent an Economy Car in Croatia

Whether you're cruising the cobbled, historic streets of Dubrovnik or Zagreb, or you're off exploring the vast Croatian countryside, the superior fuel-economy, and ease of parking you'll experience when renting an economy class vehicle makes these cars excellent choices for touring Croatia. Available in both 2-door and 4-door variations, these small, dexterous vars allow you to save money on your car rental without sacrificing safety, or forcing you to wait on public transport schedules.
Popular Economy Rental Car Models: Suzuki Swift, Skoda Fabia, VW Polo, Renault Clio, Peugeot 208.
Why Rent a Compact Car in Croatia

Renting a compact car in Croatia lets you enjoy the many benefits that come with an economy class car (small vehicle size, agile steering, top-tier fuel economy), with the added perks of increased legroom, passenger space, and luggage capacity. Compact class cars are some of the most popular vehicles chosen by travelers on a budget.
Popular Compact Rental Car Models: Citroen C4, Kia Rio, Suzuki SX4, Volkswagen Golf, Seat Leon Wagon.
Why Rent a Mid-Size Car in Croatia

Many Canadian travelers touring Croatia choose to reserve a mid-size rental car as they are similar in size, fuel-economy, and driving feel when compared to the types of vehicles most commonly driven in Canada. Mid-size vehicles come in both sedan and wagon variations, as well as automatic and manual transmissions. Better yet, the increased luggage capacity compared to compact and economy cars allows you to seat more passengers comfortably, or bring along additional suitcases without feeling cramped.
Popular Mid-Size Rental Car Models: Skoda Rapid, Skoda Octavia, Peugeot 308 Wagon, Audi A3, Citroen C4 Picasso.
Why Rent a Full-Size Car in Croatia

Traveling groups of friends, and families should consider a full-size rental car which provides not only plenty of legroom, but also increased luggage capacity without the premium price-tag of a luxury car, van, or SUV rental. When you reserve a full-size car in Croatia you'll be able to enjoy comfortable touring of the countries incredible sites.
Popular Full-Size Rental Car Models: VW Passat (Wagon & Sedan), Audi A4, Peugeot 5008 (5+2 Passenger), Ford Mondeo.
Why Rent a Luxury Car in Croatia

For those travelers who desire to enhance their trip a bit more, renting one of Auto Europe's prestige or luxury-class vehicles is a great way to do this. Enjoy many luxury refinements and interior creature comforts to make your travels as smooth as comfortable as possible, and when you have the chance, let the engine really open up on the curves and enjoy a driving experience like never before, as your BMW, Porsche, or Mercedes rental car accelerates with racecar-esque agility, and poise.
Popular Luxury Car Rental Models: Audi A6, BMW 5 Series, Mercedes E Class, Audi A8, Mini Cooper Cabrio.
Why Rent an SUV or Van in Croatia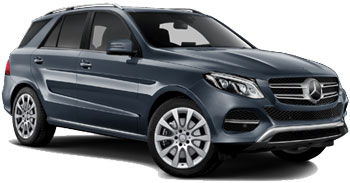 If you've decided to travel with a large family, friend-group, or business partners then it is usually more affordable to reserve a van or large SUV in Croatia, than it is to book several smaller cars to accommodate the group. In fact, our minivan, passenger van, and luxury SUV rental options are so popular, our inventory sells out every single year, so don't delay in reserving your vehicle in advance. If you want to embark on an adventure off the beaten path, Auto Europe's impressive inventory of SUV and van rental choices also include 4x4 vehicles too!
Popular SUV & Van Rental Models: Audi Q5, Hyundai Santa Fe, Mercedes GLE, Volkswagen Caravelle (9 Passenger), Opel Vivaro (9 Passenger).
| | Class | Doors | Passengers | Transmission | Trunk Capacity |
| --- | --- | --- | --- | --- | --- |
| Suzuki Splash | Mini | 2 | 4 | Manual | n/a |
| Volkswagen Up | Mini | 4 | 4 | Manual | n/a |
| Volkswagen Polo | Economy | 2 | 4 | Automatic | 227 l |
| Hyundai I20 2 door | Economy | 2 | 4 | Manual | n/a |
| Volkswagen Polo 4dr | Economy | 4 | 4 | Automatic | 255 l |
| Skoda Fabia | Economy | 4 | 4 | Manual | 198 l |
| Suzuki Ignis | Economy | 4 | 4 | Manual | 340 l |
| Renault Clio wagon | Economy | 4 | 4 | Manual | n/a |
| Suzuki Swift | Economy | 4 | 4 | Manual | n/a |
| Suzuki Baleno | Compact | 4 | 4 | Manual | 368 l |
| Volkswagen Golf | Compact | 4 | 4 | Automatic | n/a |
| Kia Rio | Compact | 4 | 4 | Manual | 340 l |
| VW Golf Cabriolet | Compact | 4 | 4 | Manual | n/a |
| Suzuki SX4 | Compact | 4 | 4 | Automatic | n/a |
| Suzuki SX4 | Compact | 4 | 4 | Manual | n/a |
| Seat Leon wagon | Compact | 4 | 5 | Automatic | n/a |
| Seat Leon wagon | Compact | 4 | 5 | Manual | n/a |
| Volkswagen Golf | Compact | 4 | 4 | Automatic | n/a |
| Volkswagen Golf | Compact | 4 | 4 | Manual | n/a |
| Skoda Rapid | Mid Size | 4 | 5 | Manual | n/a |
| Suzuki Vitara 4x4 | Mid Size | 4 | 4 | Automatic | 255 l |
| Opel Mokka | Mid Size | 4 | 5 | Manual | n/a |
| Renault Scenic | Mid Size | 4 | 5 | Manual | n/a |
| VW Caddy | Mid Size | 4 | 5 | Manual | 340 l |
| Skoda Octavia Wagon | Mid Size | 4 | 5 | Manual | 396 l |
| Suzuki S-Cross | Mid Size | 4 | 5 | Automatic | n/a |
| Suzuki S-Cross | Mid Size | 4 | 5 | Manual | n/a |
| Volkswagen Passat | Standard | 4 | 5 | Automatic | 396 l |
| Volkswagen Passat | Standard | 4 | 5 | Manual | 396 l |
| Kia Sportage | Standard | 4 | 4 | Manual | 255 l |
| Renault Grand Scenic | Standard | 4 | 7 | Automatic | 510 l |
| Renault Grand Scenic | Standard | 4 | 7 | Manual | 510 l |
| Mercedes V Class 7+1 pax | Standard | 4 | 8 | Automatic | n/a |
| Opel Vivaro 9 pax | Standard | 3 | 9 | Manual | n/a |
| Skoda Octavia Wagon | Standard | 4 | 5 | Automatic | 396 l |
| VW Passat Wagon | Standard | 4 | 5 | Manual | 340 l |
| Mercedes C Class | Full Size | 4 | 5 | Automatic | 510 l |
| Audi A4 | Full Size | 4 | 5 | Manual | 453 l |
| Audi Q5 | Full Size | 4 | 5 | Automatic | n/a |
| Ford Ranger | Full Size | 4 | 4 | Manual | 198 l |
| VW Sharan 7 Pax | Full Size | 4 | 7 | Automatic | n/a |
| VW Sharan 7 Pax | Full Size | 4 | 7 | Manual | n/a |
| Audi A6 | Premium | 4 | 5 | Automatic | 510 l |
| Mercedes GLE | Premium | 4 | 5 | Automatic | n/a |
| Mercedes V Class 6+1 | Premium | 4 | 7 | Automatic | n/a |
| Subaru Outback | Premium | 4 | 5 | Automatic | 453 l |
| BMW 5 Series | Luxury | 4 | 5 | Automatic | 453 l |
| Mercedes Vito 8 pax diesel | Luxury | 4 | 8 | Automatic | n/a |
| Mini Cooper Cabrio | Special | 2 | 2 | Automatic | n/a |