How to Read Your Auto Europe Car Rental Voucher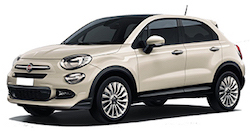 Now that you've arranged a rental car with Auto Europe for your next business or leisure trip, it's time to review your car rental voucher. This is not a step that you want to skip! While it may seem like a daunting prospect at first, Auto Europe car rental vouchers are written carefully, in a simple and succinct style to relay the important details relating to your car rental in a way that you can easily reference when you need to.

Car Rental Voucher FAQs and Facts
We can't begin to emphasize how important it is that you review your car rental voucher once it's received and confirm the details regarding your travel plans. Whether you created the booking online, went through a travel agent, or called Auto Europe's toll-free number and spoke with a car rental reservation specialist directly, you'll still need to review your car rental voucher.

Here is an in-depth look at the most frequently asked questions and facts regarding how to read your car rental voucher. However, if you still need further clarification, please feel free to call us toll-free at 1-888-223-5555 for further assistance!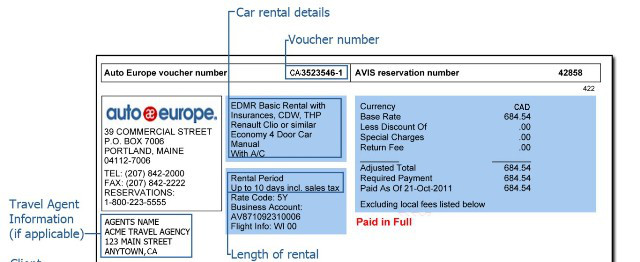 A voucher number is your car rental reference number that Auto Europe uses to pull up your car rental booking details in our system. The reservation number is the reference number that the car rental supplier, in this case AVIS, will use to find your booking when you are picking up and dropping off your rental car.
Auto Europe is a travel broker, so you will not find an Auto Europe counter when you are picking up or droping off your rental car. We partner with international car rental suppliers to provide you with the best selection of vehicles at the lowest prices. You will redeem your Auto Europe rental car voucher with the local supplier that is listed at both the top of your voucher, and repeated in the pick-up and drop-off boxes in the second quarter of the page.

When entering the name of the person who will be your primary driver, it needs to match the name on their driver's license. Not a nickname, initial abbreviation or any shortened version of their name, their legal name that matches what's printed on their driver's license.

The car rental supplier name, address, phone number, airport terminal, rail station or other applicable pick-up and drop-off information is listed in the two side-by-side boxes on the second quarter of your car rental voucher. If your pick-up is at an airport, for example, your voucher will note whether you need to take a shuttle to a separate location, or if they supplier is located on the premises. Once you redeem your car rental voucher at the supplier desk, they will direct you to the car rental parking lot or garage.

If your car rental is scheduled to be both picked up and dropped off at the same office, but there is a different drop-off point noted on your voucher, the rental car agent at the desk can advise you of the drop-off procedure. They can also clarify where the drop box is located for keys if you will be returning your car before or after hours.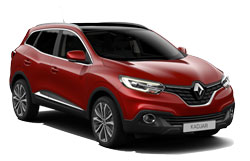 The date and time of your car rental pick-up time and drop-off time are also listed in the box. The sample section above lists 08-Nov-11 at 10:00 AM as the pick-up time and 18-Nov-11 10:00 AM as the drop-off time. Car rental costs are based on a 24-hour period. The car rental on this sample voucher is reserved for a 10-day period. Any pick-up time prior to that listed or drop-off time beyond the 24-hour clock (10:00 AM to 9:59 AM) may obligate your for the cost of an additional day. For more information see changes to your voucher.
There is a variety of important details relevant to your individual booking that will be noted in the comment box on your car rental voucher. If you've requested additional equipment, anything from a ski rack to a child seat, or snow tires to a GPS unit, all those details and applicable costs will be noted in the comment box. This is also one of the places where domestic and international one-way fees will be noted, the currency they're in, and if it's paid locally or in advance along with your car rental cost. If it's paid in CAD in advance, you will also see it noted in the top, right-hand box of your car rental voucher under special charges.
If you've set up an out-of-hours car rental pick up this will also be noted on your voucher, along with the applicable fees.
The next portion of your car rental voucher is sectioned into two boxes that list your basic inclusions and exclusions regarding car rental insurance coverage and applicable deductibles. It will be noted f there are limitations on cumulative kilometers, like you'd find with luxury fleet vehicles, and if there are local fees that need to be paid, such as location surcharges and vehicle licensing fees. It also lists whether you're expected to return the car with a full or empty tank of gas.
There are occasions where clients return home after their vacation and are surprised upon checking their credit card bills to discover that they've been charged additional fees. If they had read their car rental voucher, this would not be the case. The most common reason for additional fees are for things like daily road taxes, vehicle licensing fees, additional driver fees, and even traffic violations. A brief perusal of your voucher will help you quickly determin whether the fees you're seeing are valid, or if you need to make further inquiries from Auto Europe's customer service department.

Auto Europe's terms and conditions are brief and written in the same text size as the rest of the voucher, there's no fine print. One of the bullet points clearly informs clients that while you can potentially pay for your Auto Europe car rental with a debit card, at the local rental counter the requirement is that you use a valid credit card.
Are there exceptions to this rule? Sure, but you must call Auto Europe in advance of the pick-up date (1-888-223-5555), the sooner the better, and we will attempt to negotiate a debit card pick up. Suppliers see a debit card as the equivalent of cash. This typically means that for insurance purposes, not only will the supplier charge you a bigger deposit for not using a credit card, it will also take longer for this money to be refunded to you after you have returned your rental car.

Please keep in mind most car rental suppliers will not hold your car rental indefinitely even though you have paid up front. The exception is circumstances such as delayed flights that they can validate, although this is not a guarantee. Most suppliers will consider you a no call/no show if you decide on a whim that you're going to pick your car rental up at a later time/date without contacting Auto Europe first.
It's important that you let us know if you would like to pick up your car rental later before you show up at the counter so we are able to update your reservation amended accordingly. If you're not there on time and someone else is, your vehicle may be gone. This is especially true during peak season, as many customers are attempting to acquire a car rental at the last minute and car rental fleets are often sold out,This is a difficult situation no matter what your party size. We cannot emphasize enough that if your travel plans change to call Auto Europe using the phone number on your voucher as soon as possible so we can make the necessary changes.

This also goes for any changes to your car rental drop-off time. It is likely that the car rental you're using has been booked by another traveler the same day as you're scheduled to return it. If you want to keep your rental car longer than the original agreed upon date, contact Auto Europe so we canreach out to the car rental supplier and confirm that this is possible, so that you're not leaving someone else stranded.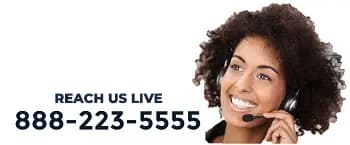 If you still have questions regarding details included on your voucher, Auto Europe's award-winning team is here during all hours of the day and night! Our 24/7 service is just one more reason why a car rental with Auto Europe is your best option for both business and vacation travelers.Call us toll-free at 1-888-223-5555 at a time that is convenient for you.
More Travel Tips from Auto Europe
How to Plan a Memorable Road Trip
Make memories that will last a lifetime by renting a car for an epic road trip with Auto Europe Car Rental.
Your Car Rental Insurance Guide
Learn how to navigate the seemingly confusing road of car rental insurance with this helpful guide!