Car Rental Fleet Guide - Norway
Tour the Scandinavian nation of Norway by rental car! Most travelers to Norway begin their journey from Oslo, so if that is your starting point as well, the sooner you book your car rental the better the fleet availability will be! Norway's rugged coastline, lush, forested regions and storied peaks offer dramatic beauty and ample opportunity for the adventurous outdoorsman. One sight, not to be missed is the waterfalls dubbed the Seven Sisters and The Suitor, which are part of Geirangerfjord, roughly an eight-hour drive from Oslo, and if the season is right, the Northern Lights are a must-see spectacle. See these and more with a car rental in Norway!
Why Rent an Economy Car in Norway

If you only need a small vehicle, or are trying to stay on a budget, an economy rental car in Norway is a great option. Economy class cars get incredible gas-mileage, accommodate up to 4 people comfortably, and are easy to drive and park in crowded city centers, like Oslo.
Popular Economy Rental Car Models: Peugeot 208, Ford KA, VW Polo, Opel Corsa.
Why Rent a Compact Car in Norway

A compact rental car in Norway offers slightly more interior room, and luggage space than an economy class vehicle. Compact cars are typically 4-door sedans or hatchbacks, with adequate trunk space for luggage for 2-3 people.
Popular Compact Rental Car Models: Citroen C4 Cactus, VW Golf (Wagon & Sedan), Ford Focus Wagon, Toyota Auris.
Why Rent a Mid-Size Car in Norway

Looking for a larger vehicle capable of accommodating additional luggage and passengers more comfortably, without sacrificing much fuel-economy? A mid-size rental car in Norway is the perfect choice! Mid-size vehicles come in a variety of styles, including hatchbacks, sedans, and wagons, from all the brands you know and respect including, Volkswagen, Audi, Renault and more!
Popular Mid-Size Rental Car Models: Renault Scenic, Volvo V40, Audi A3 Sportback, Skoda Octavia Wagon, VW Passat Wagon.
Why Rent a Full-Size Car in Norway

For travelers planning on taking a road trip in Norway, a full-size rental car presents as the best balance of efficiency and comfort. full-size rental cars in Norway accommodate up to 5 people, with luggage, comfortably, and come in both manual and automatic transmissions.
Popular Full-Size Rental Car Models: Volvo V50 Wagon, Volvo S60, BMW 3 Series, Mercedes C Class.
Why Rent a Luxury Car in Norway

Luxury rental cars in Norway provide travelers with an assortment of vehicle choices from the world's most reputable manufacturers, including Ferrari, BMW, Mercedes, and many others!
Popular Luxury Car Rental Models: BMW 5 Series, Mercedes E Class, Audi A6.
Why Rent an SUV or Van in Norway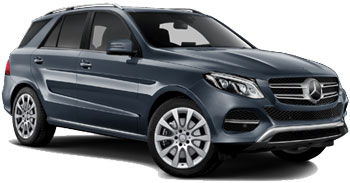 If you're planning on an extended road trip, you'll surely enjoy Auto Europe's comprehensive fleet of SUV and van rental options in Norway. If you're traveling as a family or with a large group of friends, renting a van or SUV is far and away the best option as they posses adequate seating for between 5-9 people, and additional large suitcases.
Popular SUV & Van Rental Models: Citroen C4 Aircross, Nissan X-Trail, Toyota RAV 4, VW Caravelle (8 Passenger), VW Crafter.
| | Class | Doors | Passengers | Transmission | Trunk Capacity |
| --- | --- | --- | --- | --- | --- |
| Volkswagen Up | Mini | 2 | 4 | Manual | n/a |
| Ford KA | Economy | 2 | 4 | Manual | 255 l |
| Volkswagen Polo | Economy | 2 | 4 | Manual | 227 l |
| Toyota Auris | Compact | 4 | 4 | Automatic | n/a |
| Citroen C4 Cactus | Compact | 4 | 5 | Manual | n/a |
| Volkswagen Golf Wagon | Compact | 4 | 4 | Automatic | 850 l |
| Ford Focus Wagon | Compact | 4 | 4 | Manual | 396 l |
| Mercedes B180 | Mid Size | 4 | 5 | Automatic | n/a |
| Renault Scenic | Mid Size | 4 | 5 | Manual | n/a |
| Citroen C4 Aircross 4x4 | Mid Size | 4 | 5 | Manual | n/a |
| VW Touran 5+2 | Mid Size | 4 | 5 | Manual | n/a |
| Skoda Octavia Wagon | Mid Size | 4 | 5 | Manual | 396 l |
| Skoda Octavia Wagon 4x4 | Mid Size | 4 | 5 | Manual | n/a |
| VW Passat | Standard | 4 | 5 | Manual | n/a |
| Citroen C4 Aircross | Standard | 4 | 5 | Manual | n/a |
| Toyota RAV 4 | Standard | 4 | 4 | Manual | 311 l |
| VW Caravelle - 9 pax | Standard | 4 | 9 | Manual | n/a |
| VW Passat Wagon | Standard | 4 | 5 | Automatic | 340 l |
| Volvo V50 Wagon | Standard | 4 | 5 | Manual | 566 l |
| Mercedes C180 | Full Size | 4 | 5 | Automatic | 510 l |
| Volvo S60 | Full Size | 4 | 5 | Manual | n/a |
| VW Caravelle 8 pax | Full Size | 4 | 8 | Manual | n/a |
| Volvo V70 | Full Size | 4 | 5 | Automatic | 510 l |
| Volvo V70 wagon | Full Size | 4 | 5 | Manual | 510 l |
| BMW 316 | Premium | 4 | 5 | Manual | 453 l |
| BMW 520 | Luxury | 4 | 5 | Automatic | 453 l |