Luxembourg Car Rental Fleet Guide
Get away on your next vacation, to Luxembourg! While this sovereign nation might be dwarfed in size by its more prominent neighbors, its diminutive land coverage is to your benefit! A Luxembourg car rental allows you to easily traverse both urban and rural landscapes to thoroughly explore the ins and outs of this nation's art, culture and picturesque beauty. Feel a sense of accomplishment with the level of knowledge you'll have acquired after just a short time visiting Luxembourg. Book your Luxembourg rental car with Auto Europe's online booking engine! To learn more about the car rental categories available, please refer to the list below.
Why Rent an Economy Car in Luxembourg

Economy rental cars in Luxembourg offer superior fuel-economy, and great value for your money. Typically, 2-4 door small cars, economy class-vehicles come in both hatchback and sedan varieties as well as in Gasoline and Diesel.
Popular Economy Rental Car Models: Opel Corsa, Ford KA, VW Polo (Gasoline & Diesel), Citroen DS3 (2-door), Peugeot 208.
Why Rent a Compact Car in Luxembourg

Compact class vehicles provide nearly the same fuel-economy as an economy car, but come equipped with better luggage capacities, more passenger legroom and interior cabin space. Rent a compact car in Italy and embark on a day trips throughout the country without breaking the bank on gas purchases.
Popular Compact Rental Car Models: Opel Astra, Opel Meriva, Volvo V40, VW Golf (Sedan & Hatchback).
Why Rent a Mid-Size Car in Luxembourg

When traveling with a small group or family, a mid-size rental car in Luxembourg is an excellent transportation choice. With adequate luggage capacity for 3-4 large suitcases, and a spacious interior for passengers, mid-size vehicles provide a good balance of fuel-economy and creature comforts, and come in both automatic and manual transmission varieties.
Popular Mid-Size Rental Car Models: Opel Mokka, Ford C Max, Ford Mondeo, Citroen C4 Picasso, Opel Insignia.
Why Rent a Full-Size Car in Luxembourg

If you're planning to embark on a extended road trip or just need to accommodate 4-5 passengers and luggage, a full-size rental car in Luxembourg is the best choice. Both driver's and passengers will enjoy the extra leg-room, spacious interior, and smooth ride of a full-size class car.
Popular Full-Size Rental Car Models: Skoda Octavia Wagon, Mercedes C Class, Seat Alhambra, Mercedes B Class.
Why Rent a Luxury Car in Luxembourg

Renting a luxury or sports car in Luxembourg typically will provide you an automatic transmission vehicle, smooth driving feel, and numerous high-end, in-car amenities - all made to enhance your driving experience.
Popular Luxury Car Rental Models: Volvo S80, Mercedes E Class (Gasoline & Diesel), BMW 5 Series, Porsche 911.
Why Rent an SUV or Van in Luxembourg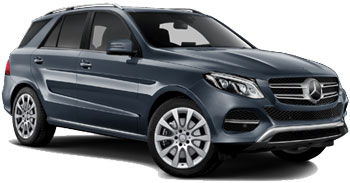 Auto Europe offers a wide selection of amazing SUV and van rental options in Luxembourg. If you're traveling as a family or with a few friends renting a van or large SUV is a great option as it provides plenty of room for storage, adequate seating and a comfortable ride on any terrain.
Popular SUV & Van Rental Models: Opel Vivaro (9 Passenger), Ford Galaxy Diesel (7 Passenger), Volkswagen T5 (9 Passengers), BMW X5.
| | Class | Doors | Passengers | Transmission | Trunk Capacity |
| --- | --- | --- | --- | --- | --- |
| Ford KA | Mini | 2 | 4 | Manual | 255 l |
| Opel Corsa | Economy | 4 | 4 | Manual | n/a |
| Volvo V40 | Compact | 4 | 5 | Automatic | 453 l |
| Opel Meriva | Compact | 4 | 5 | Manual | n/a |
| Opel Mokka | Mid Size | 4 | 5 | Manual | n/a |
| Ford C Max | Mid Size | 4 | 5 | Manual | 340 l |
| Opel Vivaro 9 pax | Standard | 3 | 9 | Manual | n/a |
| Skoda Octavia Wagon | Standard | 4 | 5 | Manual | 396 l |
| Mercedes C200 | Full Size | 4 | 5 | Manual | 453 l |
| Seat Alhambra 7 pax | Full Size | 4 | 7 | Manual | n/a |
| Mercedes-Benz C 200 | Premium | 4 | 5 | Automatic | 510 l |