Italy Car Rental Fleet Reference Guide
Deciding what car rental category will best suit you and your traveling companions is easy, choosing where to begin your travels in Italy, now that's going to take some finessing! Should you rent a car in Rome, the Italian capital dubbed the Eternal City? Perhaps Venice, the romantic Floating City, in Tuscany is a more appropriate choice? But then there's Milan, one of the international fashion capitals of the world, or Verona, fictional home of Romeo and Juliet! You've got some tough decisions ahead of you, but with the expert assistance of Auto Europe, your car rental doesn't have to be one of them!
Use the chart below to get an idea of what type of rental car might be best for you. Whether you're comparing
compact vs economy car rentals
or looking for a large enough van to accommodate your whole party, Auto Europe offers the widest selection of vehicles available in one place!
Why Rent an Economy Car in Italy

An economy rental car in Italy provides travelers on a budget with an excellent small vehicle that gets great fuel-economy, is easy to navigate, and even easier to park in crowded Italian cities. Stretch your dollar further when you rent an economy class vehicle, and save money for sightseeing activities and cozy accommodations.
Popular Economy Rental Car Models: Fiat Panda, Ford Fiesta, Ford KA, Renault Clio, Audi A1.
Why Rent a Compact Car in Italy

Travelers in need of a small car for personal touring should consider renting a compact car in Italy. Compact class vehicles offer great gas-mileage, adequate luggage capacity for 2-3 large suitcases, and a variety of body-styles including sedans, wagons, and hatchbacks.
Popular Compact Rental Car Models: Citroen Cactus, Fiat 500L, VW Golf, Opel Astra Wagon, Renault Megane Wagon, Audi A3 Cabrio.
Why Rent a Mid-Size Car in Italy

Small groups or families looking to travel comfortably will surely enjoy a mid-size rental car in Italy. Mid-size cars have significantly more luggage space than their smaller economy and compact class counterparts, come in both manual and automatic transmissions, and a variety of body styles.
Popular Mid-Size Rental Car Models: Alfa Romeo Giulietta, Ford C Max, Lancia Delta, Citroen C4 Picasso, Audi A3, Volvo V60.
Why Rent a Full-Size Car in Italy

Need some extra room in your rental vehicle but don't want to pay extra for a van or SUV? A full-size rental car in Italy provides travelers with a comfortable interior cabin capable of accommodating up to 5 passengers, and a large trunk for additional luggage. Auto Europe's mid-size fleet includes vehicles from the most reputable brands including Mercedes Benz, Volvo, Volkswagen, Alfa Romeo and more.
Popular Full-Size Rental Car Models: Mercedes B Class, VW Passat (Wagon & Sedan), Volvo S60 w/ GPS, Audi A4, Mercedes C Class.
Why Rent a Luxury Car in Italy

Travelers looking for a more engaged driving experience should consider booking a luxury rental car in Italy, and take to the streets in ultimate style. Auto Europe's fleet of luxury and sports cars include models from top brands including Lamborghini, BMW, Porsche, Mercedes Benz and more.
Popular Luxury Car Rental Models: Audi A6 Wagon w/GPS, Mercedes E Class (Diesel & Gasoline), BMW 5 Series, Porsche Boxster S, Maserati Gran Cabrio.
Why Rent an SUV or Van in Italy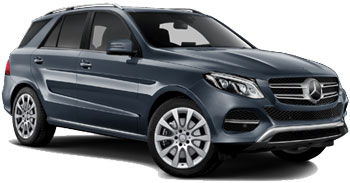 At Auto Europe we offer a wide variety of SUV and van rental options in Italy. If you're traveling with family or a large group of 5 or more, renting an SUV or van is one of the best options as it provides more than enough luggage space for multiple large suitcases, a spacious interior cabin, and a smooth ride on even the roughest terrain.
Popular SUV & Van Rental Models: Jeep Renegade, Range Rover Evoque, BMW X5, VW Caravelle (7 Passengers), Fiat Ducato (9 Passenger).
| | Class | Doors | Passengers | Transmission | Trunk Capacity |
| --- | --- | --- | --- | --- | --- |
| Opel Adam | Mini | 2 | 4 | Manual | n/a |
| Peugeot 108 | Mini | 2 | 4 | Manual | n/a |
| Fiat 500 Cabrio | Mini | 2 | 4 | Manual | n/a |
| Ford KA | Economy | 2 | 4 | Manual | 255 l |
| Volkswagen Polo | Economy | 2 | 4 | Automatic | 227 l |
| Fiat Panda | Economy | 2 | 3 | Manual | 198 l |
| Smart ForFour | Economy | 4 | 4 | Automatic | n/a |
| Renault Clio | Economy | 4 | 4 | Manual | 255 l |
| Ford Fiesta | Economy | 4 | 4 | Manual | 255 l |
| Audi A1 Sportback | Compact | 2 | 4 | Automatic | n/a |
| BMW 2 Series | Compact | 4 | 4 | Automatic | n/a |
| Fiat 500X | Compact | 4 | 4 | Manual | n/a |
| Mini Cooper S Cabrio | Compact | 2 | 2 | Automatic | n/a |
| Ford Focus Wagon | Compact | 4 | 4 | Manual | 396 l |
| BMW 1 Series | Mid Size | 4 | 4 | Automatic | n/a |
| Jeep Renegade | Mid Size | 4 | 5 | Manual | n/a |
| Audi Q3 | Mid Size | 4 | 5 | Automatic | n/a |
| BMW Z4 | Mid Size | 2 | 2 | Automatic | 340 l |
| Renault Espace 5+2 | Mid Size | 4 | 7 | Automatic | n/a |
| Opel Insignia Wagon | Mid Size | 4 | 5 | Automatic | n/a |
| Jeep Renegade | Mid Size | 4 | 5 | Manual | n/a |
| Audi A3 Sportback | Mid Size | 4 | 5 | Automatic | n/a |
| Citroen C4 Picasso | Mid Size | 4 | 4 | Manual | n/a |
| Volvo V60 | Standard | 4 | 5 | Manual | n/a |
| BMW 4 Series Cabrio | Standard | 2 | 4 | Automatic | n/a |
| Opel Vivaro 9 pax | Standard | 3 | 9 | Manual | n/a |
| VW Passat Wagon | Standard | 4 | 5 | Automatic | 340 l |
| Audi A4 | Full Size | 4 | 5 | Automatic | 453 l |
| Maserati Gran Cabrio | Full Size | 2 | 2 | Automatic | n/a |
| Ford Galaxy 7 Pax | Full Size | 4 | 7 | Automatic | 510 l |
| Fiat Scudo 7 pax | Full Size | 3 | 7 | Manual | n/a |
| Audi A4 Wagon | Full Size | 4 | 5 | Automatic | 1076 l |
| BMW 7 Series | Premium | 4 | 5 | Automatic | 510 l |
| Mercedes ML 350 4X4 | Premium | 4 | 5 | Automatic | 510 l |
| Mercedes E Class cabrio | Premium | 2 | 4 | Automatic | n/a |
| Mercedes Viano 7pax | Premium | 4 | 7 | Automatic | 255 l |
| Audi A6 Wagon | Premium | 4 | 5 | Automatic | 566 l |
| Mercedes S500 | Luxury | 4 | 5 | Automatic | n/a |
| BMW 6 Series Coupe | Luxury | 2 | 4 | Automatic | n/a |
| Range Rover Vogue SC | Luxury | 4 | 5 | Automatic | n/a |
| Ferrari California | Luxury | 2 | 2 | Automatic | n/a |
| Mercedes E Class Diesel | Luxury | 4 | 5 | Automatic | 510 l |
| Porsche Cayenne S | Special | 4 | 5 | Automatic | n/a |
| Ferrari 458 Italia Spider | Special | 2 | 2 | Automatic | n/a |
| Ferrari California T | Special | 2 | 2 | Automatic | n/a |
| Lamborghini Huracan | Special | 2 | 2 | Automatic | n/a |