Car Rental Fleet Guide Belgium
Traveling in Belgium with an Auto Europe car rental allows you the most freedom and flexibility to explore this diverse cultural landscape at your leisure. During your driving tour of Belgium, you'll find there are three dominant languages spoken, Dutch, French AND German, so keep your phrasebooks handy! While sightseeing in Brussels, reaching important landmarks, galleries, museums, and special events is made easier when you choose to rent a car! Auto Europe's three-step, online booking engine is a secure way to confirm your next rental car in Belgium!
Why Rent an Economy Car in Belgium

If you're looking to stay on a budget, but still desire the freedom of having private transportation, an economy rental car in Belgium is an top-notch choice. Discover numerous incredible attractions while touring bustling major cities and enjoying relaxing countryside jaunts, at a pace that best suits your personal travel itinerary.
Popular Economy Rental Car Models:Ford KA, VW Polo, Opel Corsa, Peugeot 208.
Why Rent a Compact Car in Belgium

Renting a compact car in Belgium is far and away the best method for getting around, and exploring at your own pace; far exceeding the many hassles of public transportation and taxi travel. Compact rental cars are highly versatile that are both affordable and fuel-efficient, while still remaining fairly spacious and comfortable for smaller groups of 2-3.
Popular Compact Rental Car Models: Opel Astra, Opel Meriva (Sedan & Wagon), VW Golf, Toyota Auris.
Why Rent a Mid-Size Car in Belgium

When traveling with slightly larger groups, or if you need to accommodate some extra luggage, a mid-size rental car in Belgium is an ideal choice. Without sacrificing too much gas mileage compared to an economy or compact rental, a mid-size vehicle affords you additional luggage capacity, passenger space, and legroom. Vehicles in this class typically include wagons and sedans, so no matter what you're looking for, Auto Europe is sure to have the perfect vehicle for your trip.
Popular Mid-Size Rental Car Models: Mercedes B Class, Skoda Octavia (Sedan & Wagon), Ford Mondeo, Opel Insignia, Citroen C4 Picasso.
Why Rent a Full-Size Car in Belgium

Planning on embarking on an extended driving vacation in Belgium, or traveling with a larger group than normal? A full-size rental car in Belgium will easily provide you with enough room for not only all your belongings, but also extra legroom and interior space for your passengers. One of the biggest benefits of a full-size vehicle is that they contain separate trunk compartments to keep your luggage safe and secure while traveling.
Popular Full-Size Rental Car Models: Mercedes C Class, VW Passat (Sedan & Wagon), Skoda Superb, BMW 3 Series, Audi A4 w/ GPS.
Why Rent a Luxury Car in Belgium

To experience the pinnacle of travel comforts and prestige, reserve a sports or luxury rental car in Belgium and treat yourself to the highest level of driving pleasure. Auto Europe's extensive luxury fleet includes popular models from the likes of BMW, Mercedes, Porsche, Ferrari, Maserati, and many more!
Popular Luxury Car Rental Models: Mercedes E Class, BMW 5 Series, Audi A6 w/ GPS, Porsche 911 w/ GPS, Mercedes CLS.
Why Rent an SUV or Van in Belgium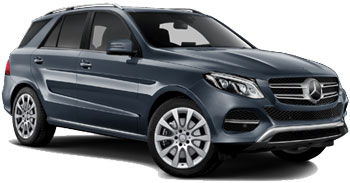 When traveling with the whole family or a large group you always want to ensure your vacation time is both comfortable and hassle-free. An SUV or van rental from Auto Europe is far and away the best way to go when traveling in groups of 5 or more. Take on more rugged terrain, accommodate additional luggage, and let your passengers stretch their legs on long journeys.
Popular SUV & Van Rental Models:Opel Vivaro (9 passenger), Seat Alhambra (7 passenger), Ford Galaxy (7 passenger), BMW X5, VW Touareg.
| | Class | Doors | Passengers | Transmission | Trunk Capacity |
| --- | --- | --- | --- | --- | --- |
| Opel Corsa 2 dr | Mini | 2 | 4 | Manual | 255 l |
| Opel Corsa | Economy | 2 | 4 | Automatic | 255 l |
| Opel Corsa 2 dr | Economy | 2 | 4 | Manual | 255 l |
| Volkswagen Golf | Compact | 4 | 4 | Automatic | n/a |
| Opel Astra | Compact | 4 | 4 | Manual | 396 l |
| Opel Astra Wagon Diesel | Compact | 4 | 4 | Manual | 340 l |
| Opel Mokka | Mid Size | 4 | 5 | Manual | n/a |
| Opel Zafira 5 pax | Mid Size | 4 | 5 | Manual | 510 l |
| Mercedes B Class Diesel | Standard | 4 | 5 | Automatic | n/a |
| Volkswagen T5 9 pax diesel | Standard | 4 | 9 | Manual | n/a |
| Ford Mondeo Wagon | Standard | 4 | 5 | Manual | 510 l |
| Mercedes C Class | Full Size | 4 | 5 | Automatic | 510 l |
| Mercedes C Class | Full Size | 4 | 5 | Manual | 510 l |
| Ford Galaxy Diesel 7 Pax | Full Size | 4 | 7 | Manual | 510 l |
| Mercedes C Class Diesel | Premium | 4 | 5 | Automatic | 425 l |
| Mercedes E Class Diesel | Luxury | 4 | 5 | Automatic | 510 l |