Slovenia Car Rental Fleet List
Take your next international vacation off the well-worn roads of Western Europe and opt instead for a scenic escape in Slovenia! Ljubljana is the central hub of Slovenia that connects the surrounding countries of Austria, Italy, Croatia and Hungary offering an exotic blend of Slovene culture and nuances of these neighboring nations. Renting a car in Ljubljana enables you to participate in your choice of the dozens of eclectic festivals that take place across the city every day as well as the vast array of further entertainment and learning opportunities available.
Why Rent an Economy Car in Slovenia

Economy class cars are a popular rental option for drivers embarking on a tour of Slovenia as they offer unlimited mileage, sizable luggage capacity for 1-2 large bags, and allow you to explore at your own pace while maintaining incredible fuel-economy. Available in a variety of options including both 2-door and 4-door models, many travelers choose the value of of road tripping in an economy rental car.
Popular Economy Rental Car Models: VW Polo, Renault Twingo, Opel Corsa (4-door), Fiat Grande Punto, Skoda Fabia.
Why Rent a Compact Car in Slovenia

There are myriad reason to rent a compact rental car in Slovenia. These small vehicles offer great mobility, fuel-economy, and adequate luggage storage for 2-3 suitcases. Whether you want to rent a VW Golf hatchback, or maybe a Renault Megan Wagon with a bit of extra storage, Auto Europe's compact rental car options in Slovenia are sure to contain the perfect vehicle for your trip.
Popular Compact Rental Car Models: VW Golf (Wagon & Sedan), Chevy Lacetti, Renault Megane Wagon, BMW 1 Series.
Why Rent a Mid-Size Car in Slovenia

Renting a mid-size car in Slovenia provides extra luggage capacity, and legroom for passengers without sacrificing fuel-efficiency. Auto Europe offers many great mid-size options in Slovenia, from Avantcar, Enterprise, Avis, and Europcar.
Popular Mid-Size Rental Car Models: Skoda Rapid, VW Touran (5+2 passenger), Skoda Octavia Wagon, Mazda 3, Nissan Leaf.
Why Rent a Full-Size Car in Slovenia

Increased legroom, interior comfort, and smooth driving feel are just a few of the reasons many travelers choose to rent a full-size car during their trip to Slovenia. With a variety of models from the most reputable brands, including Volkswagen and Mercedes Benz, you're sure to find the perfect vehicle for your vacation in Slovenia.
Popular Full-Size Rental Car Models: VW Passat (Wagon & Sedan), Opel Insignia, Mercedes C Class.
Why Rent a Luxury Car in Slovenia

Renting a luxury vehicle in Slovenia will provide you with an automatic transmission, smooth ride, additional leg-room and numerous techy-features and creature comforts, designed to enhance your driving experience.
Popular Luxury Car Rental Models: Mercedes E Class, Mercedes S Class, BMW 6 Series.
Why Rent an SUV or Van in Slovenia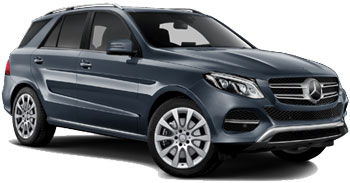 More room for passengers, more room for luggage capacity, more room for fun - it's easy to understand why many travelers planning a family or group vacation in Slovenia choose to rent a large SUV or van. Save money, and time, when traveling with between 5-9 people, when you rent a van or SUV from Auto Europe.
Popular SUV & Van Rental Models: Toyota RAV 4, Opel Mokka, Mercedes ML, Opel Vivaro (9 passengers), VW Sharan (7 passenger).
| | Class | Doors | Passengers | Transmission | Trunk Capacity |
| --- | --- | --- | --- | --- | --- |
| Volkswagen Up | Mini | 2 | 4 | Manual | n/a |
| Chevrolet Spark | Mini | 4 | 4 | Manual | 198 l |
| VW Polo | Economy | 4 | 4 | Automatic | n/a |
| VW Polo | Economy | 4 | 4 | Manual | n/a |
| Skoda Fabia Wagon | Economy | 4 | 4 | Manual | n/a |
| Fiat Grande Punto | Economy | 4 | 4 | Manual | 255 l |
| Volkswagen Golf | Compact | 4 | 4 | Automatic | n/a |
| Volkswagen Golf | Compact | 4 | 4 | Manual | n/a |
| VW Golf Wagon | Compact | 4 | 4 | Automatic | 510 l |
| VW Golf Wagon | Compact | 4 | 4 | Manual | 510 l |
| Volkswagen Golf | Compact | 4 | 4 | Manual | n/a |
| Skoda Rapid | Mid Size | 4 | 5 | Manual | n/a |
| Opel Mokka | Mid Size | 4 | 5 | Manual | n/a |
| Renault Grand Scenic | Mid Size | 4 | 5 | Automatic | n/a |
| Renault Grand Scenic | Mid Size | 4 | 7 | Manual | 510 l |
| Opel Zafira 5+2 | Mid Size | 4 | 5 | Automatic | 510 l |
| Opel Zafira 5+2 | Mid Size | 4 | 5 | Manual | 510 l |
| Opel Insignia | Standard | 4 | 5 | Automatic | n/a |
| Volkswagen Passat | Standard | 4 | 5 | Manual | 396 l |
| Opel Insignia 4x4 | Standard | 4 | 5 | Manual | n/a |
| Opel Vivaro 9 pax | Standard | 3 | 9 | Manual | n/a |
| Mercedes S Class w/ GPS | Special | 4 | 5 | Automatic | n/a |