Car Rental Fleet Guide for Romania
Sightseeing in Romania takes many forms. Castle Bran, associated with Bram Stoker's Dracula, is a literary attraction shrouded in mystery and speculation, and just one of the Transylvanian castles that are an integral facet of Romanian tourism. Romanian folkloric customs of rural communities also hold much appeal for travelers. Romania's only coastline, along the Black Sea, is home to many luxury resorts, Mamaia being the most prominent, and caters to summer tourists. With a Bucharest car rental from Auto Europe, travel the land and cityscapes of Romania freely!
Why Rent an Economy Car in Romania

If you're on a tight travel budget or just don't need much extra room you'll surely enjoy the outstanding fuel effeciency and sporty driving feel of an economy rental car in Romania. Economy class vehicles include models from brands including Ford, Opel, Volkswagen and more.
Popular Economy Rental Car Models: Dacia Logan, Opel Corsa, Ford Fiesta, Suzuki Swift.
Why Rent a Compact Car in Romania

A compact rental car in Romania provides more space than an economy class model. Typically, compact rental cars are 4-door sedans with enough room for luggage for 2-3 people, the compact class offers great value and a highly comfortable ride.
Popular Compact Rental Car Models: Ford Focus, VW Golf, Opel Astra, Renault Megane, Toyota Corolla.
Why Rent a Mid-Size Car in Romania

Small families or business travelers desiring slightly more space than a compact or economy class car will appreciate the value of booking a mid-size rental car in Romania. With more luggage capacity, extra interior cabin space, mid-size vehicles come in a variety of models including the utilitarian Skoda Octavia, and Opel Zafira.
Popular Mid-Size Rental Car Models: Skoda Octavia, Opel Vectra, Toyota Avensis, Opel Zafira, Suzuki S-Cross.
Why Rent a Full-Size Car in Romania

Renting a full-size car in Romania is an excellent choice for travelers in need of additional interior and luggage space, but don't want to pay extra for a van or SUV. Travel comfortably with the whole family, and explore Bucharest at your own pace, unhindered by public transportation schedules and high taxi fares.
Popular Full-Size Rental Car Models: Opel Insignia, Subaru Forester, Mercedes C Class, VW Passat (Wagon & Sedan).
Why Rent a Luxury Car in Romania

Enhance you driving experience exponentially with a luxury or sports car rental in Romania. Pick from a vast selection of high-end vehicles including the Mercedes Benz E Class, BMW 5 Series, Audi A6, and many more.
Popular Luxury Car Rental Models: Mercedes E Class, BMW 5 Series, Audi A6.
Why Rent an SUV or Van in Romania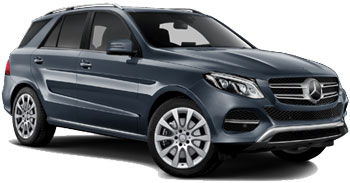 Auto Europe offers a wide variety of top-of-the-line SUV and van models in Romania for you to choose from. If you're traveling as a family or with a larger group of friends, renting a van or SUV is a great option as they offer plenty of room for storage, spaciosus seating and a comfortable ride on nearly any terrain.
Popular SUV & Van Rental Models: Dacia Duster 4x4, Ford Kuga, Dacia Lodgy (7 passenger), Renault Traffic (9 passenger).
| | Class | Doors | Passengers | Transmission | Trunk Capacity |
| --- | --- | --- | --- | --- | --- |
| Chevrolet Spark | Mini | 2 | 4 | Manual | n/a |
| Fiat Panda 4dr | Mini | 4 | 4 | Manual | 255 l |
| Opel Corsa | Economy | 2 | 4 | Manual | 255 l |
| Opel Corsa | Economy | 4 | 4 | Automatic | n/a |
| Dacia Logan | Economy | 4 | 4 | Manual | 255 l |
| Hyundai i30 | Economy | 4 | 4 | Manual | n/a |
| Opel Astra | Compact | 4 | 4 | Automatic | 396 l |
| Ford Focus | Compact | 4 | 4 | Manual | 396 l |
| Ford Focus Wagon | Compact | 4 | 4 | Manual | 396 l |
| Volkswagen Golf | Compact | 4 | 4 | Manual | n/a |
| Toyota Avensis | Mid Size | 4 | 5 | Automatic | 425 l |
| Skoda Octavia | Mid Size | 4 | 5 | Manual | 453 l |
| Ford Kuga 4x4 | Mid Size | 4 | 5 | Manual | 340 l |
| Opel Zafira 5+2 | Mid Size | 4 | 5 | Manual | 510 l |
| Opel Insignia | Standard | 4 | 5 | Manual | n/a |
| Dacia Duster | Standard | 4 | 5 | Manual | n/a |
| Renault Traffic 9 pax | Standard | 4 | 9 | Manual | n/a |
| Ford Kuga | Full Size | 4 | 5 | Automatic | n/a |
| Subaru Forester | Full Size | 4 | 5 | Manual | 510 l |
| Dacia Lodgy 7 pax | Full Size | 5 | 7 | Manual | n/a |