Car Rentals in Fayetteville, North Carolina
Fayetteville, North Carolina is a patriotic city that takes pride in its history. The city was named for Marquis de Lafayette, a hero of the Revolutionary War. If you visit the Fayetteville Independent Light Infantry and Armory Museum, you can see the carriage that Lafayette rode during his time in the city. We may not have any horse drawn carriages, but Auto Europe does have the perfect rental car for your trip to North Carolina! If you are interested in more history, it's just a short drive to the plantation grounds where the Battle of Averasboro took place during the American Civil War.
Explore Fayetteville by Rental Car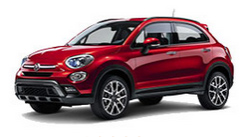 Fayetteville isn't just a great place for history buffs; it's also a great place for families! The Fayetteville State University's astronomy department holds regular open houses, during which admission to the planetarium is free of charge. For more family fun, load up the rental car and head over to Gillis Hill Farm. Gillis Hill has been a working farm run by the same family since the 1700's! Hop on their tractor-pulled wagon and go for a tour, where you can meet some of their four legged residents and sample their famous homemade ice cream! There are a plethora of other farms in the area where, depending on the time of year, you can pick your own pumpkins, strawberries, blueberries, and even the grapes that will be used to make your wine! After a full day of exploring, you're sure to be hungry. Drive your rental car downtown and you will find a variety of southern, Caribbean, barbeque, Italian and Asian cuisine. You will also find a plethora of locally owned shops and galleries, where you will be able to pick up a unique souvenir to always remember Fayetteville by!
Rent a Car in Fayetteville with Auto Europe
Head south in a rental car from Auto Europe! Book online or call out toll free number 888-233-5555. Auto Europe has representatives available 24 hours a day, 7 days a week! We are proud to offer the lowest rates in the industry. If you find a better rate anywhere in Fayetteville, we will match it!