Car Rental in Kansas City, Missouri
Rent a car in Kansas City and explore all that this charming mid-western city has to offer. The city is known for its unique contribution to culinary heritage and historical importance in trade and frontier discovery. Possibly more interestingly is the fact that Kansas City is not well-known for having more boulevards than Paris and more fountains than any other city on the planet (aside from Rome). The city sits directly on the border between Missouri and Kansas and is within similar distance of Omaha, Wichita, St. Louis, and Des Moines.
Explore with a Rental Car in Kansas City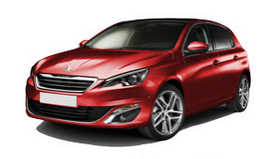 Enjoy one of the excellent barbeque restaurants in downtown Kansas City. The area is known as one of the best places to enjoy meats cooked in this slow, smoky, sweet, and tangy style. There are dozens of restaurants around the city offering their take on this culinary treasure, so a sampling is easy to come by. If this whets your appetite, rent a car in Kansas City and make the drive over to competing St. Louis for a different variation.
Head downtown to the Power and Light neighborhood, a trendy new area full of interesting shops, bars, nightclubs, and a variety of restaurants. Nearby is the Sprint Center where you can catch big-name musical entertainment or an Arena Football League game.
How to Rent a Car in Kansas City
If you're searching for unbeatable rates and top-notch service, rent a car in Kansas City with Auto Europe and arrange pick up at MCI. We strive to meet your needs with our price match department and excellent customer service to ensure that you are more than satisfied with your car rental in Kansas City. You can book online or call Auto Europe for more information at 1-888-223-5555.