Car Rentals in Detroit
Also known as, "Motor City," Detroit is home to General Motors, Ford, and Chrysler, and has been a proud leader in the auto industry. Auto Europe is also a proud member of the auto industry, and we are happy to offer a variety of rental cars to choose from in the city of Detroit! You can learn about more than cars and music at the Detroit Historical Museum, which follows the city's history from the 1700's to the present.
Auto Europe is proud to offer a number of convenient pickup locations in Detroit and the United States of America. Book a rental car at the
Metropolitan Wayne County airport
and enjoy the convenience of picking up your rental upon arrival to Detroit.
Explore Detroit by Rental Car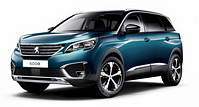 Detroit is famous for two things, music and automotives. Both of which, you will find, are widely celebrated throughout the city. Tune into one of the local radio stations while you're driving around town in your rental car, and you will hear just what we are talking about. During the 40's and 50's, Detroit was a hotbed for blues and jazz. Then, in 1960, Berry Gordy founded Motown, which would later record legendary acts such as the Jackson 5, Diana Ross and the Supremes, and Marvin Gaye. The 70's ushered in the era of Detroit Rock City, a nickname made popular by rock band Kiss. Artists like The Stooges and Ted Nugent, hailing from Michigan, rose to fame, garnering the name. Today we can thank Detroit for some of the United States' most popular acts, such as The White Stripes and Eminem. You can celebrate the city's rich, musical heritage at one of the many clubs and venues you will find downtown. Or you can attend the International Jazz Festival, which has been held annually for over 30 years!

Rent a Car in Detroit with Auto Europe
Experience the sights and sounds of Detroit in a rental car from Auto Europe. Call our toll free number 888-233-5555 or book online today! We offer 24 hour roadside assistance, as well as the best rates in the industry! If you find a better rate anywhere, Auto Europe will match it!