Car Rental Fleet Categories - United Kingdom
Choosing the United Kingdom as your vacation destination offers an exciting spectrum of cultural travel. While you'll notice similarities between the continental UK's three countries (England, Scotland and Wales), they each fiercely protect their own set of distinct heritage traditions. Drive from London to England's eastern seaboard to the Cliffs of Dover, by way of Canterbury, or journey to Wales, where castle spires and imposing fortresses are abundant. Then there are the highlands of Scotland which hold a mysterious allure that can't be denied. Auto Europe's car rental fleet offers the lowest prices and highest versatility to travelers touring the United Kingdom.
Why Rent an Economy Car in The United Kingdom

Stretch your dollar and enjoy outstanding fuel economy in a rental car in the economy class. Renting a smaller vehicle in the UK will allow you to find easy parking in England's largest cities while also getting great gas mileage when driving the open roads. Perfect for short trips, solo traveling or for couples traveling light, economy class cars are popular for any traveler.
Popular Economy Rental Car Models: Opel Corsa, Hyundai i30, Vauxhall Corsa, Peugeot 208, Ford Fiesta.
Why Rent a Compact Car in The United Kingdom

Upgrade from an economy class vehicle to a compact rental car in the United Kingdom and you'll enjoy the additional space for luggage without sacrificing much on gas mileage. Typically small, 4-door sedans, a compact class car is a smart choice for travelers who want an affordable, reliable car for their trip.
Popular Compact Rental Car Models: Vauxhall Astra, Ford Focus, Kia Ceed Wagon, Fiat 500X, VW Golf, Peugeot 308 Wagon.
Why Rent a Mid-Size Car in The United Kingdom

The mid-size rental car in the United Kingdom is the best middle-of-the-pack option for travelers. Vehicles in this class provide a good compromise of comfort and price. If you are looking to drive a vehicle that is easy to park, has plenty of extra room for larger suitcases and that will enhance your trip then consider a mid-size rental car.
Popular Mid-Size Rental Car Models: Skoda Octavia (Wagon & Sedan), Citroen Picasso, Ford C Max, VW Jetta.
Why Rent a Full-Size Car in The United Kingdom

Traveling with the whole family? Have lots of additional luggage? A full-size rental car is the perfect choice. Vehicles in the full-size class provide plenty of extra leg-room in the back seat (a difference worth noting between mid-size and full-size vehicles) making them the ideal choice if you're traveling with children or a group of friends.
Popular Full-Size Rental Car Models: Vauxhall Insignia, Ford Mondeo, Volkswagen Passat Wagon, Mercedes C Class, Audi A4.
Why Rent a Luxury Car in The United Kingdom

Rent a luxury car in the United Kingdom and enjoy the pinnacle of comfort, prestige and many high-end amenities made to enhance your trip. Whether you're planning to drive around one of England's most famous cities, or intend to take an extended road trip, treat yourself to the car of your dreams and take your vacation in the UK to the next level.
Popular Luxury Car Rental Models: Mercedes CLA, Porsche Boxster, Tesla P85, Audi R8, Aston Martin DB9, Lamborghini Huracan.
Why Rent an SUV or Van in The United Kingdom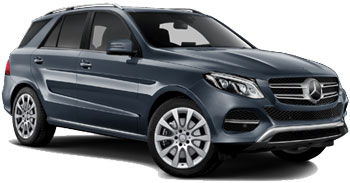 Travelers who book early can enjoy the best rates on van rentals, SUV and 4x4 rentals and other large vehicles. A SUV or van provides plenty of seating for additional passengers, luggage and more - making it a popular choice for travelers planning to enjoy recreational activities like golf, hiking, surfing, or for those planning on traveling long distances who want to enjoy increased leg-room, comfort and space.
Popular SUV & Van Rental Models: BMW X5, Range Rover Sport, Volvo XC90, Ford Galaxy (7 passenger), Transporter (9 passenger).
| | Class | Doors | Passengers | Transmission | Trunk Capacity |
| --- | --- | --- | --- | --- | --- |
| Toyota Aygo | Mini | 2 | 4 | Manual | 255 l |
| Fiat 500 | Mini | 2 | 4 | Manual | n/a |
| Opel Corsa 2 dr | Economy | 2 | 4 | Automatic | 255 l |
| Opel Corsa 2 dr | Economy | 2 | 4 | Manual | 255 l |
| Ford Fiesta | Economy | 4 | 4 | Manual | 255 l |
| Opel Corsa | Economy | 4 | 4 | Automatic | n/a |
| Opel Corsa | Economy | 4 | 4 | Manual | n/a |
| Hyundai i30 | Economy | 4 | 4 | Manual | n/a |
| Ford Focus | Compact | 4 | 4 | Automatic | 396 l |
| Ford Focus | Compact | 4 | 4 | Manual | 396 l |
| Hyundai i30 wagon | Compact | 4 | 5 | Manual | n/a |
| Volkswagen Golf | Compact | 4 | 4 | Manual | n/a |
| Ford Focus w/GPS | Compact | 4 | 4 | Manual | n/a |
| Skoda Octavia | Mid Size | 4 | 5 | Automatic | 453 l |
| Skoda Octavia | Mid Size | 4 | 5 | Manual | 453 l |
| Toyota RAV 4 | Mid Size | 4 | 4 | Automatic | 311 l |
| Toyota RAV 4 | Mid Size | 4 | 4 | Manual | 311 l |
| Opel Zafira 5 pax | Mid Size | 4 | 5 | Manual | 510 l |
| Skoda Octavia Estate 1.4 | Mid Size | 5 | 5 | Manual | n/a |
| Ford S-Max | Mid Size | 4 | 5 | Automatic | n/a |
| Vauxhall Insignia | Standard | 4 | 5 | Automatic | n/a |
| Ford Mondeo | Standard | 4 | 5 | Manual | 453 l |
| Volkswagen Transporter 9 Pax | Standard | 4 | 9 | Automatic | 623 l |
| Audi A4 Wagon | Standard | 4 | 5 | Automatic | 1076 l |
| Volkswagen Passat Wagon | Standard | 4 | 5 | Manual | 1019 l |
| Peugeot 3008 | Standard | 4 | 5 | Automatic | n/a |
| Ford S Max 5+2 pax | Standard | 4 | 7 | Manual | n/a |
| Mercedes C Class | Full Size | 4 | 5 | Automatic | 510 l |
| Mercedes CLA | Full Size | 4 | 4 | Automatic | n/a |
| Volvo XC60 | Full Size | 4 | 5 | Automatic | n/a |
| Mercedes E Class cabrio | Full Size | 2 | 4 | Automatic | n/a |
| Seat Alhambra 7 pax | Full Size | 4 | 7 | Automatic | n/a |
| Seat Alhambra 7 pax | Full Size | 4 | 7 | Manual | n/a |
| Mercedes C Class Estate | Full Size | 4 | 5 | Automatic | n/a |
| Mercedes C63 AMG | Full Size | 4 | 5 | Automatic | n/a |
| Mercedes C Class | Premium | 4 | 5 | Automatic | 510 l |
| Porsche 911 Carrera S | Premium | 2 | 2 | Automatic | n/a |
| Range Rover Vogue SC 4.4L | Premium | 4 | 5 | Automatic | n/a |
| Mercedes E250 Coupe | Premium | 2 | 5 | Automatic | n/a |
| Porsche Boxster | Premium | 2 | 2 | Automatic | n/a |
| Volvo XC70 | Premium | 4 | 5 | Automatic | n/a |
| Mercedes E63 AMG | Premium | 4 | 5 | Automatic | n/a |
| Mercedes E Class | Luxury | 4 | 5 | Automatic | n/a |
| Mercedes E Class Coupe | Luxury | 2 | 5 | Automatic | n/a |
| Audi Q7 | Luxury | 4 | 5 | Automatic | n/a |
| Volvo XC90 | Luxury | 4 | 5 | Manual | 510 l |
| Porsche 997 | Luxury | 2 | 2 | Automatic | n/a |
| Mercedes E Class cabrio | Luxury | 2 | 4 | Automatic | n/a |
| Mercedes Viano 7pax | Luxury | 4 | 7 | Automatic | 255 l |
| Porsche Panamera | Luxury | 4 | 4 | Automatic | n/a |
| Tesla P85 | Luxury | 4 | 4 | Automatic | n/a |
| Audi R8 | Special | 2 | 2 | Automatic | n/a |
| Rolls Royce Ghost | Special | 4 | 5 | Automatic | n/a |
| Lamborghini Huracan | Special | 2 | 2 | Automatic | n/a |
| Mercedes GL 63 AMG | Special | 4 | 5 | Automatic | n/a |
| Bentley Continental | Special | 2 | 2 | Automatic | n/a |
| Bentley GTC | Special | 2 | 4 | Automatic | n/a |
| Mercedes CLS wagon | Special | 4 | 5 | Automatic | n/a |
| Bentley Flying Spur | Special | 4 | 5 | Automatic | n/a |