Car Rental Fleet Availability Spain
Escape to Spain! Drive from Barcelona to Andalusia along a sun-drenched coast, stopping periodically to savor mouthwatering Spanish cuisine, white, sandy beaches, and the inimitable flair of Spain's indigenous population. Quaint seaside towns, vibrant, landlocked cities, markets with hand-crafted goods, locally sourced wines and produce - your itinerant travels through Spain are that much easier when you've rented a car with Auto Europe from any one of hundreds of convenient locations across the country.
Why Rent an Economy Car in Spain

Travelers on a budget, or those that simply don't need a larger vehicle will surely enjoy the nice fuel-efficiency and smooth ride of an economy rental car in Spain. Cruise the bustling streets of Barcelona and Catalonian country roads with ease in a economy class car, and stretch your dollar further.
Popular Economy Rental Car Models: Opel Corsa, VW Polo, Seat Ibiza, Audi A1.
Why Rent a Compact Car in Spain

Compared to their economy class counterparts, compact rental cars in Spain offer increased interior cabin space and luggage capacity, without sacrificing much in the way of fuel-efficiency. Choose from a variety of excellent compact cars in Spain, from the brands you know and trust including Nissan, Audi, Hyundai, Ford and many more!
Popular Compact Rental Car Models: Seat Leon, Hyundai i30, Nissan Juke, Kia Cerato, Renault Megane, Audi A3.
Why Rent a Mid-Size Car in Spain

Need some extra space for passengers and luggage? Consider a mid-size rental car in Spain as these versatile cars posses adequate luggage capacity for 3-4 large suitcases, and spacious interiors capable of comfortably seating 3-4 passengers. With Auto Europe's comprehensive mid-size fleet in Spain, you'll have no problem finding the perfect car for your travels.
Popular Mid-Size Rental Car Models: Seat Altea XL, Skoda Octavia, VW Passat Wagon, Mercedes B Class, Ford C Max.
Why Rent a Full-Size Car in Spain

When you're in need of a spacious interior with extra legroom, and a luggage capacity capable of accommodating additional suitcases, but don't want to pay extra for a van or SUV, renting a full-size car in Spain is undoubtably the best option.
Popular Full-Size Rental Car Models: Hyundai i40, Opel Insignia, BMW 3 Series, Audi A4, Mercedes C Class.
Why Rent a Luxury Car in Spain

Enjoy the pinnacle of driving pleasure when you rent a luxury or sports car in Spain, and cruise the promenade in Barcelona, soaking up the sun and seeing the sites. No matter what kind of luxury vehicle you want, from exotic cars like a Lamborghini to sports cars like BMW, Auto Europe's luxury fleet is guaranteed to have the vehicle of your dreams in Spain.
Popular Luxury Car Rental Models: Audi A6, Mercedes E Class, BMW 5 Series, Mercedes CLA AMG, Audi A8.
Why Rent an SUV or Van in Spain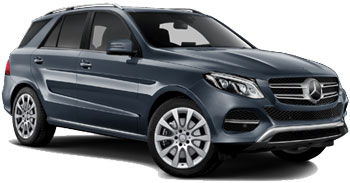 Auto Europe offers a wide variety of SUV and van rental options in Spain that are perfect for traveling with the whole family or large group of friends, including luggage. Whether you need a 4x4 SUV rental to traverse roads off the beaten path, or a large van to tour with your friends, Auto Europe has you covered.
Popular SUV & Van Rental Models: Volvo XC60, Mercedes ML, Range Rover Evoque, Mercedes V Class (7 passenger), Opel Vivaro (9 passenger).
| | Class | Doors | Passengers | Transmission | Trunk Capacity |
| --- | --- | --- | --- | --- | --- |
| Fiat Panda | Mini | 2 | 3 | Manual | 198 l |
| Fiat Panda 4dr | Mini | 4 | 4 | Manual | 255 l |
| Opel Corsa 2 dr | Economy | 2 | 4 | Manual | 255 l |
| VW Polo | Economy | 4 | 4 | Automatic | n/a |
| VW Polo | Economy | 4 | 4 | Manual | n/a |
| Kia Cerato | Compact | 4 | 5 | Manual | n/a |
| Volkswagen Golf | Compact | 4 | 4 | Automatic | n/a |
| Seat Leon | Compact | 4 | 4 | Manual | n/a |
| Nissan Juke | Compact | 4 | 5 | Automatic | n/a |
| Peugeot 308 Wagon | Compact | 4 | 5 | Manual | 340 l |
| Mini Cooper S | Compact | 2 | 2 | Automatic | n/a |
| Audi A3 | Compact | 4 | 4 | Manual | 283 l |
| Mercedes B Class | Mid Size | 4 | 4 | Automatic | n/a |
| Skoda Octavia | Mid Size | 4 | 5 | Manual | 453 l |
| Nissan Qashqai | Mid Size | 4 | 5 | Manual | 510 l |
| Volkswagen Eos convertible | Mid Size | 2 | 4 | Manual | n/a |
| VW Touran 5+2 | Mid Size | 4 | 5 | Automatic | n/a |
| VW Touran 5+2 | Mid Size | 4 | 5 | Manual | n/a |
| Seat Leon wagon | Mid Size | 4 | 5 | Manual | n/a |
| Volkswagen Passat | Standard | 4 | 5 | Automatic | 396 l |
| Opel Insignia | Standard | 4 | 5 | Manual | n/a |
| VW Tiguan | Standard | 4 | 5 | Automatic | n/a |
| Mercedes Vito 9 pax | Standard | 4 | 9 | Manual | n/a |
| Audi A4 | Full Size | 4 | 5 | Automatic | 453 l |
| Audi A4 | Full Size | 4 | 5 | Manual | 453 l |
| Mercedes C Class Coupe | Full Size | 2 | 4 | Automatic | n/a |
| Mercedes GLA | Full Size | 4 | 5 | Automatic | n/a |
| Mercedes V Class 7 pax | Full Size | 4 | 7 | Automatic | n/a |
| Seat Alhambra 7 pax | Full Size | 4 | 7 | Manual | n/a |
| BMW 3 Series Wagon | Full Size | 4 | 5 | Automatic | 425 l |
| BMW 3 Series | Full Size | 4 | 5 | Automatic | 510 l |
| Audi A4 | Full Size | 4 | 5 | Manual | 453 l |
| Audi A6 | Premium | 4 | 5 | Automatic | 510 l |
| BMW 4 Series Coupe | Premium | 2 | 4 | Automatic | n/a |
| Mercedes GLC AMG line | Premium | 4 | 5 | Automatic | n/a |
| Mercedes Vito 9 pax | Premium | 4 | 9 | Automatic | n/a |
| Mercedes Vito 9 pax | Premium | 4 | 9 | Manual | n/a |
| Audi A8 | Luxury | 4 | 5 | Automatic | 566 l |
| Mercedes ML | Luxury | 4 | 5 | Automatic | n/a |
| Mercedes GLE Coupe AMG line | Luxury | 4 | 5 | Automatic | n/a |
| VW Caravelle 9 pax | Luxury | 4 | 9 | Manual | 510 l |
| Audi A6 | Luxury | 4 | 5 | Automatic | 510 l |
| Mercedes S Class | Special | 4 | 5 | Automatic | 510 l |
| Mercedes V Class LWB | Special | 4 | 8 | Automatic | n/a |
| Mercedes Vito LWB | Special | 4 | 9 | Manual | n/a |