Sicily Road Trip Planner & Guide: Catania to Messina

Drive along beautiful coastal roads and visit towns in which the past and the present come together via food, mythologies, and the warm Mediterranean air. Explore the eastern coast of Italy's finest island on your own Sicily road trip that propels you into the culture beyond tour guides and brochures. A rental car in Italy makes all this possible.


Read on to Drive to Discover the adventures that await you in Italy!



---
Sicily, Italy Road Trip Planner Day 1: Catania to Mount Etna
Catania Events & Attractions: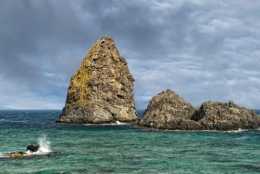 Catania is a delightful coastal town that is an ideal place to kick off your road trip along Sicily's eastern shores as you explore the majestic natural sites as well as delve into the rich Greek mythological histories. From the steep slopes and overcast shadows swirling the summit of Mt. Etna, to the jinglings of lures on fishing lines in the port city Messina, Auto Europe can make your travel fantasies into travel realities, and for the lowest prices in the industry--guaranteed.
u Liotru: Built in 1736, The international symbol for the city of Catania, Italy, Symbolized by a giant lavic-stone elephant with an Obolisk
Piazza Duomo: Main city-square of Catania, surrounded on all 4 corners by the Palace of Elephants, Town Hall, and Amenano Fountain
Castello Ursino: Built for Emperor Frederick II during the thirteenth century. Originally built on a cliff overlooking the sea, seismic activity has moved the castle nearly a mile inland
Isole dei ciclopi: "Islands of the Cyclopes," short drive from Catania to Aci Trezza, with diving/snorkeling and glass-bottom boats. Legend says Odysseus blinded and escaped a Cyclops who then threw huge rocks at the fleeing hero, landing these rocks we see today and giving the region its name
La Timpa: Acireale, beautiful natural reserve overlooking Ionian Sea
Spring Arts Festival: Artists from around the world entertain with art, music, theater and dance.
Catania Restaurants, Bars, and Nightlife:
Each Italian region offers something unique and here you'll find that Sicilian food mixes Italian staples with chilies, olives, pine nuts, capers, and seafood to formulate typical Sicilian cuisine. Italian culinary staples--Bolognese red sauce, meatballs, and hand-made pasta--are still easy to find even within Italy's bastion of Medditerranian culinary history.
Don Mimi: Pasta with pistachio sauce, many wheat-based dishes, extensive gluten-free menu, cocktails
Etimue: Affordable restaurant outside city, north of town; pasta, paninis, pizza
Al Tortellino: Bar/Lounge overlooking the Mediterranean
Il Moro de Trezza: Aci Trezza, seafood, overlooking harbor, elegant
Romano Palace Luxury: 5-Star Hotel, just south of Catania, amenities include private park, lounge, bar, and private beach among many others
Catania International Airport: 4-Star Hotel, on-site at Catania International Airport, includes free shuttles to airport terminals and downtown
La Ville: 3-Star Hotel, centrally located in downtown Catania, also offers on-site apartment rentals for families
Catania Road Trip, Scenic Drives in Italy:
Departing Catania northbound towards Mount Etna, there are a number of incredible sites to check out along the way. If you're on the hunt for beautiful landscapes and photo opportunities, be sure to stop at Troina Park in Pecara, about half way through your drive. A variety of lodging is available at the base of Mount Etna, though it normally books up quickly, so some travelers instead spend a second night in Catania and drive their rental car to the base of the volcano for day hikes.
---
Sicily Road Trip Day 2: Mount Etna to Taormina
Mount Etna Events & Attractions: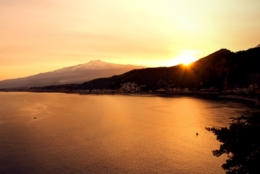 South of the Alps, Mount Etna boasts being the highest mountain in Italy as well as the tallest active volcano in all of Europe. Another hail to the Ancient Greek presence in this region: they believed Zeus defeated Typhon--the largest, most fearsome beast in all of Greek mythology--and trapped the monster under the mountain causing his buried rage to be the source of the volcano's frequent activity, even today.
Mount Etna Cable Car: Carries you to the summit on days without inclement weather
Guided Tours: Foot tours take you close to the volcano's craters, wide selection of tours for all ages and levels of physical fitness
Skiing: Winter months, Sapienza Refuge or the Piano Provenzana
Mount Etna Restaurants, Bars, and Nightlife:
There are minimal restaurant options within the Sapienza Refuge, however the towns position surrounding Mount Etna offer unbeatable views while you sample the local Sicilian fare.
Da Rinuccio: Scenic views, meats, cheeses, ice cream, house-made pasta, local wines, large bottles of boutique beer, play area for children
L'Osteria del Siciliano: Traditional Sicilian food, wide selection of wines, pasta, seafood, horse meatballs, pasta with pig cheek and pistachio
Hotel Corsaro: 3-Star Hotel, located halfway up Mount Etna, Hotel Corsaro boasts the highest location on Etna. Also offered are daily guided excusions to the volcanic crater at the summit
Airone Wellness Hotel: 3-Star Luxury Hotel, convenient Eastern mountain location, wellness area, sauna, Turkish bath, relaxing shower, Jacuzzi, "hydropool," chestnut tree encompassed swimming pool, beauty treatments, horseback rides
Hotel alle Pendici: 3-Star Hotel, modern / traditional, baked clay walls, country-style wood, ceramizzata lava stones, quaint
Mount Etna Road Trip, Scenic Drives:
The next leg of your road trip takes you to Taormina, a quaintly charming town situated in between Catania and Messina. Though commonly overlooked in favor of the larger Sicilian destinations, Taormina's contribution to Greek, Roman, and Sicilian history and culture is nearly immeasurable. Along the way follow the SS114 as it weaves along the magnificent coast line, offering awe-inspiring views of the Ionian Sea.
---
Sicily Road Trip Day 3: Taormina to Messina
Taormina Events & Attractions: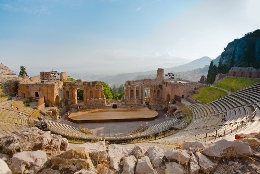 Taormina: half way between your drive from Mount Etna to Messina, you'll get to experience this enchanting town which sits about 650 feet above sea level overlooking the Ionian Sea. Myriad historic sites can be explored in and around Taormina, including ancient Greek theatres, Rennaisance-era churches, and Roman encampments. For history lovers, it doesn't get much better than Taormina.
Taormina Greek Theater: Second largest Teatro Greco ruins on the island of Sicily; still used today for concerts, operas, and theatrical performances
Il Nettuno Restaurant: Five-hour Sicilian cooking class, includes shopping the local markets
Castello Normanno: Just outside town in Castelmola, built in 1072, ¾-mile long hike to the castle ruins (or drive your rental car up), 360-degree panoramic views
Isola Bella: Small nature reserve of great historical significance
Taormina Restaurants, Bars, and Nightlife:
There are approximately 80 restaurants in Taormina, which--typical of eateries in Italy--display their menus and prices outside their doors. Anitpasti of this region include: seafood salad, vegetables, salami, ham, olives, stuffed artichoke hearts and anchovies. Because of Taormina's adjacent location next to Mount Etna the surrounding earth's soil is incredibly fertile and births some of the regions finest fruits and vegetables, from citrus and pears, to figs, eggplant, and fennel.
Grand Hotel San Pietro: 5-Star Hotel, immersed in private garden, panoramic pool with views of outlying islands, on-site amenities include, restaurant, lounge, tea-room, library, and vintage boiserie
Monte Tauro: 4-Star Hotel, situated on a hillside overlooking the sea, amenities include on-site restaurant, outdoor pool, and massage center
Ipanema: 3-Star Hotel, located on the corner of the Bay of Mazzaro with many ocean view rooms, only a short walk to downtown attractions
Taormina Road Trip, Best Drives in Italy:
It's the last leg of your fantastic Sicily Road Trip, but don't fret, as your journey to Messina from Taormina is full to the brim with exploratory opportunity. About half way into your north-bound drive towards the port city of Messina, you will come across signs for Riserva Naturale Orientata Fiumedinisi e Monte Scuderi, a palatial wildlife reserve perfect for day hikes and picnics, and known for the many diverse species that roam the area.
---
Sicily Road Trip Day 4: Messina & Beyond
Messina Events & Attractions: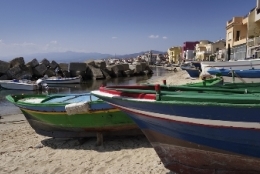 Ah...Messina, the 3rd largest city in Sicily and the setting for Shakespeare's Much Ado About Nothing. Throughout its long and tempestuous history--along with it's culinary and architectural treasures that echo the past--there is no place like Sicily to let factual and mythological histories intertwine themselves to awaken your senses and spark your imagination.
Cathedral of Messina: Norman cathedral (duomo), 12th Century, burial place of Conrad IV--King of Germany and Sicily in the 13th Century--and many archbishops
Orologio Astronomico: Next to Cathedral of Messina, Bell Tower / Astronomical Clock of 1933, one of the largest astronomical clocks (marks the time and the phases of the moon) in the world; clock's daily show at noon involves mechanically-animated lions & roosters illustrating the town's civil and religious history
Church of the Annunziata dei Catalani: Arabic influenced architecture
Fountain of Orion: Detailed sculpture built in 1533, pays homage to the mythical founder of the city, built in celebration of Messina's first aqueduct
Church of Santa Maria degli Alemanni: Rare Gothic architecture
Galleria d'Arte Contemporanea di Messina: Impressively small 14 room art museum, includes: archaeology, medieval art, Renaissance art, gold-smithing, works by Antonello da Messina (Renaissance) and Caravaggio (Baroque), surrounds a central courtyard
Messina Restaurants, Bars, and Nightlife:
Similar to it's other Sicilian counterparts, Messina boasts fantastic, locally-grown produce and a unique regional cuisine, centered heavily around fresh seafood. Messina is also known for its masterful bakers of cakes and pastries, so have your sweet tooth ready and enjoy the plethora of eatery options available in this spectacular city.
Nh Royal Palace: 4-Star Hotel, commercial center of Messina, large rooms, breakfast, close to shops, restaurants, bars, nightclubs
The Guest House Residence: 4-Star Hotel, modern, parking, caters to special breakfast needs if needed
Aparthotel Kalaskiso: 3-Star Hotel, just outside Messina city center, stylish rooms, couples / families
Messina Road Trip, Scenic Drives: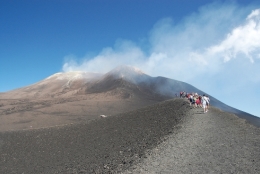 Still have some vacation days? Why not embark on another amazing Italy road trip? From Messina, explore the western side of Mount Etna via Randazzo, Maletto, and Bronte before returning to Catania. Or take a few days to explore more of Sicily via Syracuse, Palermo, Agrigento, Cefalu, or Stromboli. If you long for the mainland, take a short ferry ride across the strait from Messina to the Villa San Giovanni or Reggio di Calabria. Need to head home? Simply follow the shoreline of the Ionian Sea, reminiscing in your trip as you cruise back the route you came to reach Catania-Fontanarossa Airport.
---
More Fantastic European Road Trip Planning Guides