Traveler's Guide to ZTL Driving Zones in Italy
When you're getting ready to embark on a tour of Italy by car, it's important to familiarize yourself with the Limited Traffic Zones (called Zona Traffico Limitato or ZTL in Italian) found in most major cities. Many popular Italian travel destinations, such as
Rome
and
Florence
, have ZTL's in place to reduce congestion in high traffic areas, helping to slow the inevitable structural decay of their historic city centers.
Italy ZTL Restricted Driving Zones, Explained
Driving into a ZTL without the appropriate authorization will lead to a steep fine, and in nearly all cases tourists and non-residents are forbidden from being issued passes, as only local drivers are allowed to drive in these zones. The fines for crossing into a ZTL boundary are issued by ticket-cameras placed at the entrance of each zone, and these tickets will vary in price based on the city you're driving in. Typically you can expect to pay approximately 65 EUR if you drive into a ZTL zone in Italy, plus a "Traffic Violation Fee" of around 25 EUR charged by your local car rental supplier.
Below are detailed ZTL maps for Rome, Florence, Milan, and Pisa. Each map includes detailed zone timetables, ZTL boundaries, and ticket-camera locations to help you avoid a traffic fine while
driving your rental car in Italy
.
Rome ZTL Map

Restricted Driving Zones

Florence ZTL Map

Restricted Driving Zones
Milan ZTL Map

Restricted Driving Zones

Pisa ZTL Map

Restricted Driving Zones

Traveler's Guide to ZTL Driving Zones in Italy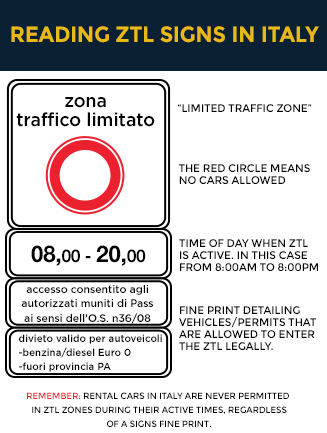 Camera-Ticketing:
Streets with ZTL access are regulated by ticket-cameras that process fines instantaneously, the second your vehicle breaches a ZTL boundary. The ticket is processed electronically and sent to the address listed on the car's registration (if it's a rented vehicle, the ticket is sent to the billing address of the credit card listed on the rental voucher).
GPS Doesn't Always Help:
Because ZTL regulations are determined individually by each city - and because they change periodically - GPS systems do not include ZTL boundary information, and usually suggest the shortest possible route to a specific destination. Drivers should be aware that this can lead them to accidentally cross into numerous ZTL's where they could accumulate many tickets.
Don't Be A Follower:
While touring Italy in your rental car, you will most likely see some drivers crossing into a ZTL and might think that you can follow them without incurring a fine. This is incorrect. Most local drivers have passes allowing them ZTL access, so be careful when following others.
More Italy Travel Planning Resources
Rent a Car in Italy
Road Trips in Italy