Tour UNESCO Sites from Venice
If you're planning a trip to Italy (or you're looking for a reason an excuse to), then consider crafting your itinerary around some of the most important sites and landmarks in the world:
Venice
UNESCO sites make for some of the most exciting options for
excursions from Venice
.
The United Nations Educational, Scientific and Cultural Organization (UNESCO) has made it their job to identify landmarks and areas around the globe that are worth visiting, officially recognizing them for having cultural, historical, scientific or another important form of significance. UNESCO regards these sites as being "important to the collective interests of humanity." So, yeah … you can probably consider them bucket-list landmarks.
The great news is that many of the most exciting UNESCO World Heritage Sites are concentrated in Europe – in particular in Italy, and this amazing round-trip itinerary from Venice takes you on a tour of a half dozen of our favorite UNESCO sites in Northern Italy.
Looking for other things to do in while
renting a car Italy
? Check out our other Drive to Discover guides where we explore the best road trips in Italy including a
Road Trip through Tuscany for Food & Wine Lovers
, an
Amalfi Coast itinerary
and a guide to the
Ultimate Italian Road Trip
.

Read on to Drive to Discover the adventures that await you in Italy!



---
1. The City of Venice and its Lagoon
The first Venice UNESCO site on the list is the city itself. The entire city (originally founded in the 5th century), is a masterpiece of architecture, art, and culture, offering visitors who tour its storied canals and lagoon the ultimate romantic destination. While you can't drive a rental car in Venice, we encourage you to book a ride on one of the city's famous gondolas during your stay, before renting a car in Venice for the balance of your trip.


Next stop: 1 hour & 20 minutes
---
2. Ferrara and its Po Delta – a City of the Renaissance
Once you depart the city of Venice, drive west on the E70 to Padua, then turn south on the A13 to the historic (and beautiful) province of Ferrara, Italy. This city, a UNESCO site, was born on the banks of the river Po and is noted as the home to many of the greatest minds of the Italian Renaissance. Students of architecture and engineering will love this stop as it was the birthplace of the "Ideal City," and when you visit you'll marvel at how every street corner and historic structure of Ferrara was so well considered.
While the city itself is a marvel, we encourage you to drive the surrounding region as well – Emilia Romagna offers iconic Italian agricultural landscapes that rival those you've seen in magazines.
Next stop: 43 minutes
---
3. The Stunning Porticoes of Bologna, Italy
From Ferrara, continue south on the A17 and A13 toward
Bologna
. You'll be relieved to know that sandwich meat is not the only thing this tentative UNESCO heritage site has to offer. Within the ancient city walls of historic Bologna, Italy are nearly 40 kilometers of porticoes, inviting visitors to explore the city by foot or lending a dynamic architectural detail to the city streets when you explore in your Bologna rental car.
Next stop: 39 minutes
---
4. Marvel at Cathedral Torre Civica and its Piazza Grande in Modena, Italy
After your tour of Bologna, drive west on E45 – a short, beautiful ~25-mile drive to the Province of Modena. In the center of Modena you'll find the 12th-century Cathedral, Torre Civica, a Romanesque UNESCO site which welcomes visitors with a sprawling piazza and impressive tower, piercing the city skyline.

The UNESCO committee deemed the Cathedral Torre Civica "a masterpiece of human creative genius in which a new dialectical relationship between architecture and sculpture was created in Romanesque art." Whether you are religious or not, you're sure to marvel at this impressive structure, and exploring the Piazza and Modena will also be fun.


Next stop: 1 hour & 4 minutes
---
5. Explore Mantua and nearby Sabbioneta – Classic Examples of the Italian City
After leaving Modena by rental car, you will drive north on A22 until you arrive in the city of Mantua, Italy. Nestled in the Po river valley, Mantua and Sabbioneta are jointly declared a UNESCO World Heritage Site for the unique ways each city speaks to the evolution and history of the Italian city.

While both cities are worth exploring if you have limited time we recommend spending it in Mantua – a city with a layout which speaks to the way historic Italian cities expanded and renewed themselves through the years. Mantua offers visitors a glimpse of an evolving city, with irregular portions that offer a glimpse of 15th and 16th-century renovations standing out in contrast to its formative structures which date to the Roman Empire. The Baroque theater in Mantua is an excellent example of this growth and expansion during the renaissance.


Next stop: 40 minutes
---
6. The Historic City of Verona, Italy
The next UNESCO site on our round-trip Venice road trip is just a 40-minute drive to the North and East. The City of Verona is a stunning example of an Italian military stronghold, and within this beautiful city, you'll discover an impressive number of well-preserved monuments, art pieces, and landmarks which date to the medieval and Renaissance periods.

Nestled at the foot of the Lessini Mountains, Verona was founded on the banks of the River Adige and has been occupied by numerous ruling cultures and factions since it was first developed as a settlement between the fourth and third centuries BCE. While the city's history is diverse, Roman history buffs will be in paradise here, as this northern city contains some of the best-preserved relics and antiquities from that period. Make time to visit Porta Borsari, the city gate, and the Amphitheatre Arena among other famous Verona landmarks.


Next stop: 1 hour & 17 minutes
---
7. Villa Godi, North of Vicenza, Italy
While the City of Vicenza is the central UNESCO landmark on your final stop, we encourage you to turn north from Vicenza and travel to Villa Godi. The Palladian Villas of the Veneto region are the work of Andrea Palladio, and are a study in classical Roman architecture, considered some of the most striking and historic villas in the entire Veneto region. In fact, Palladio's work was so renowned that it inspired its own unique architectural style – a variation on typical Roman architecture known as "Palladian," which has spread throughout Europe and all the way to North America.

Villa Godi, a patrician villa located in Lugo di Vicenza. We think you'll love your visit at Villa Godi because it gets you out of the city, offering expansive, well-kept gardens which are open to the public each afternoon, year-round. Be sure to take in the elaborate frescoes on the villa's interior, as well as the preserved artifacts and fossils in the basement.


Next stop: 1 hour & 10 minutes
---
Return to Marco Polo Airport to Catch Your Plane
The final leg of your round-trip Venice Unesco World Heritage Site road trip is made when you return your
car rental at Marco Polo Airport in Venice
. Pick-up and drop-off is easy at this busy airport, but you should leave yourself some extra time to make the return if you're traveling during peak tourist season (the summer months), just to be on the safe side.
While there is no shortage of things to see and do in the beautiful historic city of Venice, Northern Italy is filled with beautiful cities and historic landmarks, making excursions from Venice a popular option, and discovering the region's most famous historic landmarks by car is the best way to enjoy a memorable trip.
---
Plan Excursions From Venice with Auto Europe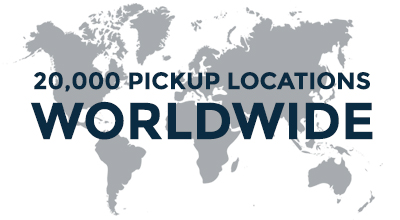 If you'd like other things to do in Italy, check out our
Road Trips in Italy
, and if you'd like to see how much you can save on your next trip by bundling your
hotel reservation
and car rental, give our travel specialists a call toll-free at
1-888-223-5555
. We look forward to helping you plan the ultimate trip to France, or wherever your travels take you.
---
More Fantastic European Road Trip Planning Guides