Lake Garda Road Trip Planner & Guide: Verona to Trento

Planning a road trip in Italy? Navigate an experience that's uniquely your own as you uncover the majesty of Italy's Lake District as you carve your way along lake-side highways and rocky shorelines in your own Italy rental car--all set against the backdrop of the Alpine mountains. Here is a glimpse of what can be in store for you on your next holiday with our Veneto, Italy Lake Garda road trip planner.

This fascinating and breathtaking journey begins when you pick up your rental car in Verona, the city that's world famous because of Shakespeare's Romeo and Juliet. Travel west along the southern coast of the largest freshwater body in the country and visit Brescia before delving into a spectacular tour of Lake Garda. Driving in Italy is one of the best ways to see all the country has to offer, and affords you access to local haunts, off-the-path vistas, and many other destinations not served by public transport. So what are you waiting for? Embark on the Lake Garda road trip, one of the best drives in Italy.

Read on to Drive to Discover the adventures that await you in Italy!


---
Lake Garda Road Trip Day 1: Verona to Brescia
Verona Events & Attractions: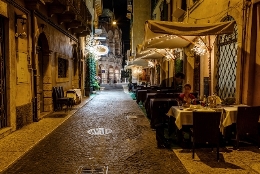 Verona has so much more to offer than just being the backdrop for Shakespeare's Romeo and Juliet. Brush up on your Medieval history and tour an ancient Roman Arena--of which some say is in better condition than the Colosseum in Rome. If you feel up to it, and since you have your own vehicle, the city of Venice is just an hour's drive away for those who care to visit.
Verona Arena: Built in the 1st Century, Summer time offers live Opera performances
Castelvecchio: Finished in 1376, known in Italian as the "Old Castle," now home to city art musuem
Verona Cathedral: Holds eighth-century sculptures, carvings, paintings, and facades
Lamberti's Tower: Climb 238 steps to the top for an incredible view, elevator available
Basilica of St. Zeno: Secures century old artifacts
"Golden Mile": Rodeo Drive of Italy, marble street, designer shopping
Verona Restaurants, Bars, and Nightlife:
Each region of Italy affords something a little different when it comes to cuisine; Verona hosts uniquely Veronese dishes, like horse meat at some of the most authentic eateries. If you're walking along and pass through Piazza Bra, you'll find plenty for a quick lunch or espresso break. Of course, all the Italian classics can also be found in Verona, but because culinary styles vary so much from region to region, you can experience a seemingly endless variety of unique dishes you may have never encountered before. For the adventurous eater, Italy, and Verona specifically, are excellent destinations to explore a wide range of cuisines.
Al Duomo: Lunch, coffee, milkshakes--near the Verona Cathedral
Piazza delle Erbe: Offers numerous gelaterias and coffee bars where you can sip espresso in the sunshine between jaunts to the various downtown attractions
Restaurant Il Desco: Traditional, internationally-acclaimed, inventive cuisine using fresh, local ingredients, fine-wines and champagne
Borsari 36: Dishes from around the world, Michelin starred chefs, modern dining room
Due Torri Hotel Verona: 5-Star Hotel, located in historic center of Verona. Famous past guests to this hotel include Mozart and Goethe
Aqualux Hotel Spa Suite & Terme: 4-Star Hotel, wide range of ammenities offered, including on-site restaurant, cafe, garden, personal room balconies and more
Martini Hotel Verona: 3-Star Hotel, centrally located only 400 meters from rail station, service includes free shuttle to opera arena for performances
Verona Road Trip, Scenic Drives in Italy:
Leaving Verona heading east on the SS12 you will find a number of interesting stops along the roundabout route towards Brescia. The SS12 curves northward momentarily, and then switches back south taking you along the breathtaking shores of Lake Garda. Numerous eateries, marinas, and attractions can be found in the area, so be sure to take a little extra time on your drive to Brescia to take in all the natural beauty, and exciting destinations along the way.
---
Lake Garda Road Trip Day 2: Brescia to Limone sul Garda
Brescia Events & Attractions: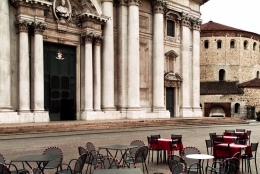 Just east of Verona, you arrive at your gateway to the picturesque landscape of Lake Garda; the industrious, yet historically stocked community of Brescia. Famous for its manufacturing enterprises, Brescia lays claim to an impressive selection of some of the most well-kept examples of ancient Roman architecture as well as dozens of public fountains scattered throughout the city. You can also enjoy the stunning hiking or mountain biking opportunities through the foothills on the outskirts of town.
Tempio Capitolino: Ancient Roman temple including remains of theater and city forum, widely considered the most important set of ruins found in Northern Italy--UNESCO World Heritage Site
Basilica of San Salvatore : Former Monastery, now a musuem, also available are excavated Roman dwellings beneath the nuns' orchard--UNESCO World Heritage Site
Church of Santa Giulia: Ancient church dated to sometime before the 10th century--UNESCO World Heritage site
Piazza della Vittoria: First skyscraper built in Italy
Castle of Brescia: Stunning views of the city and Alpine mountains
Santa Giulia's Cloister: Houses works by Van Gogh, ancient art and artifacts
Brescia Restaurants, Bars, and Nightlife:
Brescia is known as the beating heart of the nightlife scene on Lake Garda, affording travelers the opportunity to relax after a hearty meal and enjoy some cocktails in a swanky club, or hit the town for an evening of excitement.
La Trattoria dal 1960: Romantic/intimate atmosphere, ornately plated specialties
Paradiso: Discoteca, known for frenetic dance music and themed parties
Ambasciatori: 4-Star Hotel, spacious and bright, the restaurant offers a variety of local and international cuisine
Ac Brescia: 4-Star Hotel, centrally located in city center, close to transportation and multiple UNESCO World Heritage Sites
Cristallo: 3-Star Hotel, multiple major atttractions within 10 minute walking distance of hotel
Brescia Road Trip, Scenic Drives:
On your approach to Limone sul Garda, the SP57 roadway weaves along the western coast of Lake Garda, affording you the option to check out one or all of the incredible villages, towns, and attractions lining this side of the lake. If you only have time for one, its got to be Limonaia Pra de la Fam, an ecomuseum just off the lake route in the town of Oldesio, featuring ancient lemon greenhouses built into the cliffside, exisiting as one of the first examples of greenhouse science in the western world.
---
Lake Garda Road Trip Day 3: Limone sul Garda to Trento
Limone sul Garda Events & Attractions: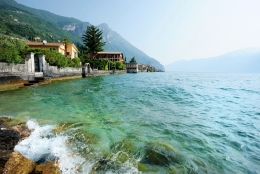 Since you have your own transportation, stop and take in one of the lakeside towns like Salo, Limone, or Riva del Garda. They offer a taste of the sweet life you've come to know Italy for. If you prefer an active vacation beyond touring the villages, this is a welcome place to go mountain biking or hiking along some of the vast trails that weave through the hills along the shore of Lake Garda. Rent a boat or kayak to explore the area by water or even go windsurfing. You can even go horseback riding in the Alto Garda Bresciano National Park. For a calmer activity, meander the botanical gardens of Toscolano Maderno or hop a ferry to Torri del Benaco for a peaceful exploration of the eastern coast of Lake Garda or to Malcesine and ride the cable car to the top of Mount Baldo which affords unparalleled panoramic views of the entire region.
Wind Riders Kitesurf School: Learn how to kite surf on the waves of Lake Garda
Limonaia Pra de la Fam: Ancient greenhouses built by lemon-farming peasants
Limone sul Garda Restaurants, Bars, and Nightlife:
Al Vecchio Fontec: Seafood, diverse selection of wines, scenic setting.
Restaurant Monte Baldo: Reservations accepted, views, Michelin-ranked chefs, classy environment
Restaurant Tovo: Family-friendly, generous portions, homemade pastas
La Tortuga: Specialty dishes, romantic ambiance
Park Hotel Imperial: 5-Star Hotel, natural medical spa, pool surrounded by panoramic views, on-site restaurants & bar
Ville Montefioril: 4-Star Hotel, villa rentals with views of the water, excellent base for hiking and biking
Lido Hotel: 3-Star Hotel,located on the water, indoor swimming pool, tennis courts, walk to town center
Limone sul Garda Road Trip, Scenic Drives:
Departing on the final leg of your Lake Garda Italy road trip takes you a bit further north to the charming town of Trento. Located at the intersection of the Adige River Valley and the mountainous South Tyrol region, Trento is the perfect locale to take in both the hustle of urban Italy, and the panoramic landscapes that dominate the region.
---
Lake Garda Road Trip Day 4: Trento & Beyond
Trento Events & Attractions: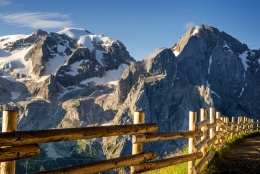 Welcome to your urban oasis embraced by the scenic landscape of the majestic Alpine foothills. Trento is perfectly situated for the outdoor adventurer, offering a vast number of parks and land good for hiking, biking and exploring nature. As the last stop on your Lake Garda road trip, Trento affords travelers easy access to a variety of other Italian destinations, including the mountains of Tyrol, the canals of Venice, and the fashion-centric Milan downtown.
Mount Bondone: Numerous hiking trails, Vand access to the Viote Alpine Botanical Gardens
Dolomite Range at Paganella Ski Resort: Skiing (winter), scenic vista drives (spring-fall)
Piazza Duomo: Renaissance era architecture, frescoes, artwork, sculptures, the Fountain of Neptune
Castle Buonconsiglio: Pristine gothic exterior, interior museum
Trent Museum of Natural Sciences : Center of town, technology and science musuem
Trento Restaurants, Bars, and Nightlife:
As a bustling center for business and commerce, Trento restaurants predominantly aim to please professionals on business trips, so a variety of food options are readily available in the downtown area. Whether you desire traditional Italian fare, or experimental fusion cuisines, Trento is sure to please. The nightlife scene in Trento follows suit, with a surprising volume of afterhours clubs, bars, and lounges, for a town of such modest size.
Best Western Quid Hotel Trento: 4-Star Hotel, only a short drive from historic downtown Trento, on-site facilities include restaurant and cafe
Grand Trento: 4-Star Hotel, centrally located, with easy access to the town's main attractions
Hotel Norge: 4-Star Hotel, located in the Dolomite Mountains, easy access to slopes and skiing (winter) or hiking and biking trails (summer)
Trento Road Trip, Scenic Drives: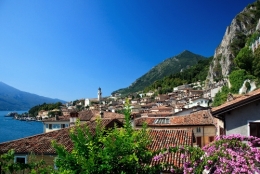 With the help of your own transportation, and our detailed Italy road trip planner, you'll be able to fill your itinerary with all the best attractions--visiting destinations beyond the limitations of public transportation. As you finish off your Lake Garda tour with a day or two in Trento and reflect upon the astounding beauty of journey you've just concluded, you'll see for yourself why traveling in the comfort and convenience of your own vehicle is the best way to spend your Lake Garda vacation!


---
More Fantastic European Road Trip Planning Guides