Car Rental Bardufoss, Norway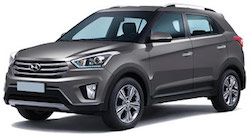 An auto rental in Bardufoss will help you and your travel companions to experience more of this awe inspiring Norwegian locale. Whether you plan a day trip a'back the famous Viking Horse excursions, skiing the slopes at Malselv mountain Lodge or just searching out the local cuisine your Norway vehicle rental will enable you to experience all of it in a shorter amount of time. What are you waiting for? Use the booking engine at the top of the page to lock-in your unbeatable rate and save up to 30% when reserving online with Auto Europe today!
Where are the Rental Offices in Bardufoss?
Auto Europe does a great job at providing our clients the flexibility of choice when it comes to selecting a rental car site in Bardufoss. Most of the locations under consideration contain airports, rail stations, bus terminals and many more to choose from. Be sure to reserve your Bardufoss vehicle rental today and spend less when booking with us on-line.
Which Suppliers Does Auto Europe Work with in Bardufoss?
Our extremely reputable suppliers working in Bardufoss like Avis, Hertz and Sixt we are able to supply our clients with some of the cheapest prices on the web. No matter which automotive model you are in the market for you happen to be sure to find one that truly suits the needs of you and your vacation buddies when booking online. Book your Bardufoss vehicle rental right now and conserve more by booking online.
---
Frequently Asked Questions When Renting A Vehicle In Bardufoss
Continue reading to find information about some of our most frequently asked questions when renting an auto in Bardufoss. You can also find more questions and answers by visiting our FAQ page. If you would like to speak with a representative, please pick up the phone and call 888-223-5555 today.
All Bardufoss rental car cancellations created with more than 48 hrs of notice will get an entire refund. A fee of $75 shall be applied to any Bardufoss rental car cancellation made with less than 48 hrs notice. Finally, all bookings cancelled following the designated period of pick-up are non-refundable, as well as all cancellations have to be processed by Auto Europe and not the Bardufoss rental car supplier. If you would like to make any changes to your rental by
visiting our my booking page
today!
Most rental car suppliers require for drivers to acquire a credit card on record for incidentals. However, Auto Europe has done business with most suppliers in Bardufoss and are pleased to point you towards the ones who will accept
debit cards as payment
. Should you have questions concerning your Bardufoss car rental, including payment options, please reach out to our customer care team.
Many suppliers will accept a current drivers permit from your home provided that you have an English version. In the event you elect to
pick-up an IDP
before your journey you can do so by stopping by any local auto club (ex: AAA). For answers to this and a lot more regarding Bardufoss rental car, please speak with our award winning customer support team, available 24/7.
---
Does Auto Europe Offer Great Rates On Alternative Vehicles in Bardufoss?
Regardless of what you travel itinerary may entail in Bardufoss, Auto Europe can be used to present you numerous car rental choices to decide on. Auto Europe has specialized at providing our customers with the rock-bottom lowest rates on specialty rental vehicles including luxury, van and motorhome, making Auto Europe the best one stop shop for all of your Bardufoss rental car needs.
Luxury Car Rentals in Bardufoss - Regardless of whether you desire to spend your break shopping, tasting the regional dishes or touring around Bardufoss with the roof down on your convertible, a luxury rental car from Auto Europe will afford you the opportunity to experience all this and much more. Reserve the ideal luxury rental car from Auto Europe today and experience Norway as royals do. Don't wait another moment and book your Bardufoss luxury vehicle rental today!
Van Rental Bardufoss - Renting a van for one's experience through Bardufoss is a wonderful way to experience the sights and sounds while traveling accompanied by a larger group, or even just when travelling with extra luggage. Not only is it easier to book a van when traveling accompanied by a large group it is additionally much cheaper when booking with Auto Europe. Reserve your van rental from Auto Europe today and save more with our price match guarantee, that enables us to provide Bardufoss van rentals at the cheapest prices online.
Bardufoss Motorhome Rentals - Bring the accommodation with you and enjoy the wonder of Norway with a motorhome rental in Bardufoss. With the conveniences of a modern hotel, a motorhome rental is a brilliant way to drink in any sights and sounds. Auto Europe partners with the best motorhome vendors to ensure that you, our most important customers have the ability to rent the perfect motorhome for your vacation through Bardufoss.