Driving in Rome, Italy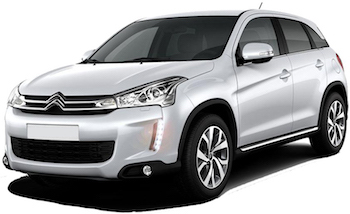 All roads do in fact lead to Rome, and plenty of adventure and excitement await your arrival! Along with some of the world's most noteworthy attractions comes one of the most congested city centers on the planet, so driving in Rome can be intense and unpredictable at times.
What to Watch Out for in Rome
When its possible, don't use your car for sightseeing, only use it when you're exploring on the outskirts of the city or taking a day trip. If you're planning to sight see in downtown Rome, park your car at a garage or your hotel and take a form of public transportation into the city. There is no parking in Rome's historic center, and traffic signs won't always be posted. As with many olden cities, many of Rome's streets were designed for foot traffic and as a result, everything can be easily accessed by walking.
Driving in Rome? Be Alert and Take It Slowly
It has been said that drivers in Rome are some of the most aggressive in the world, making defensive driving a must if you plan on touring Rome by car. Don't let their tendencies for high speeds and erratic movements intimidate you, simply proceed with caution and confidence and you'll be just fine. Planning to avoid rush-hour traffic, especially during the busy high seasons for tourism, is a good way to determine the best time to visit Rome if it will be your first time driving there.
ZTL Zones - Where You Can and Cannot Drive in Rome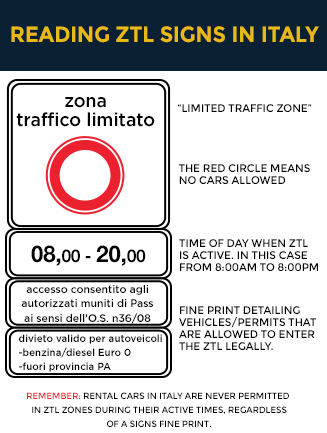 Along with several other major Italian cities, Rome has instituted a ZTL (Zona Traffico Limitato), a traffic-camera-surveyed area where you cannot drive without either having a resident's pass or registering your car with the police as a tourist.
ZTL zones in Rome are designed to reduce traffic congestion, and if you drive through a zone without a permit, you will be fined as much as $180 CAD. If your hotel lies within a ZTL zone and you have to drive there to park and unload your luggage, you are exempt from a fine, but you must first ask your hotel to send your license number to the traffic police in order to avoid a citation.
Don't make the mistake of entering a ZTL zone even if you see other cars entering. Tickets are issued immediately and automatically, so as soon as your car crosses the ZTL boundary a ticket will be forwarded to your home address. You won't have the opportunity to explain to an actual person that you didn't understand the traffic laws.
For more information on restricted driving zones in Rome, use our helpful guide to the Italy ZTL , which includes a comprehensive Rome ZTL Map detailing zone boundaries, camera locations, and timetables.

When In Rome, Defensive Driving is King
As stated earlier, Rome drivers tend to be aggressive. You shouldn't feel targeted, that's just how things are done in Rome. Don't rely on traffic signals to predict the behavior of other drivers; they are apt to shock you, and if you're not careful, run you off the road. Being alert and driving defensively is crucial when you're taking a self-driven tour of Rome.
Use Alternative Transportation Options Around Rome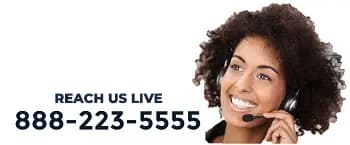 While you're spending time in Italy, having a car is essential, unless you're planning on using your vehicle for sightseeing in downtown Rome. Parts of the city are restricted to motorists completely (ZTL zones), and you could find yourself facing heavy fines for traffic infringements. To avoid traffic infringements, parking your Rome car rental and seeing downtown sights on foot is a great way to immerse yourself in local culture. Once you have explored Rome's historic center and you're ready to venture on, stop back by your hotel or parking garage to collect your car!