Florence Travel Guide
Popular Attractions in Florence
If you're already in the process of putting the finishing touches on your upcoming vacation in Florence, chances are high that you already have an extensive list of activities to keep you busy throughout Italy. If you're still looking for creative things to fill up your itinerary, take a look at our guide to the best things to see and do in Florence.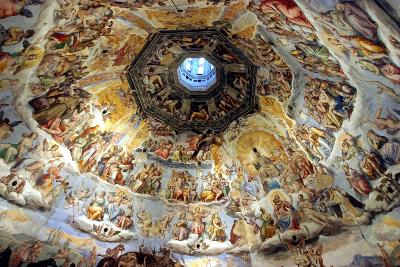 Admire the Art - One of your first stops in Florence will be back in time. Walk through any of Florence's galleries and allow yourself to be whisked away into the Renaissance, as you view beautifully preserved works of art and equally as impressive architecture. From Michelangelo's David to Botticelli's Venus Rising, some of the most renowned pieces can be found in Florence.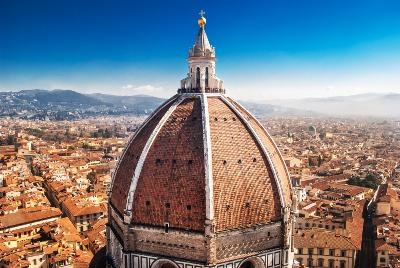 Get Aerial - Inside Brunelleschi's Dome, travelers will be privy to viewing beautiful works of art as they climb the 414 interior stairs, circling around the inner walls to view the paintings up close, as they make their way outside to take in stunning views over Florence's city center.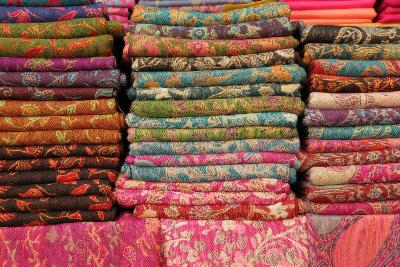 Find the Perfect Souvenir - Finding the perfect souvenir while traveling in Tuscany isn't a complicated task thanks in part to the charming hill towns that dot the landscape. The city is well-known for beautiful ceramics, hand-painted plates and beautiful biscotti jars - these will make great accent pieces for your own home or serve as wonderful gifts. Hand-stitched scarves are also a great souvenir from Florence.
Buy Yourself Something Made of Leather - Florence is famous for its leather markets and also boasts a number of artisan workshops that produce both quality leather products engraved with gold leaf and traditional Florentine paper. For a truly memorable experience, visit one of these workshops and watch as an artisan monograms your purchase.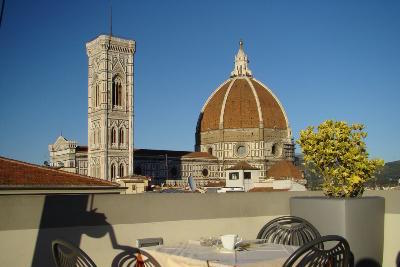 Savor an Apperitivo Alfresco - Forgo the busy restaurants and opt for a relaxing experience at a side street café. Enjoy a glass of Tuscan wine or Prosecco with snacks for an "aperitivo", which is a common drink special with two or three small snacks included in the price of your beverage. Stick around for dinner, or move on to the next café to savor delicious home-made lasagna or world-famous Florentine steak.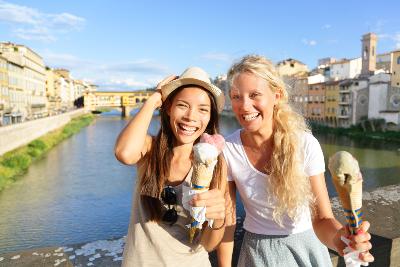 Save Room for Gelato - It might be hard to envision yourself saving room for gelato after indulging in tasty apperitovs and succulent steak, but do yourself a favor and at least try! As with practically every other city in Italy, gelato is fantastic in Florence. With so many different gelato shops spread throughout Florence, you're able to spend every day of your trip testing out different establishments!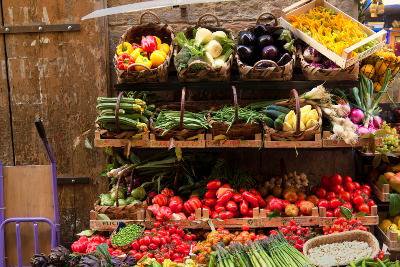 Embrace the Outdoor Ambiance - Typically, no matter when you'll be traveling, the weather in Florence is usually quite agreeable. You'll be spending a lot of time walking around Florence, so plan to stop into some of the city's smaller shops and pick up some local favorites to try back at your hotel. Carrying quality Tuscany food staples like delicious cheese and salami to fresh produce and olive oil, these outdoor markets and street vendors could keep you busy for days.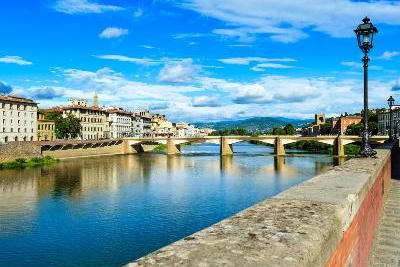 Walk Along the Arno River - Walking along the Arno River in Florence is a truly unique experience. Travelers are able to venture away from the crowds while still being able to see the city's architectural splendors, while also watching the rowing clubs practice near the Ponte Vecchio. Views from the Ponte Vecchio near sunrise and sunset are phenomenal, and travelers will find an array of shops and other sightseeing opportunities close by.
---
Touring Florence Italy
Things to Do in Florence
It can be a rather overwhelming task to plan how to spend your days while visiting the home of the Renaissance. Walk the same streets as Michelangelo, Botticelli and Leonardo with confidence after you take a look at Auto Europe's guide to the best tours and attractions in Florence. If you're interested in experiencing the very best of Florence, Italy as recommended by the locals, then any of these top-rated Florence tours should be added to your itinerary!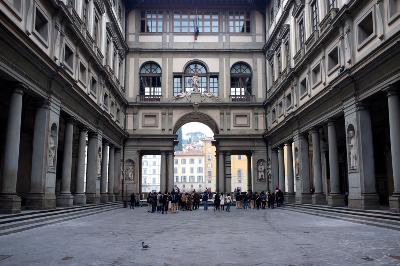 Masterpieces of the Uffizi Gallery Tour - Art and history come alive on this one-of-a-kind tour of the Uffizi Gallery in Florence. Explore both levels of the Uffizi Gallery and learn more about the incredible works that are housed inside. Smaller group sizes ensure that all your questions will be answered as you view and discover breathtaking Renaissance art and famous Renaissance artists.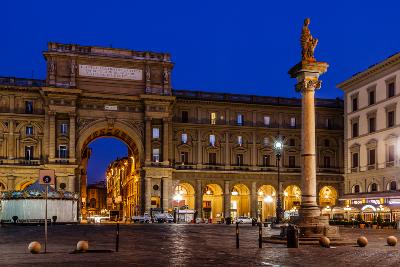 The Original Florence Walk - An all-encompassing look at some of the most famous sights in Florence, the Original Florence Walk is a tour around the ancient city center. Experience the highlights and must-sees of Florence with fascinating stories that bring the past to life. Hear about astounding historical events, and discover why Florence became one of the greatest art centers the world has ever seen.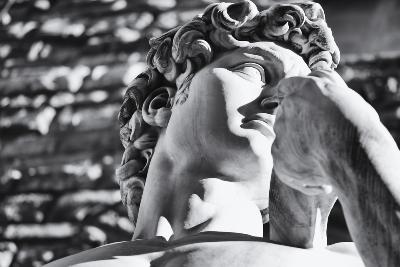 The Original David Tour - View the original David by Michelangelo and discover the impressive history behind the creation of the world's most famous statue. After years of seeing photographs of David, it will undoubtedly be an incredible experience to finally be able to admire the work of art in person. Walk around the statue and see David's expression change, and continue to be amazed that this masterpiece merged from a flawed block of marble.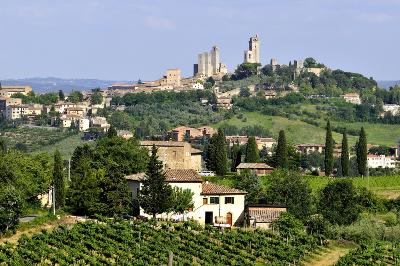 The Best of Tuscany Tour - Famous for its wealth of art, history and picturesque landscapes, delicious food and superb wine, Tuscany is a destination that has it all! Depart from Florence and explore smaller Tuscan villages and charming hilltop towns boasting quintessential terracotta rooftops and green shutters, while learning more about local history and being privy to some of Tuscany's best shopping.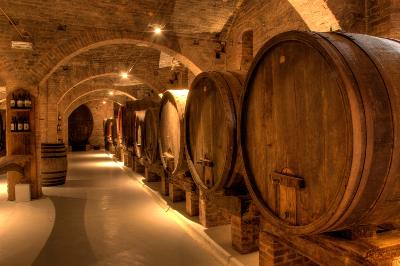 Italian Passions: Food & Wine Tour - Originally a temple to the Pagan panoply, the Pantheon is now a tomb of monarchs and other great members of society, including the artist Raphael. Considered to be the best preserved building from ancient Florence, Pantheon's magnificent dome is a lasting testimony to its innovative Roman architects. Tour the Pantheon and take a step back 2,000 years to experience the glory days of Florence.

---
Weather in Florence
What to Expect from the Weather in Florence
When determining the best time to visit Italy, having a good idea about the average temperatures, climate and seasonal trends will be helpful. Florence boasts a Mediterranean climate with dry, hot summers and very mild winters. Temperatures in Florence are traditionally mild, but Florence's location in a valley makes temperatures vary from other areas travelers will experience when visiting Tuscany. Over the course of the year, travelers will notice that temperatures in Florence vary from around 3 degrees Celcius to 32 degrees Celcius, and generally never dips below freezing.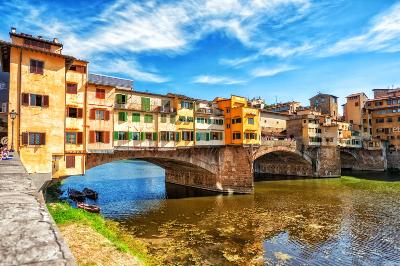 Summer in Florence - Summers are an ideal time for a lot of travelers to plan a trip to Florence, but it's important to remember that it's also when Italy goes on holiday. Most of the country shuts down in mid-August for a holiday known as Ferragosto, with only a handful of museums and other tourist attractions remaining open. Late June and early July boast some of the best European summer festivals
Average Temperature: 23 Degrees C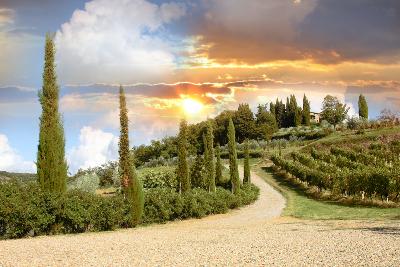 Fall in Florence - November is the month that Florence sees most precipitation, but October, December, March and April also generate high amounts of rainfall. Autumn in Florence means fewer hours of daylight, which in turn, means more time to experience the city after dark. Historic monuments are lit up as you stroll through the city center, and many hotel rates and menu prices are lowered during the fall.
Average Temperature: 16 Degrees C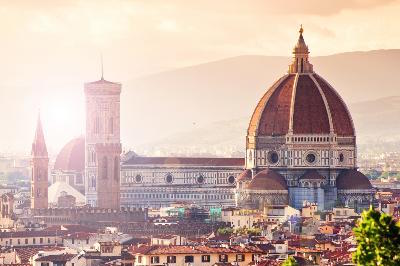 Spring in Florence - The Spring season comes early in Florence, and by early March or even late February, locals are known to be sunbathing on their rooftop decks. For clear skies and comfortable temperatures, venture to Florence in early April, before the heat and humidity take the city by full force. Increased daylight hours mean travelers will have more time to tour Florence's outdoor attractions.

Average Temperature: 13 Degrees C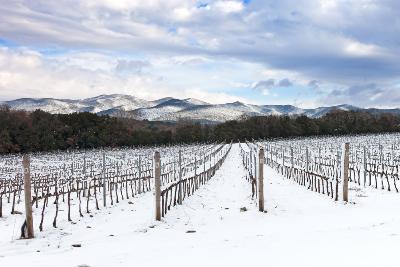 Winter in Florence - The coldest months in Florence are in December and January, with the likelihood of snow falling in Florence being at its highest around the end of January, and typically occurring in 3% of days during the winter months. Chilly weather tends to deter visitors, making the winter season favorable for travelers looking to avoid long lines and searching for bargains.
Average Temperature: 8 Degrees C