Car Rentals in Eureka, California
Coastal Eureka is one of the best kept secrets in the United States. Victorian architecture and giant redwood trees make this city a picturesque location for your next vacation. With a rental car from Auto Europe, you will be able to experience all 100 miles of Humboldt County's scenic coast and old growth. You will also be able to drive over Humboldt Bay, where you will get a look at Indian Island, a National Historical Landmark and important part of Wiyot history. To learn more about the tribe, head over to the Clarke Historical Museum, where you can view ancient Wiyot artifacts and learn more about Humboldt County's past.

Explore Eureka by Rental Car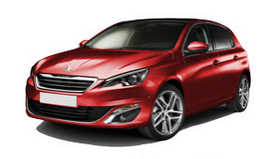 The heart and hub of Humboldt County, beautiful Eureka serves as a historical landmark to the state of California. You will see why when you take a drive through Old Town in your rental car, where the Victorian era architecture of this district is well preserved. If you are feeling authentic, the city offers tours of Old Town via horse drawn carriage. Humboldt County is best known as Redwood Country. The Sequoia Park Zoo, which happens to be the oldest zoo in California, rests on 67 acres of majestic second-growth redwood. If you want to take your rental car for a day trip, Humboldt Redwoods State Park is less than an hour away. Four miles down the road from the park, you can experience the Shrine Drive Thru Tree, one of three redwoods on the West Coast that you are able to pass through in your rental car! Humboldt County received national recognition when activist Julia Butterfly Hill moved into one of their ancient redwood trees, where she lived for over two years in protest of the clear-cutting of California's old growth. The tree, called Luna, is a little more than a half an hours drive from Eureka, and has become a popular site for activists and tourists.

Rent a Car in Eureka with Auto Europe
Drive through scenic Redwood Country in a rental car from Auto Europe! Book online, or if you need assistance, call our toll free number 888-233-5555. Auto Europe's representatives are available 24 hours a day, 7 days a week to help you choose the best rental car for your Eureka, California vacation!