Car Rental Avezzano, Italy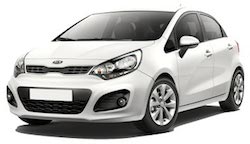 No matter what your plans might be for your trip to Avezzano, be sure to get your much needed rental car from Auto Europe! We have the lowest prices as well as a price match guarantee as we strive to ensure our customers save the maximum amount possible on their rentals. Experience all of the sights and sounds of Italy from the driver's seat of your rental and form lasting memories of driving through the highways, rolling hills and beautiful vistas that this great part of Europe has to offer. Reserve your Italy auto rental today by using the reservation tool and experience what it is that sets us apart from the competition.
Where are the Rental Offices in Avezzano?
Our offices locations are spread throughout the city to make sure that you are spoiled for choice when it comes to selecting your preferred location. whether you prefer to acquire your car from an airport, downtown office, bus terminal or train station we have the perfect location to suit your travel needs. use the booking engine at the top of the page to choose the location that best suits your schedule today.
Which Suppliers Does Auto Europe Work With in Avezzano?
We operate with the most effective and most committed businesses like Hertz to offer our shoppers with a sense of not only relaxation when it comes to understanding they arranged with the right enterprise, but to also save them funds in the process. It is for this factor why we are able to pass around such substantial discounts to the consumers in Avezzano. No matter what your desires may be in a low cost rental car, our suppliers will be able to handle it with ease. Be sure to use the booking tool at the top of the page to book your cheap vehicle rental right away and save more by reserving with Auto Europe!
Hertz Noleggio Auto
Via Nuova, 12
Avezzano, Italy 67051
+39 0863 441961
Hertz Hours:
Mon - Fri: 9 AM - 1 PM & 3:30 PM - 7 PM
Sat: 9 AM - 1 PM
Sun: CLOSED
---
More Frequently Asked Questions When Renting a Car in Avezzano
Can I Rent A Car In Avezzano Without A Credit Card?
Usually vehicle rental suppliers require that customers pay with a major credit card like AMEX, MasterCard, Visa, etc...however we know of a few carriers that will accept other forms of payment, like debit cards. Call us today to learn more about alternative payment options and who accepts them in Avezzano.
Should I get An International Driver's Permit (IDP) to Rent a Car in Avezzano?
All Drivers hailing from Canada and the US are required by law to have an international driver's permit (IDP) to rent or operate a vehicle in Italy, which of course, includes those driving in Avezzano. You can purchase one from CAA for about $25 before making your way overseas. Remember to also bring your regular driver's license with you as they supplement each other. Failure to bring both will result in customers being denied their rental as well as potential fines if caught driving without both. Get your IDP today to better prepare from your trip to Avezzano.
How Can I get A Deal On A Hotel Stay In Avezzano?
Our low prices extend further than just auto rentals. Did you know that we also offer the best rates on hotel stays? It's true. Visit the hotel deals page on our site to learn more about locking in the best rates on lodgings for your next trip to Avezzano.
---
Does Auto Europe Offer Specialty Rental Vehicles In Avezzano?
Auto Europe offers more than only cars to rent. We also have luxury automobiles, passenger van rentals, and even motorhomes are available to rent in Avezzano. You can compare these rates along with other rentals to find the best option for you and your travel party. Click the links below or give us a call to review all of your options, 1-888-223-5555.
Luxury Car Rentals in Avezzano - Reserve a luxury rental vehicle in Avezzano from Auto Europe and have a premium getaway at a reasonably priced fee. Regardless of whether you plan to spend your Avezzano trip shopping, tasting a nearby dishes or traveling around the city with the top down within your convertible, a luxury rental-car from Auto Europe will afford you the possibility to experience this and even more.
Van Rental Avezzano - Are you planning a voyage in Avezzano with a larger group, or maybe want more room for transporting extra Essentials? Why don't you rent a van for your personal journey and have ample leg and storage room for all your visiting partners. It is not only more convenient to rent a van while traveling accompanied by a large group of people in the city it's also less costly when scheduling with Auto Europe. Book your Avezzano van rental from Auto Europe today and save more with our price match guarantee.
Avezzano Motorhome Rentals - Uncover more of the sights and sounds from the comfort and style within your personal traveling accommodations with a motorhome rental in Avezzano from Auto Europe. With the conveniences of a modern hotel, a motorhome rental in Avezzano is a brilliant way to drink in any sights and sounds of Avezzano. We at Auto Europe partner with amazing motorhome rental providers in Avezzano to ensure you have the ability to rent the ideal motorhome for your needs.