Car Rental Orly Airport - ORY
Orly Airport is sited 19 kilometers from downtown Paris, making it a sensible alternative to Charles de Gaulle Airport. Orly has quickly become the busiest airport for domestic flights, but continues to offer international flights to numerous destinations across the globe, servicing over 25 million travelers annually. Auto Europe offers rentals commencing from Orly airport and provides chauffer and transfer services for your convenience. Long term rentals are also available for pickup.

There are a number of information kiosks located in both the south and west terminals that provide passengers with general information regarding flights, airlines, and the airport facility.
Paris Orly Airport Facilities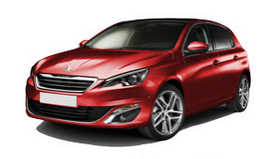 Both the south and west terminals are stationed with currency exchange kiosk and ATMs. Internet access is readily available in multimedia centers before and after security for passengers seeking to use web phones, web cams, photo printers, and download music. Centre Affaires business center located in the west terminal is a dedicated private space for business travelers looking to conduct interviews, work quietly, or finish work. A similar, smaller business workstation is located past security in the south terminal. A medical center on the fourth floor of the south terminal near the information desk provides emergency care and travel advice regarding health. It is open from Monday to Friday, 8 a.m. to 5 p.m. The airport is outfitted with baby changing stations in the south and west terminal bathrooms before and after security, and in bathrooms located in the parking garages. Gift shops, restaurants, and bars can be found in both terminals.
Hotels at Orly Airport
Weary travelers will have a choice of 25 different hotels within 5 miles of Orly Airport, ranging from budget to luxurious. In addition to car rentals, Auto Europe offers discount rates on rooms at a hotel near Orly or in downtown Paris. Let us be your primary source for all your travel needs!
ORY Contact Information
Telephone: + 33 1 49 75 15 15
Lost and Found: (South Terminal) +33 1 49 75 34 10; (West Terminal) +33 1 49 75 42 34
Terminal Map